Learn to make homemade gluten free phyllo dough (fillo) at home, and then use it to make gluten free spanakopita!
Gluten free phyllo dough is finally here! You have been asking and asking, and I have been testing, avoiding, testing more. And wringing hands and gnashing teeth. You wanted to make gluten free baklava (me too!) and spanakopita (count me in!). Your mother in law wants to make her beloved son all of his favorites for the holidays, and nothing else will do.
After all that, it's really not so hard at all. Go figure! But once you've made gluten free flour tortillas, fresh gluten free won ton wrappers, fresh gluten free tortellini and only the very best thick crust gluten free pizza in the world, I guess I should have known that gluten free phyllo (fillo?) dough was totally doable.
As you might imagine, it really is best if you read through the directions at least once alllllll the way through before you start making and rolling and baking. Keep in mind that, your first run at the dough, you won't attempt to roll it as paper thin as you will make it in the end when you use it.
Because it's no fun to make phyllo dough unless you can envision all that you can do with it, I've included a recipe for gluten free spanakopita. If you've been waiting and waiting for the recipe for this thinnest of Greek pastry doughs, you probably already have your own Very Best Way to make things like spanakopita.
By all means, use your favorite filling instead of mine! But do read through the spanakopita directions here and use my methods for handling the dough.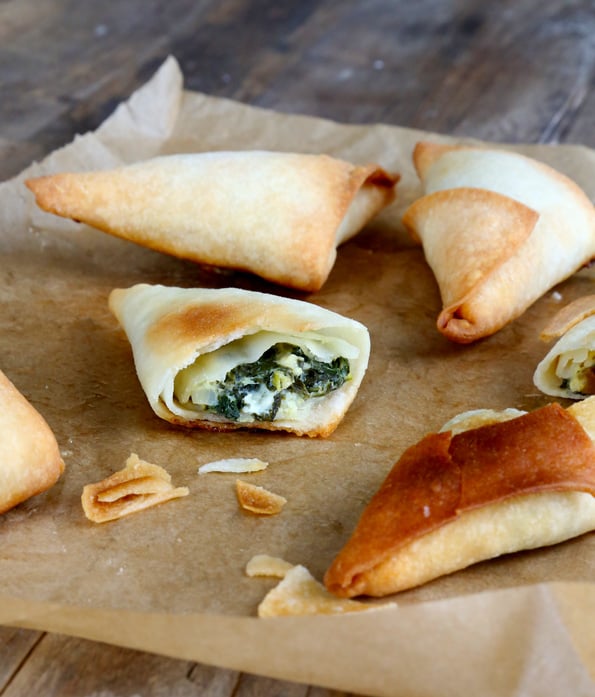 And although homemade phyllo dough isn't going to be as machine-thin as, well, phyllo made by machine, it still bakes up light and buttery and flaky thin. Just like you remember. Because in case I haven't mentioned it before, if they can make it with gluten, we can make it without. And that's a promise. If you miss it, we'll bring it back. Just you wait and see!!
Gluten Free Phyllo Dough (Fillo) and Spanakopita
Yield:
15 sheets phyllo dough
Ingredients
For the phyllo dough
3 1/2 cups (490 g) all purpose gluten-free flour blend, plus more for sprinkling (I used Better Batter)
3/4 cup (85 g) Expandex modified tapioca starch (See Recipe Notes)
1 teaspoon kosher salt
1/4 cup (56 g) extra-virgin olive oil
3 tablespoons freshly squeezed lemon juice (from about 1 medium lemon)
1 1/2 cups (12 ounces/12 fluid ounces) lukewarm water
For the spanakopita
1 tablespoon (14 g) extra-virgin olive oil
1 medium shallot, peeled and diced
16-ounces fresh spinach (or frozen whole leaf spinach, defrosted)
4 ounces feta cheese, crumbled
1 large egg (50 g, weighed out of shell), at room temperature
1/8 teaspoon kosher salt
1/8 teaspoon freshly ground black pepper
Phyllo dough
2 to 4 tablespoons (28 to 56 g) unsalted butter, melted
Notes
*For information on where to find Expandex, please see the Resources page. For information on how to replace Expandex with Ultratex 3, readily available in most countries outside the United States, in the gluten free bread recipes in GFOAS Bakes Bread, scroll to #6 in Resources.
I have not yet tested Ultratex 3 in this recipe, but I would recommend trying a mix of 547 grams all purpose gluten free flour + 28 grams Ultratex 3 in place of the blend above. Ultratex 3 is at least 3 times as strong as Expandex. To make this recipe without Expandex or Ultratex 3, you can try replacing it with more all purpose gluten free flour, but you'll have to experiment as I haven't tried it!
Instructions
Make the phyllo dough. In a large bowl, place the all-purpose flour, Expandex and salt, and whisk to combine. Create a well in the center of the dry ingredients and add the olive oil, lemon juice and water, and mix to combine. The dough will come together and be thick. Press together into a ball, cover with a moist tea towel, and allow to sit for about 20 minutes. The dough will stiffen a bit as it absorbs more of the water.

Pull off golf ball-sized pieces (about 3 ounces by weight) of the dough, and press into a disk with your fingers. Place the dough on a clean, flat surface and roll into a rough rectangle about 8-inches long. Sprinkle lightly with flour, and roll into a rectangle about 12-inches x 10-inches. Using a sharp knife, pizza wheel or pastry cutter, trim the rough edges of the rectangle into a neat rectangle that is about 10-inches x 8-inches. Dust both sides of the dough generously with more flour, and set aside on a piece of parchment paper. Gather the scraps and return them to the remaining dough. Repeat with the rest of the dough, layering the pieces of rolled-out dough on top of one another, each dusted generously with flour to prevent sticking. The dough can be frozen for later use, then thawed at room temperature before using.

Make the spanakopita. In a heavy-bottom saucepan, heat the olive oil over medium heat. Add the diced shallot and cook, stirring occasionally, until translucent (about 4 minutes). Remove the cooked shallots from the pan and set aside. Add the fresh spinach, and cook, stirring occasionally, until wilted. Remove from the heat and allow to cool. Once cool, place the spinach in a clean tea towel or strong paper towels and wring out until all water has been removed. Chop the cooked, dry spinach roughly, and place in the medium-sized bowl with the cooked shallots, feta cheese, egg, salt and pepper, and mix to combine. Set the filling aside.

Preheat your oven to 350°F. Line a large rimmed baking sheet with unbleached parchment paper and set it aside.

Place 1 sheet of fresh phyllo dough on a lightly floured surface, with the short side of the rectangle facing you. Sprinkle lightly with more flour, and using a sharp knife, pastry wheel or pizza cutter, cut the rectangle in half lengthwise so you have two equal rectangles, each about 10-inches x 4 inches. Separate the rectangles and roll each away from you so that it is about 11-inches x 4-inches (or as long as you can make it without the dough tearing). The dough should be nearly translucent. Brush each rectangle generously with melted butter. About 1/2-inch from the bottom of each rectangle, place about 1 tablespoon of filling. Pull one of the bottom corners of the rectangle of dough up over the filling on an angle (toward the opposite side of the dough) to make a triangle. Brush the top of the triangle with more melted butter, and fold it over on itself again toward the other side of the dough rectangle (see photos). Brush again with melted butter, and continue to fold the dough, brushing with melted butter each time, until you reach the top of the rectangle. Repeat with the other piece of dough, and then more sheets of phyllo dough and filling. Place the spanakopita on the prepared baking sheet, about 1-inch apart from one another.Place the baking sheet in the center of the preheated oven and bake until lightly golden brown all over (about 20 minutes). Remove from the oven and serve immediately.

Adapted from Dima Sharif.