Make the gluten free peach crisp topping for this easy summer recipe with or without oats. Perfectly ripe peaches, fresh or even frozen, make the very best crisp.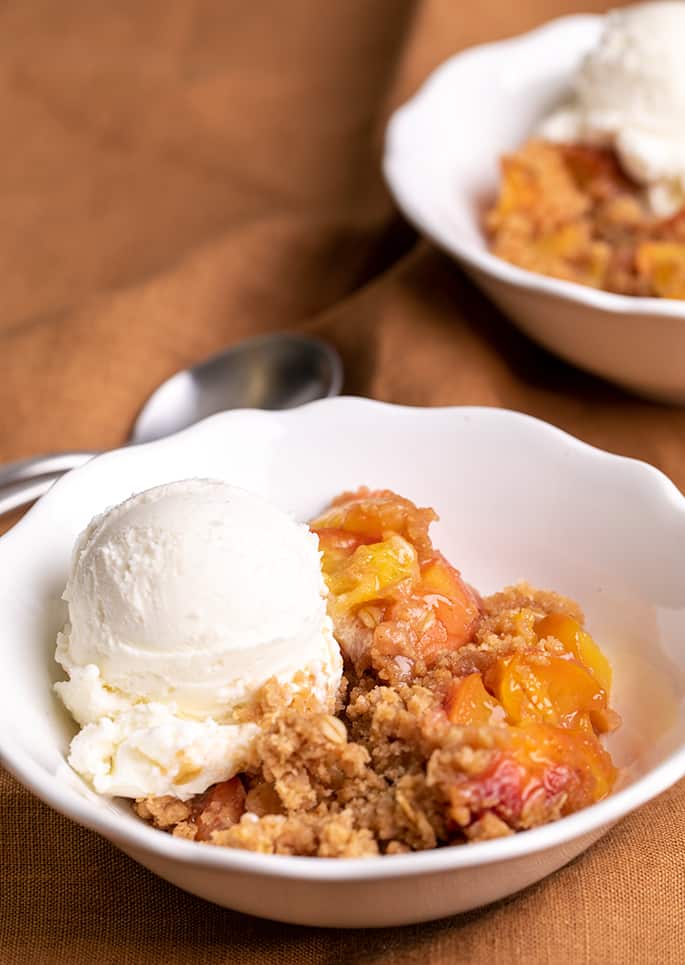 Whenever stone fruits like peaches, nectarines, plums, and apricots are in season, the first fruits you bring home usually just get eaten the old fashioned way (leaning over the sink). But when you're ready, I hope you'll consider baking this warm, fragrant gluten free peach crisp.
Not every peach is going to be at peak ripeness and flavor when you're ready to eat it. But every ripe fresh peach, with some warm spices and a touch of sugar, will make the most fragrant, fork-tender dessert if you bake it under the perfect crumbly, crispy topping.
What's the difference between peach crisp and peach crumble?
A peach crisp is a crustless fruit-based dessert with a smaller crumbly topping, one that "crisps" more in the oven. A peach crumble has a thicker crumble topping, like if a gf coffee cake had cooked peaches below it, rather than cake.
These distinctions aren't that meaningful. But, still, if you're going to use a name (speaking to myself here), it would help to know what it means.
Now for some honesty: I have misused this term before. I'm not going to highlight where, but it was a recipe that I had adapted from my childhood, borrowed originally from a neighbor. That's neither here nor there.
Other than a slight difference in ingredients, the topping for this peach crisp is not refrigerated—unless it's so warm that it doesn't hold together. And if you see any large clumps of topping when it's raw, you know what to do (break them up).
For the record, I stand by our recipe for gluten free peach cobbler. The fruit is similar, but the vibe is very different here, since this is super crispy on top.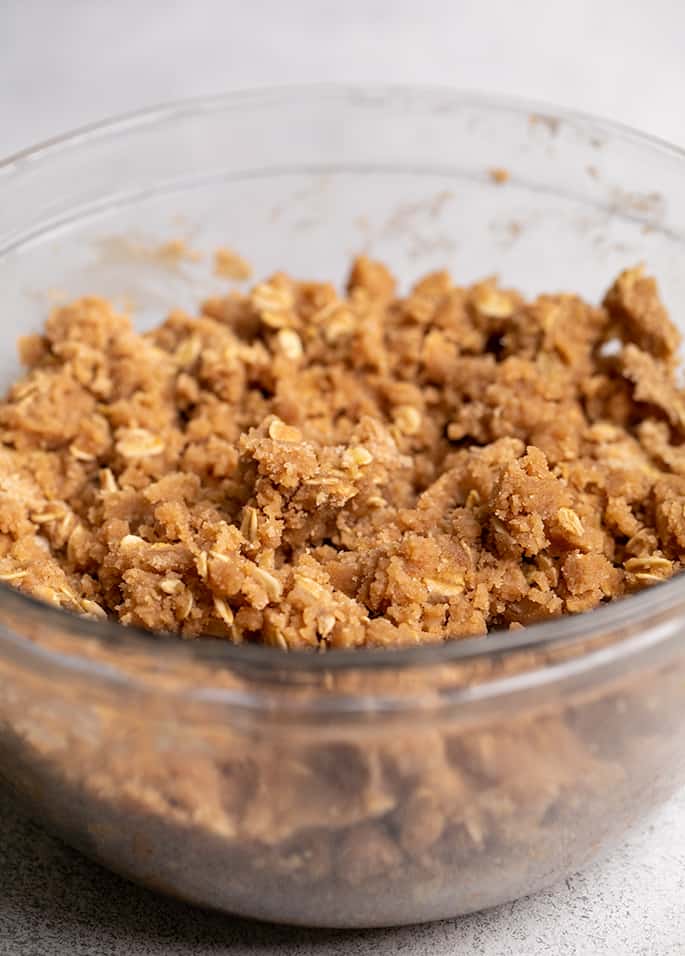 How to prepare the peaches
First, it's useful to know if your fresh peaches are cling or freestone. According to The Fruit Guys, cling peaches refer to a stone fruit where the flesh is incorporated into the surface of the pit.
Freestone peaches are the kind where the flesh of the fruit is completely separate from the pit. You can cut them through to the outside of the pit, and, if the fruit isn't overripe, twist the halves in opposite directions to separate them around the pit.
The peaches that I used here are early season yellow cling peaches. They're really fragrant and make a perfect gf peach crisp.
But you do have to be mindful of the pit when you're preparing them for the filling. After you cut the flesh away from the pit, run your thumb or forefinger on the fruit where the stone was.
If you feel any hard pieces, be sure to cut away any remaining shards of the pit. It won't soften in the oven and if you've ever bitten into a pit like that without knowing it, you'll do anything to avoid doing it again!
Can you make this peach crisp with canned or frozen peaches
I wouldn't make this recipe with canned peaches, since they're already fork-tender. Baking them would ruin their texture.
You can, however, make this recipe with frozen peaches. Don't defrost them, or they'll turn mushy. Just follow the recipe as written as if you were using fresh peach pieces.
Try to find frozen peach chunks, so they mimic the freshly prepared peaches in this recipe. If you can't find chunks, break any larger pieces in half, if possible.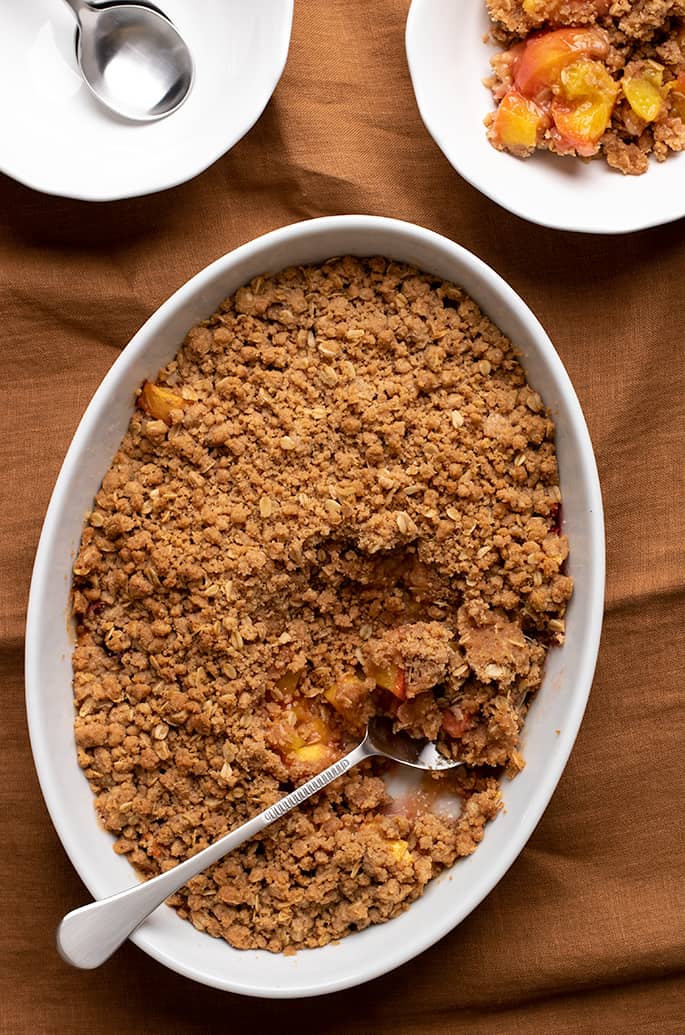 How to make this peach crisp topping without oats
When properly sourced, oats are in fact gluten free. But if you need or want to avoid them, you can replace the ½ cup (50 g) of certified gluten free old-fashioned rolled oats with one of the following:
an equal amount, by weight, of quinoa flakes (buckwheat flakes would also work, but they're not easily available in the U.S.); or
¼ cup (36 g) additional all purpose gluten free flour. Just use more of the gf flour blend you're already using.
For more guidance on how to replace oats in gluten free baking, please see our discussion about oat substitutions in baking. It answers every question.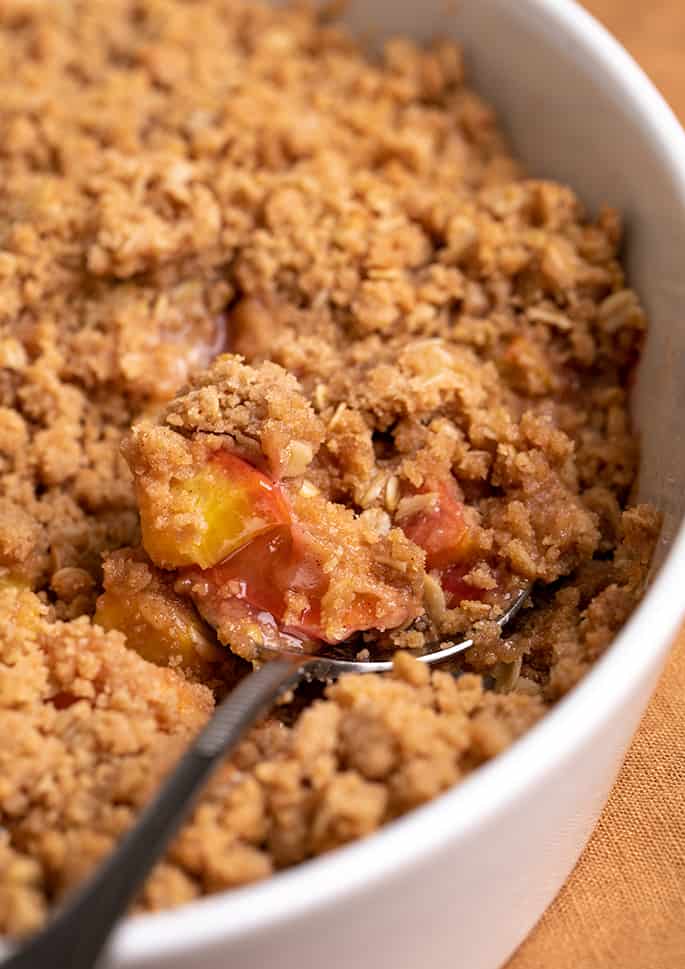 Ingredients and substitutions
Dairy
The dairy in this recipe is the butter used in the topping. My first suggestion is always vegan butter, like Miyoko's Kitchen or Melt brand.
Since we're not looking for larger chunks, I think that Earth Balance buttery sticks would even work here. You may have to reduce the second baking time, so just watch it carefully for browning.
Oats
For a full discussion of eliminating oats, please see that heading above. In brief, try replacing them with 50 grams of quinoa flakes, or an additional ¼ cup (36 g) of your all purpose gluten free flour blend.
Cornstarch
The starch in the filling helps keep it from being too runny with peach juices. You can replace it easily with another starch, like arrowroot, or even with an equal amount, by weight, of superfine white rice flour.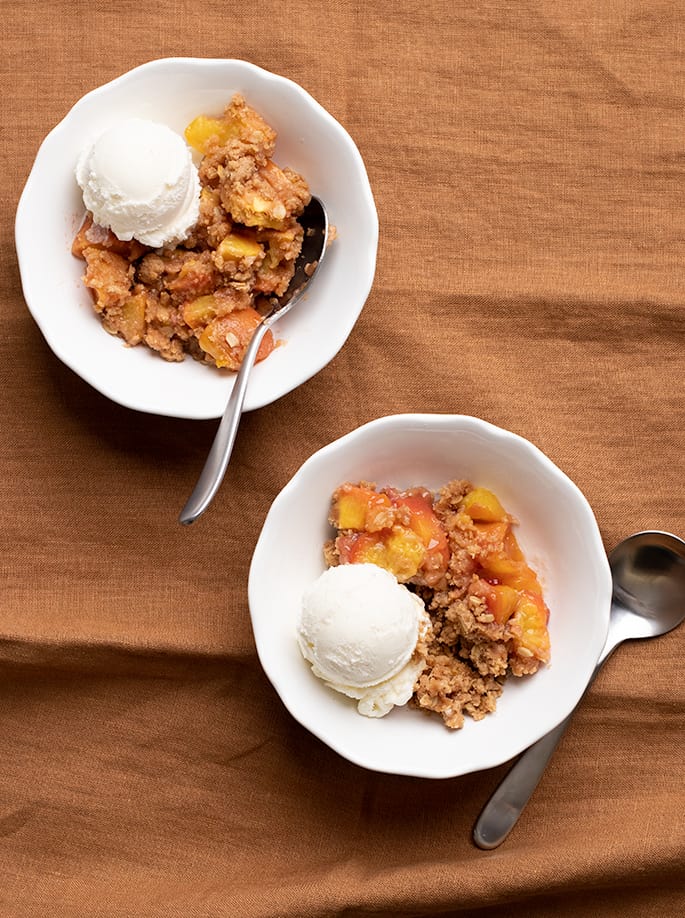 Gluten Free Peach Crisp
Make the gluten free peach crisp topping for this easy summer recipe with or without oats. Perfectly ripe peaches, fresh or even frozen, make the very best crisp.
Print Recipe
Save
Saved!
Pin Recipe
Ingredients
For the peach filling
2

pounds

fresh peaches (about 8 peaches)

pitted and cut into 3/4-inch cubes

½

cup

granulated sugar

2

tablespoons

cornstarch

⅛

teaspoon

kosher salt

½

teaspoon

ground cinnamon

⅛

teaspoon

freshly grated nutmeg

optional

1

teaspoon

pure vanilla extract
Instructions
Preheat your oven to 350°F. Grease a 13 x 9-inch baking dish and set it aside.
Prepare the crumble topping.
In a medium-sized bowl, place the flour, xanthan gum, oats, granulated sugar, cinnamon, nutmeg and salt, and mix to combine. Add the brown sugar, and mix again, working out any lumps.

Add the melted butter, and mix to combine well. The mixture will be thick. Chill only briefly if at all loose or warm. Set the topping aside.
Prepare the peach filling.
In a large bowl, place the peaches, sugar, cornstarch, salt, cinnamon, optional nutmeg and vanilla extract, and mix to coat the peaches completely in the dry ingredients.

Transfer the filling to the prepared baking dish and spread into an even layer. Place the baking dish on a rimmed baking sheet and place the baking sheet in the oven. Bake for 10 minutes to begin to soften the peaches.

Remove the baking dish from the oven and place on a heatproof surface. Scatter the crumble topping evenly on top and spread gently into an even layer on top. Break up any larger clumps of topping.

Return the dish to the oven and bake until the topping is golden brown (about 25 minutes). Remove from the oven and allow to cool for 15 minutes before serving warm.
Notes
To replace the oats: Try 50 grams of quinoa flakes, or an additional ¼ cup (36 g) of your all purpose gluten free flour blend. Proceed with the rest of the recipe as written.