The perfect pan fried gluten free breaded chicken cutlets can be made spicy with taco seasoning or into chicken Parmesan with Italian seasoning—with a mess-free breading method.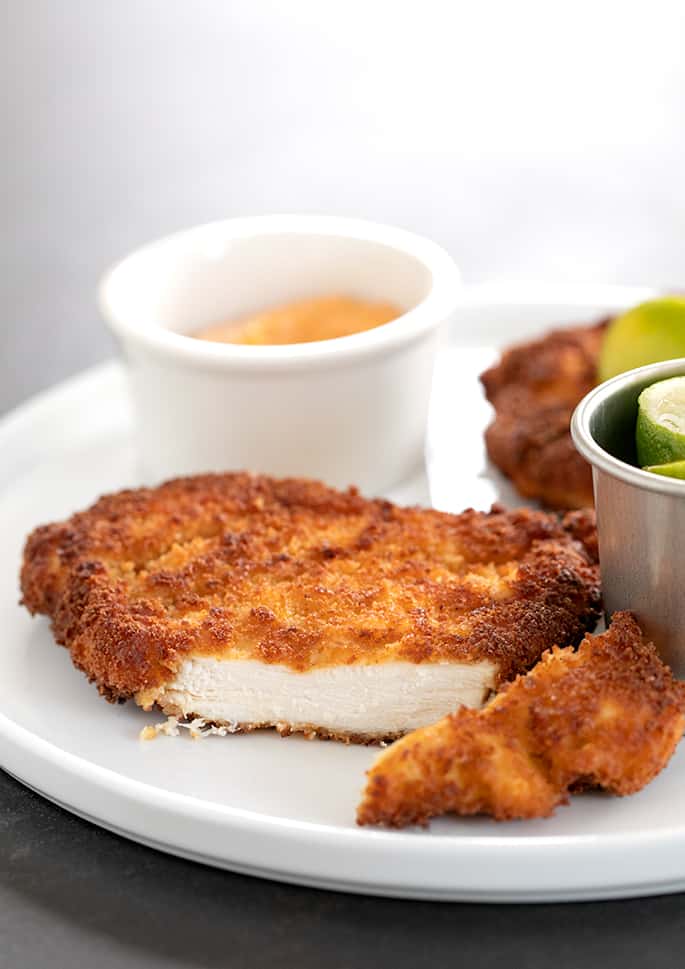 The best mess-free breading method
The method I had always used for breading chicken was to coat the protein in dry-wet-dry ingredients in stages. Three shallow dishes right next to the stove. Dip it in flour with some salt and spices, dip it in egg, then dip it in breadcrumbs.
Then I learned from Nagi at Recipe Tin Eats to make a batter of eggs, flour, and mayonnaise for coating the chicken all at once. Dip the chicken pieces in bread crumbs, and fry or bake. For baking directions using that sort of mixture, see our recipe for gluten free sesame chicken.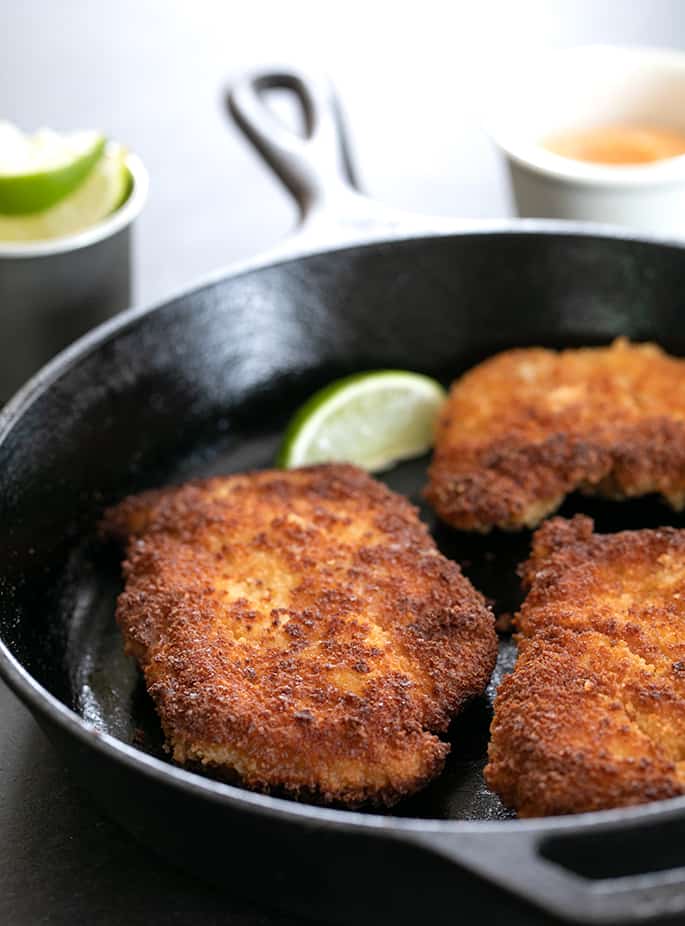 Make this dish in stages
To make these gluten free breaded chicken cutlets, we've used a version of Nagi's egg and flour mixture, but whisked in oil in place of mayonnaise. Mayonnaise makes for deliciously moist chicken, but I've found that the weakly emulsified olive oil and egg combination suits this savory dish a bit better.
It also allows the spice mixture to shine through more brightly. For maximum flavor and cooking flexibility, let the chicken sit in the batter in the refrigerator for up to a day until you're ready to fry it.
Shallow-fried chicken cutlets retain moisture way more than baked chicken, so they even taste great cold the next day. They will lose moisture in the refrigerator, like anything else, after the first day or so. But making it early in the day, and then serving it cold over a salad is a very good idea.
Add a spicy mayonnaise for dipping
I love adding a few drops of sriracha sauce to mayonnaise for a quick spicy mayonnaise. But it can be hard to find reliably gluten free sriracha sauce.
If you do have a gluten free sriracha that you love, go with it. But if you're out of sriracha but would like a spicy dip, I have a few ideas.
In the photo below, I added more of our gluten free taco seasoning to mayonnaise or a mixture of half buttermilk, half sour cream. Just whisk, and enjoy.
You can also add taco seasoning or even just chipotle chili powder to our homemade gluten free ranch dressing. Or just add seasonings to half buttermilk, half sour cream.
Ingredients and substitutions
Egg
Oh, the humble egg. It's not impossible to replace here, but I don't have any experience replacing it in this sort of coating. I have an idea, though.
We're using a combination of egg and oil, whipped into a mini-emulsion as the base here. I think you could try a vegan mayonnaise in place of both the egg and the olive oil.
Oil
The chicken coating recipe calls for extra virgin olive oil because it's a flavorful oil. I recommend using it as is, but its function can be replaced with a neutral oil like canola.
The frying oil should be a neutral oil with a high smoke point. My favorite combination of oils for both shallow pan frying like we're doing here and deep frying like with our donut holes is half canola or grapeseed oil and half nonhydrogenated vegetable shortening. It fries clean, holds a steady temperature, and doesn't smoke easily.
Spices
I tend to use three spice blends regularly with the everyday gluten free chicken recipes I make: our gluten free taco seasoning, herbs de Provence, or the powdered vegetable bouillon from our gluten free ramen recipe. Any of them would be excellent in this recipe—but be sure to add at least 1 teaspoon of kosher salt to the herbs to Provence.
If you love Italian seasoning, use that! Again, just be sure to add salt, or your chicken will be much less flavorful. You can even use cutlets made with this method using Italian seasoning into gluten free chicken Parmesan.
Gluten Free Breaded Chicken Cutlets
Yield:
1 pound chicken cutlets
Ingredients
1 pound skinless boneless chicken breasts
1 egg (50 g, weighed out of shell)
1 tablespoon (14 g) extra virgin olive oil
1/4 cup (36 g) basic gum free gluten free flour blend (24 grams white rice flour + 8 grams potato starch + 4 grams tapioca starch/flour)
1 to 3 teaspoons milk (any kind, including nondairy)
1 tablespoon gluten free taco seasoning (or your other favorite spice blend, including salt)
2 cups panko style gluten free bread crumbs
Neutral oil, for frying (I used a combination of equal parts canola or grapseed oil and nonhydrogenated vegetable shortening)
Instructions
If your chicken breasts are thick, slice them in half horizontally. Using a meat pounder or the flat side of a meat tenderizer mallet, pound each breast on a flat surface until each piece is a uniform 1/4-inch thick. Set the chicken aside.

In a medium-size bowl, place the egg and whisk well. Continue whisking continuously with the whisk in one hand as you slowly pour the olive oil into the bowl with the other. Continue to whisk until the mixture begins to form an emulsion (it will become creamy). Add the gum free flour and whisk until a thick paste forms. Add just enough milk to thin the mixture until it's thickly pourable. Add 1 tablespoon of the taco seasoning and whisk to combine well. Add the chicken pieces to the bowl, mix to coat, and let sit for at least 15 minutes and up to 1 day, covered tightly, in the refrigerator.

Place about 1/4-inch of oil in a heavy-bottom skillet over medium heat until rippling. Place the breadcrumbs on a plate or flat bowl next to the stove, and a large plate, platter, or tray lined with paper towels next to that. Remove the chicken pieces one at a time from the coating mixture, and press each side into the bread crumbs firmly enough for the breadcrumbs to adhere to the meat.

Lower the heat to medium-low and place the coated chicken piece in the hot oil. Repeat with only as many chicken pieces as will fit without overlapping in the skillet. Allow the chicken cutlets to pan fry for about 3 minutes or until golden brown on the underside and cooked about half way up the side of the chicken. Carefully flip the chicken pieces and allow to cook on the other side until golden brown underneath and cooked all the way through (at least 165°F in the thickest part of each breast). Remove each chicken cutlet and place on the paper towel-lined plate or tray to drain. Repeat with the remaining chicken and bread crumbs. Serve with spicy mayo and limes, or tomato sauce and cheese, depending on how you spiced the chicken.