This gluten free coconut cream pie has a smooth and creamy custard filling that can be cooked and chilled or baked in the oven, poured into a flaky pie crust. Don't forget the toasted coconut chips on top!
Choose a cooked custard or baked custard filling
How to make a cooked custard filling
I had always made my gluten free coconut cream pie with a cooked custard filling, made the typical way we make custards. Heat the milk, drizzle it into the egg yolks to temper them and make sure they don't scramble, then return everything to the pan and cook until thickened.
That method works beautifully, and makes for a extra-creamy pie filling. This cooked custard filling, which you see in the photos of the pie in a metal pie plate, slices but doesn't slice as cleanly as say, fudge.
How to make a cleaner-slicing cooked pie filling
This filling will slice clean, but don't expect it to set up like a pie made with gelatin. If you'd like the pie to slice more like fudge, you can add some gelatin, though.
Simply bloom 1 packet of powdered unflavored gelatin in 2 tablespoons of cool water and allow the gelatin to swell (about 3 minutes). Add the bloomed gelatin to the hot filling mixture right before you add the chopped butter.
Mix until the gelatin is melted, then remove the pan from the heat, add the chopped butter and proceed with the recipe instructions. Or, for that cleaner slicing pie, try the baked custard filling alternative.
How to make a baked custard filling
I added an alternative filling to this recipe for gluten free coconut cream pie because the cooked custard pudding doesn't slice as cleanly, and doesn't last as long in the refrigerator. Plus, making a baked custard is easier, and much less prone to user error (hey, nobody's perfect!).
To make the baked custard filling (which you see above), simply heat the milks and sugar to a gentle simmer to dissolve the sugar into the liquid. It also begins to heat the eggs a bit before going into the oven, so they're less likely to curdle during baking.
Be sure to strain the mixture whether you're making a cooked or baked custard filling. No matter how careful you are, some eggs or yolks will clump a bit.
How to bake a single pie crust
For a flaky baked pie crust with a cream filling, you can't be afraid of overbaking the crust. That's how you get a flaky crust even when the filling is wet like this coconut cream.
You want the crust to be lightly golden brown all over. You might find that the bottom of the crust even gets a little darker, and that's perfectly fine. As long as it doesn't burn, it's perfectly fine.
It's best to use some sort of pie weight so that the crust doesn't expand and bubble in the oven. You don't need specially-made pie weights (like you see here, which I have because of all the baking I do). You can simply use dried beans, and you can use the same beans again and again.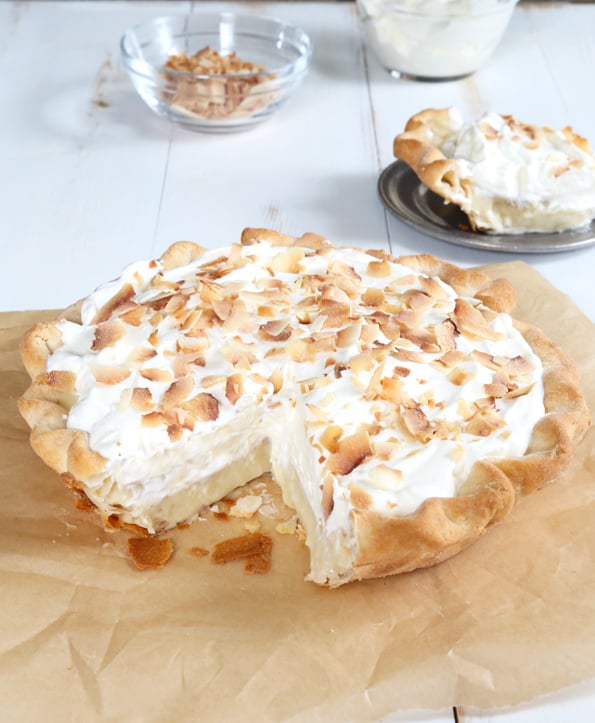 Ingredients and substitutions
Dairy
The filling calls for light canned coconut milk (I used Thai Kitchen brand), so be sure you don't reach for a carton of coconut milk—or full-fat coconut milk in the can, which is just too thick. If your light canned coconut milk seems quite thin, you can use more canned light coconut milk instead of the additional milk, by volume, in the baked custard filling.
If you can't have dairy, you will have to replace the butter in the filling and in the pie crust. For the butter in the filling, try using Melt or Miyoko's Kitchen brand vegan butter or Earth Balance Buttery sticks.
For the butter in the pie crust, do not use Earth Balance. Try vegan butter or Spectrum brand nonhydrogenated vegetable shortening.
In place of the heavy whipping cream, use coconut cream (not coconut milk, but the cream from a can of full fat coconut milk). Whip it cold with the confectioners' sugar.
Eggs
I'm afraid there are too many eggs in this recipe to replace them with an egg replacer. For an egg-free coconut custard filling, you can try adding gelatin (as instructed above) to our homemade vanilla pudding, and use coconut milk in place of regular milk.