It's nearly Thanksgiving, and that means that in just a few short days your table is going to filled with people expecting to eat (among other things) some serious pie. And since oven space is at a premium on The Big Day, and you're already making that apple pie in a bag (please tell me you're making that!), a make-ahead Gluten Free Coconut Cream Pie is just the thing. Don't you think? It's easy! C'mon I'll show you.
See? Easy. If you're looking for step-by-steps for making the dough for the pie crust, look back at that apple pie post, and you'll find all you need. But for this gorgeous, smooth coconut cream pie, we're not baking the filling, and it's a single pie crust—not a double. Not only does this pie insist upon being made ahead, but if you felt like making it even 2 days ahead of time, it would be good as new on Thanksgiving (or any old day you'd like to serve it, of course). The filling calls for light canned coconut milk (I used Thai Kitchen brand), so be sure you don't reach for a carton of coconut milk—or full-fat coconut milk in the can, which is just too thick.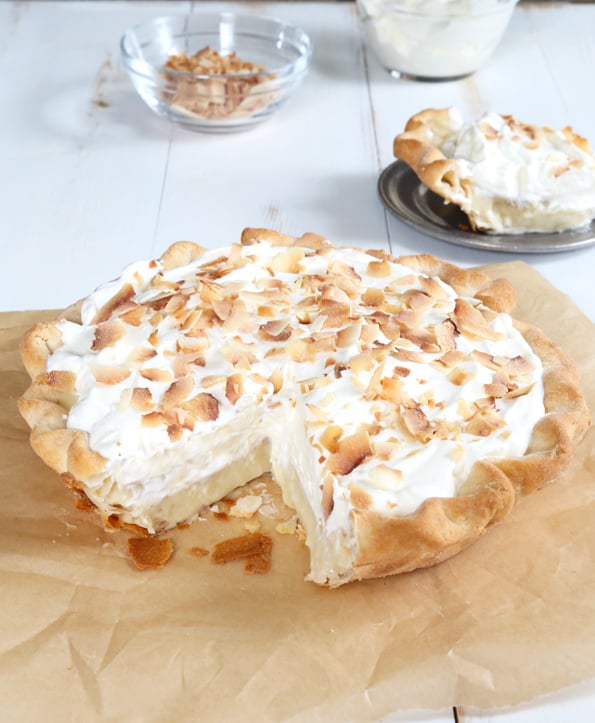 This is an important skill, too, this making-a-single-flaky-gluten-free-pie-crust. The big secret? Don't be so afraid of overbaking the crust! That's how you get a flaky crust, even when the filling is wet like this coconut cream. You're looking for the crust to be lightly golden brown all over. You might find that the bottom of the crust even gets a little darker, like mine did—and that's perfectly fine. As long as you're careful not to let it burn, all will be well.
A note about the filling: This filling will slice clean, but don't expect it to set up like a pie made with gelatin. If you'd like the pie to slice more like fudge, simply do the following: bloom 1 packet of powdered unflavored gelatin in 2 tablespoons of cool water and allow the gelatin to swell (about 3 minutes). Add the bloomed gelatin to the hot filling mixture right before you add the chopped butter. Mix until the gelatin is melted, then remove the pan from the heat, add the chopped butter and proceed with the recipe instructions.