These soft gluten free breadsticks are a homemade version of the famous Olive Garden breadsticks. Fluffy and soft inside, with a thin, almost crispy layer outside, and covered in garlic butter.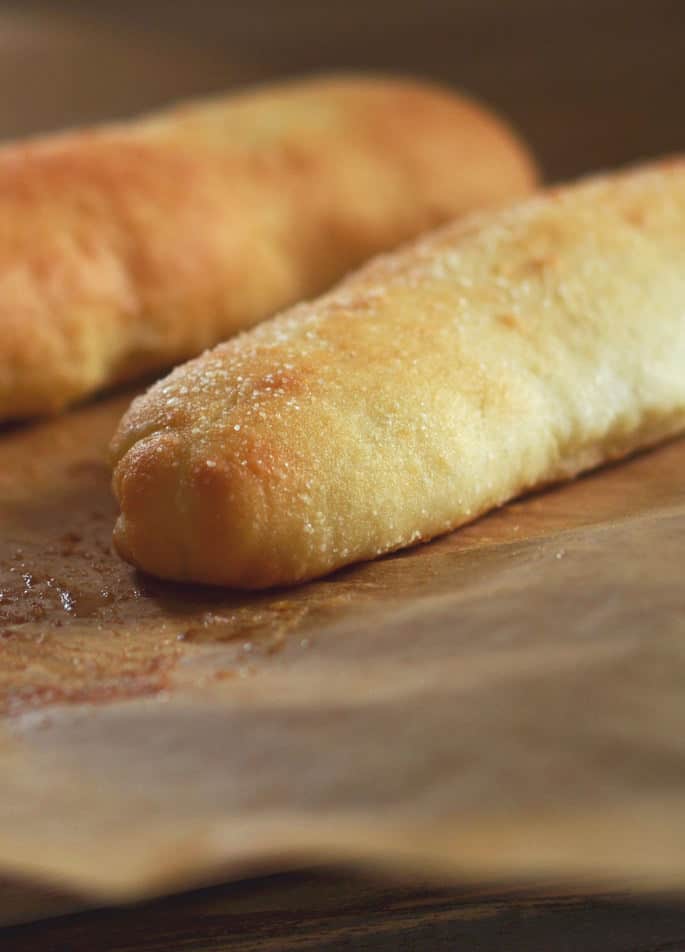 When my bread book first came out, I was so excited. My gluten free son could finally taste real BREAD. He would know what that chew was like, and what yeast bread actually is meant to taste like.
I still am so excited when I think about how far we have come in baking really good gluten free yeast bread. I knew that it would take some adjusting. Up until that point, gluten free yeast bread dough was a batter, and could only be shaped with very wet hands. I was so happy to leave that behind!
I knew the new ingredients would take some getting used to. I thought you might have a bit of trouble finding them, and I tried to prepare everyone as best I could. But I wasn't prepared for a certain reaction that you might have to the dough…
Most of the recipes in the book have two rises, like traditional yeast bread. The first rise is before shaping, and it's when the yeast actually develops and adds flavor to the bread.
I like that first rise to be in the refrigerator, since that slows down the yeast development. And it also makes the dough easier to handle. The second rise is after shaping.
Before the book came out, though, I had no idea how impatient you might be about waiting for the bread dough to rise in the refrigerator! That first rise nearly did you in, it seems. If you look at the early reviews of the book, you'll see.
I started recommending that you begin with this recipe for Garlic Butter Soft Gluten Free Breadsticks from page 177. These breadsticks are legendary at Olive Garden restaurants, and I knew you missed them.
And the best part? They only need one rise! They're made with our gluten free bread flour blend, so they must be magic after all.
The flavor of these breadsticks comes almost entirely from the butter-rich dough, and the garlic butter generously slathered on top, both in the middle of and at the end of baking.
This recipe was reproduced, with permission, on a popular commercial website when the book was released in 2013. Over time, the link has disappeared, though. I
had to be sure that you had the recipe, whether you have the book or not. And I thought a video of my making and shaping them might help, too.
Especially during the fall and winter holidays, when family and friends are gathering around the table to share hearty meals, we need bread. These gluten free breadsticks are the ones that you can proudly serve to gluten-free and gluten-eaters alike, without asking permission or forgiveness.