These 9 flourless baking recipes are naturally gluten free. Make the best muffins, brownies, cookies and cake of your life. No special ingredients required!
When I first started baking gluten free, I didn't give much consideration to flourless baking recipes. I guess I assumed that there wasn't much variety in truly flourless baking.
Now I know what can be done with everything from nut butters to black beans as a base. That means I know how very wrong I was to nearly ignore flourless baking. And now there's a whole blog category on baking without flour.
Let me clarify, though, that when I say "flourless," I mean strictly flourless. If any grain or starch ground into a flour is included in the recipe, it's not flourless. Anyone who has any familiarity with gluten free baking knows that alternatives to wheat flour are, indeed, flours.
I love making my family a whole muffin made out of little more than nut butter, eggs, applesauce and a touch of honey. As it turns out, flourless baking can be more satisfying, and healthier, than nut butter on toast!
These aren't the only flourless baking recipes I've created, but they're 9 of the very best. I have made every single one of these recipes many times, long after I had perfected the recipe. When you cook and bake for a living like I do, repeats of old favorite recipes aren't that common.
But these recipes are different. They're exceedingly simple in method and ingredients, often have no added butter or oil, and most have less sugar than their traditional counterparts. Each is a true family favorite!
These naturally gluten free flourless brownies are rich and fudgy, with a Paleo option, too. Made simply, with melted chocolate and cocoa powder, they're rich and satisfying with or without the simple chocolate ganache topping.
Moist and tender Paleo muffins made completely flourless with cashews, applesauce, eggs and honey. Add your favorite mix-ins, like blueberries or chocolate chips.
These are, hands down, my favorite flourless recipe of all. Cashews make for such a neutral base that the flavor of the mix-ins really shines through. They're super healthy and satisfying, and packed with energizing protein.
A flourless chocolate cake is one of those restaurant-style desserts that it's tempting to think is too fussy to make at home. It's naturally gluten free, and you can whip one up at home any time.
This was the very first flourless recipe I ever made, and the one I always iamgined when I thought of"flourless baking." Forever a classic!
These flourless fudge cookies are made with egg whites, sugar, cocoa powder and chocolate chips. Crisp on the edges, and chewy inside. Packed with chocolate flavor!
These homemade protein bars are no bake, endlessly customizable energy bars. Just like Luna and Power bars, and made with your favorite protein powder.
Unlike most recipes you'll find for protein bars (believe me—I've researched quite a lot!), these are simple and not at all fussy. Make them your own, easily!
Flourless gluten free chocolate cake for one. 3 ingredients. 1 cake. 20 minutes max. This little cake is for you, when you want something with chocolate, and you want it all to yourself.
These flourless chocolate peanut butter muffins are unbelievably moist and tender, and packed with chocolate and peanut butter flavor. You simply won't believe that they're grain-free, with no added butter or oil. Another go-to recipe in my house.
Black bean brownies are a special kind of flourless gluten free brownie, and this amazing recipe doesn't taste at ALL like beans. Really! Tasting is believing.
As a survivor of the earliest days of gluten free baking when I had basically no choice but to bake with a garbanzo bean flour blend (*ew*), I was a hard sell on even the concept of black bean brownies. These are the real deal brownies—that just happen to be made with black beans as a base.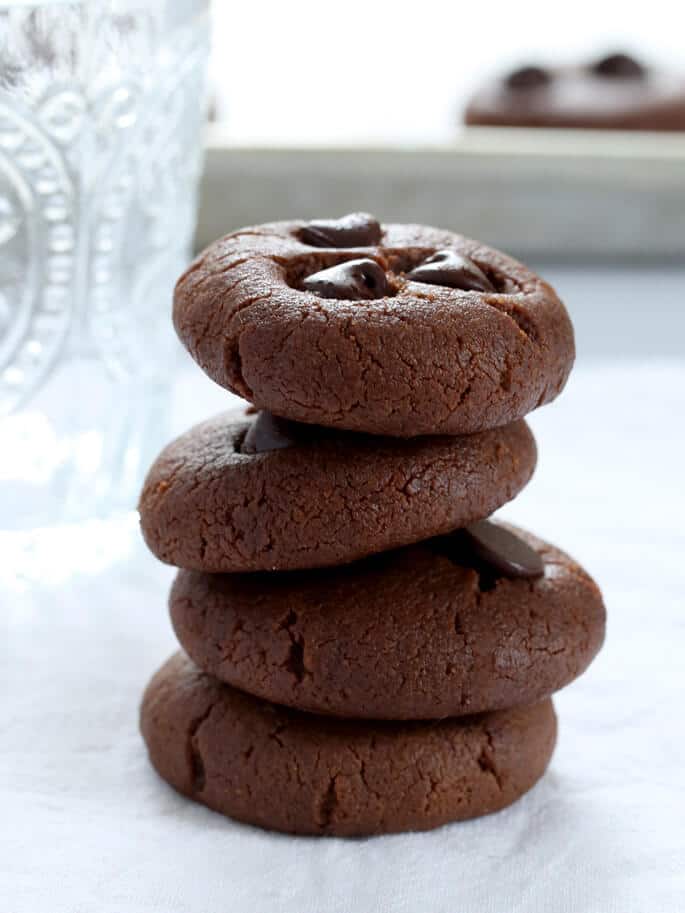 These flourless peanut butter cookies are gluten free, grain free, dairy free and can be made refined sugar free, too. They're packed with protein, and keep you going all morning long.
A batch of these cookies is almost always in my freezer. Soft and dense, they're packed with protein and flavor. And, at the risk of sounding like a broken record, they're so satisfying.
Don't wait too long like I did. The joys of flourless baking recipes await you!