Incredibly fudgy, rich chocolate black bean cookies have absolutely no flour of any kind. They'll never know about the beans if you don't tell them!
If you had told me a couple of years ago that I'd be baking with black beans, I'd almost certainly be rolling my eyes at you. I have been on a crusade since my son went gluten free in 2004 to kill the phrase "good, for gluten free"—for good.
So believe me when I tell you that these amazingly fudgy black bean cookies taste nothing like black beans. It all started when I made perfect black bean brownies and found out that they're good for more than, say, burritos and black bean burgers.
These cookies are not overly sweet at all, but you can increase the sugar to 3/4 of a cup from 1/2 if you'd like a sweeter cookie. I like them just like this—and why bake with beans if you're just going to load it up with sugar, right?
You just can't believe how intensely chocolatey they are until you try them. And what are the chances you don't have these basic ingredients already in your pantry? If you don't have unsweetened chocolate, just use the darkest chocolate you have and don't sweat the small stuff.
Why Black Beans?
If you're wondering why we're using black beans, in particular, I blame it on the Internet. I don't know who the first person was to start this experiment, but suddenly black bean brownies were everywhere.
When you drain and rinse a can of black beans really really well, the beans taste very neutral. And I first decided to give black bean brownies a try when the quality of a beloved brand of black beans went downhill and every can was suddenly mushy and pitiful.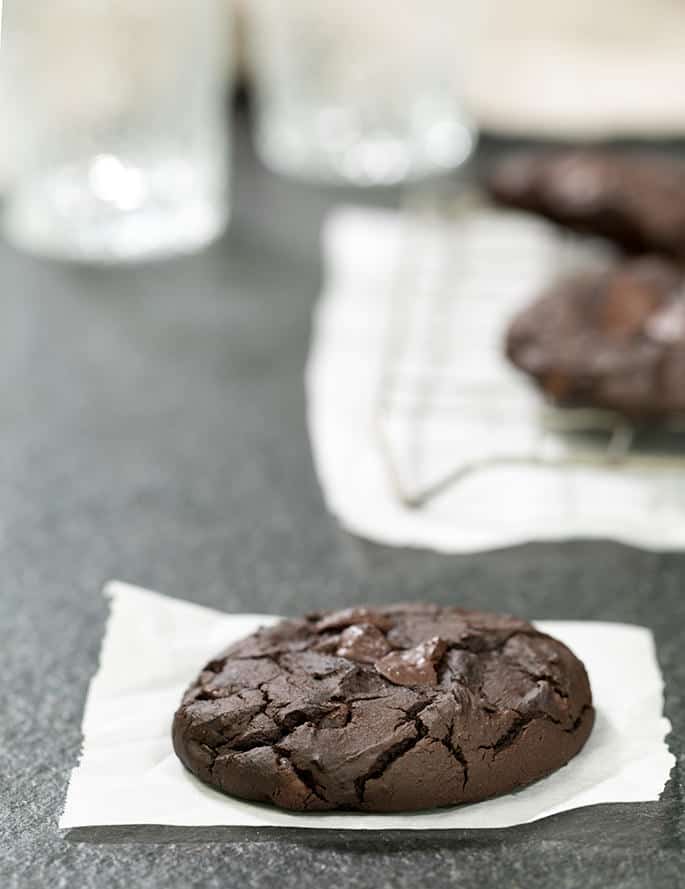 I haven't tried these cookies (or my black bean brownies) with another type of bean, but I have to imagine that most beans would work. Speaking of other ingredients that I haven't tried…
Ingredients and Substitutions
If you're dying to make this recipe, but wondering (you know you are!) how to make it suit your family's particular dietary needs, here's what I can offer you:
Dairy-Free: Easy peasy. Just use softened Earth Balance buttery sticks in place of the unsalted butter, and omit the salt from the ingredient list. Those sticks are plenty salty!
Egg-Free: Eggs are always a little tricky to replace in baking, but since there is only one egg in this recipe, a "chia egg" (1 tablespoon ground chia seeds + 1 tablespoon lukewarm water, mixed and allowed to gel) should work. The only problem here is that, since there's no flour, the egg provides most of the structure. You'll have to experiment!
Sugar: You definitely cannot replace the granulated sugar with a liquid sugar (I seem to get that question a lot these days), but you might be able to replace it with coconut palm sugar. But since granulated coconut sugar is quite coarsely ground, I'd recommend pulsing it alone in a food processor before adding it to the cookie dough.
Fudgy Flourless Black Bean Cookies
Ingredients
1 15 oz can black beans, rinsed and drained
4 tablespoons (56 g) unsalted butter, at room temperature
1 egg (50 g, weighed out of shell) at room temperature, beaten
2 teaspoons pure vanilla extract
1/2 cup (100 g) granulated sugar
1/2 teaspoon baking soda
1/2 teaspoon kosher salt
2 ounces unsweetened chocolate, melted and cooled briefly
1/4 cup + 2 tablespoons (30 g) unsweetened cocoa powder
4 ounces semi-sweet chocolate chips
Instructions
Preheat your oven to 375°F. Line a rimmed baking sheet with unbleached parchment paper and set it aside.

In the bowl of a food processor fitted with the steel blade, place the black beans, butter and egg and pulse until mostly smooth. Add the vanilla, sugar, baking soda, salt and melted chocolate, and pulse again until smooth. The cookie dough at this point should be the consistency of hummus. Add the cocoa powder and pulse until the mixture is well-combined. The consistency should be more like fudge. Add most of the chocolate chips (about 3 ounces) and mix by hand until the chips are evenly distributed throughout the cookie dough.

Using a spring-loaded cookie scoop or two spoons, scoop portions of the dough about 2 tablespoons each and place about 2 inches apart from one another on the prepared baking sheet. Using the back of a moistened spoon, spread each portion of cookie dough into a round about 1/2-inch thick. Sprinkle the top of each piece of dough with a few more chocolate chips. Place the baking sheet in the refrigerator to chill for about 10 minutes or until mostly firm to the touch.

Place the baking sheet in the center of the preheated oven and bake until the cookies have taken on a crackled appearance and are mostly firm to the touch, about 18 minutes. Remove from the oven and allow to cool completely on the baking sheet. They'll be quite fragile when they're warm.