This recipe for gluten free monkey bread is easy to make, especially for the little hands of little kitchen helpers, and makes the house smell like warm, cinnamon goodness!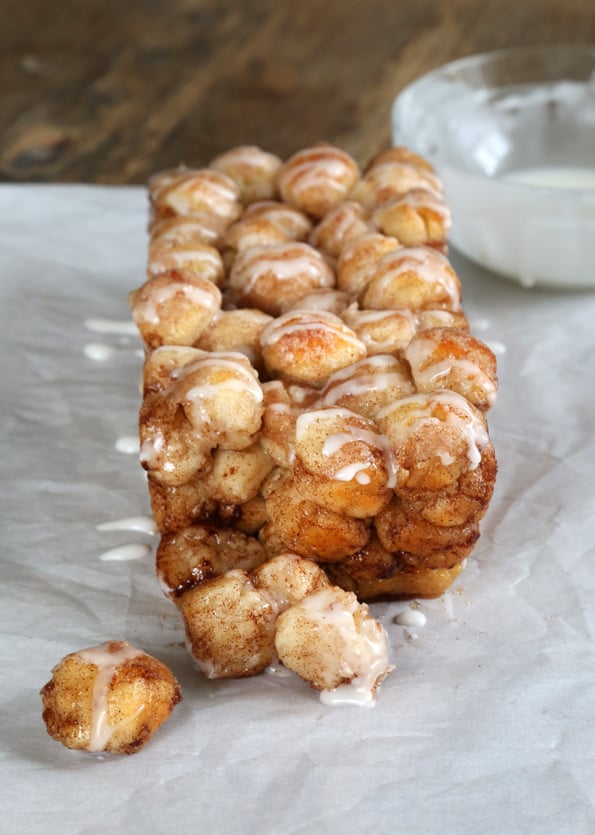 Let's start things off with a confession. This is not really a proper recipe for gluten free monkey bread. That recipe is on page 143 of GFOAS Bakes Bread.
This easy recipe is really just pizza dough, jury-rigged into monkey bread. But this sort of super easy gluten free monkey bread is near and dear to my heart. I can explain…
When my gluten free son (the inspiration for this site and everything that goes with it but don't tell my other kids because all of a sudden they wish they had celiac disease) was in later infancy, he was terribly sick. It was awful.
I try not to think about it too much (which is probably why I never really talk about it on the blog), and even 10 years later it's hard for me to even look at any photos taken of him during that time, but it is what it is. He was a mess: no fat on his body, distended belly, sunken-in eyes, your basic parental nightmare.
When we began a gluten free diet, he seemed to begin to improve overnight. It was nothing short of miraculous. But even once he regained weight and began to grow taller (finally!), he needed years of physical and occupational therapies to regain muscle tone and strength and for his fine motor control skills to catch up.
During that time, we lucked out and got the most amazing pediatric occupational therapist in the history of the world who didn't let him charm her out of making him do the work he needed to do with his big dimples and coy smile. As part of his therapy, she wanted Jonathan to play with Legos—and (you guessed it!) recommended that we make monkey bread using a simple pizza dough. Like this…
Back then, I used quite a different gluten free pizza dough recipe, and it was much stickier and more difficult to handle. And we rolled each piece of dough pretty tight, since we were working on Jonathan's fine motor control.
We did bake and eat that monkey bread and since it was rolled in cinnamon-sugar, I don't remember anyone complaining too much. But it really wasn't very good. Turns out that the last thing you want to do with pizza dough when you're using it to make a super easy monkey bread is to roll it tight!
So instead, here we just roll the pizza dough out, cut out rounds, and dredge them in butter, then cinnamon sugar before layering them in a loaf pan and baking it all.
Tender and delicious, and perfect for my gluten free son, who's now a healthy, athletic and smart almost-11-year-old boy. Oh, and my 2 girls love it, too. And their dad. Okay, and their mom.