Gluten free pumpkin cupcakes with pumpkin butter and topped with pumpkin icing or cream cheese frosting, made full-sized or mini. The best of the season!
On a brighter note, I am digging this baking-with pumpkin-butter thing! You really can't match the depth of flavor in pumpkin butter with an equal amount of pumpkin puree – canned or fresh.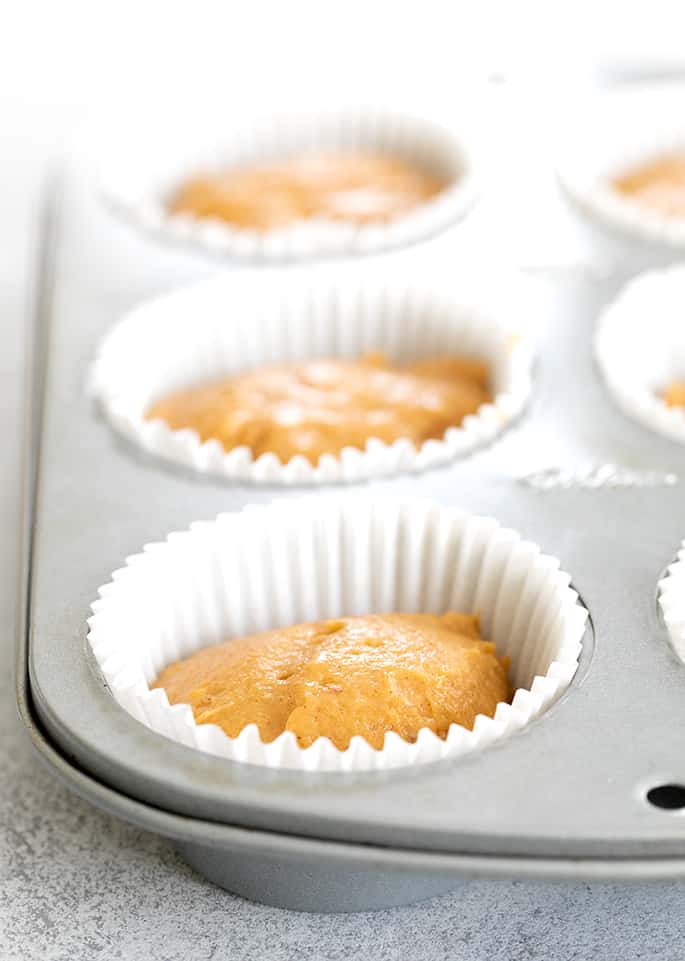 I made mini cupcakes thinking that I would pack some in my kids' lunches this week. They're always talking about those little bags of "mini bites" that Nabisco or somebody or other makes. These stay moist enough that they'll survive a few days on the counter so you can keep packing them for lunch – minus the frosting or icing of course.
Part of me can't believe that my kids feel deprived that they don't have those prepackaged mini muffins in their lunchboxes. I mean, can you even begin to imagine the embarrassment of baked riches in their lives? But most of me totally gets it. They're kids.
Soft and moist, 2-bite mini pumpkin butter cupcakes with just a dollop of cream cheese molasses frosting. If you want to make these full-sized in a standard 12-cup muffin tin, just bake them for about 10 minutes longer, still at 325°F.
Ingredients and substitutions
Dairy
If you can't have dairy, I recommend you use the pumpkin glaze rather than the frosting, since there is no nondairy cream cheese that tastes like actual cream cheese. At least that's been my experience.
In place of the butter in the cupcakes, I recommend trying vegan butter like Miyoko's Kitchen or Melt brand. I don't recommend using any oil that is liquid at room temperature, but you can try using virgin coconut oil, softened.
Eggs
There are two eggs in this recipe. You should be able to replace each of them with a "chia egg."
For each, place 1 tablespoon ground white chia seeds + 1 heaping tablespoon lukewarm water in a small bowl. Mix, and allow to gel before using in the recipe.
Gluten Free Pumpkin Cupcakes
Yield:
12 standard or 24 mini cupcakes
Ingredients
For the cupcakes
1 1/2 cups (210 g) all purpose gluten-free flour (I used Better Batter)
3/4 teaspoon xanthan gum (omit if your blend already contains it)
3/4 teaspoon baking powder
1/2 teaspoon baking soda
1/2 teaspoon kosher salt
2 teaspoons pumpkin pie spice
1/2 cup (100 g) granulated sugar
1/2 cup (109 g) packed light brown sugar
8 tablespoons (112 g) unsalted butter, at room temperature
5 ounces pumpkin butter (homemade or store-bought), at room temperature
1/2 teaspoon pure vanilla extract
2 eggs (100 g, weighed out of shell) at room temperature, beaten
For the frosting
4 ounces cream cheese, at room temperature
4 tablespoons (56 g) unsalted butter, at room temperature
2 tablespoons unsulphured molasses
1/2 teaspoon pumpkin pie spice
1/4 teaspoon kosher salt
2 cups (230 g) confectioners' sugar
2 tablespoons (1 fluid ounce) milk or cream
For pumpkin icing
1 1/2 cups (173 g) confectioners' sugar
Pumpkin butter (about 1 tablespoonful)
Water, by the droplet
Instructions
Preheat your oven to 325°F. Grease or line a standard 12-cup or 24-cup mini muffin tin and set it aside.

In a large bowl, place the flour, xanthan gum, baking powder, baking soda, salt, pumpkin pie spice and granulated sugar, and whisk to combine well.  Add the brown sugar and whisk to combine, working out any lumps in the brown sugar. Add the butter, pumpkin butter, vanilla and eggs, and beat until well-combined and smooth. The batter will be light, but scoop-able.

Fill the prepared muffin cups about 2/3 of the way full, and place in the center of the preheated oven. Bake until golden and the top springs back when pressed gently with your fingertip (about 10 minutes for miniatures, 18 minutes for standard size). Remove the cupcakes from the oven and allow to cool in the pan for 5 minutes. Transfer to a wire rack to cool completely.

For the frosting, place the cream cheese and butter in the bowl of a stand mixer fitted with the paddle attachment. Beat on high speed until the mixture is light and fluffy (1-2 minutes). Add the molasses, pumpkin pie spice and salt, and mix again on high until well-combined.  Add the confectioner's sugar, and mix on low speed to combine. Once the sugar has been absorbed by the butter and cream cheese mixture, add 1 tablespoon of milk and turn the mixer up to high speed and mix for about 3 minutes, or until the frosting is fluffy and thickened. If necessary, add the remaining tablespoon of milk and continue to beat until the frosting is fluffy. Transfer frosting to a pastry bag fitted with a small tip, and pipe a generous amount of frosting on top of each cooled cupcake.

For the pumpkin glaze, place the confectioners' sugar in a small bowl, and add about 1 tablespoon of the pumpkin butter. Mix until it resembles a very thick paste. Add more pumpkin butter by the half teaspoon as necessary to create that thick paste. It should be difficult to stir. Add water by the literal drop, and mix completely, until the glaze is thickly pourable. Spoon the thick glaze on top of each cooled cupcake, and spread with a moistened offset spatula. Allow to set at room temperature before serving.

Originally published on the blog in 2012. New photos, glaze option added.