This gluten free cranberry bread is super moist, lightly sweet and only just a bit tart. It's the perfect quick bread for your holiday table!
Cranberries are a bit of a funny little fruit. They can be so tart that they make you pucker just to think about them. But they cook down quickly, so they're barely recognizable—especially when you add some sugar. Since this is the time of year we have to bake and cook with cranberries. And with this gluten free cranberry recipe, you'll want to.
A proper quick bread should be perfectly browned on the outside, then soft and lightly sweet on the inside. This is definitely a proper quick bread. It takes about an hour to bake, since there is plenty of moisture in the batter. The reward is a super moist and tender bread, and one that doesn't burn during baking.
The fresh cranberries are indeed tart. They have a tendency to clump, like anything you might mix in to quick bread batter. You want them to be spread all throughout the batter during baking.
Just be sure to follow the instructions below for halving the cranberries, and then tossing them with a tablespoon of the dry ingredients before folding them into the batter. It helps them stay put during baking.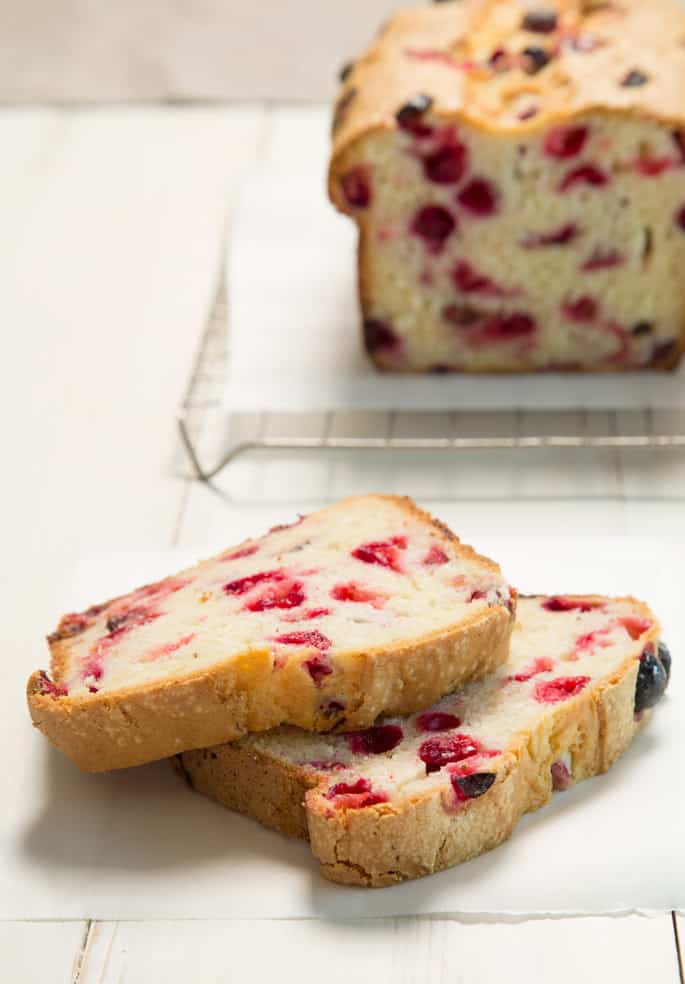 This classic holiday quick bread should be on every table this season. To make it into a cranberry-orange quick bread, add the zest of one small orange to the batter. For even more orange flavor, squeeze the juice out of that orange, too, and use it to replace some of the milk in the recipe. The batter may look a bit curdled, but it will bake beautifully.
Gluten Free Cranberry Bread
Yield:
1 loaf cranberry bread
Ingredients
6 tablespoons (84 g) unsalted butter, at room temperature
1 cup (200 g) granulated sugar, plus 1 tablespoon
2 eggs (100 g, weighed out of shell) at room temperature, beaten
2 1/2 cups (350 g) all-purpose gluten-free flour  (I used my Better Than Cup4Cup blend once, and Mock Better Batter another – both came out great)
1 teaspoon xanthan gum (omit if your blend already contains it)
1 teaspoon baking powder
1/2 teaspoon baking soda
3/4 teaspoon kosher salt
10 ounces fresh cranberries, halved
1/2 cup (4 fluid ounces) milk, at room temperature*
1/2 cup (108 g) sour cream, at room temperature*
*The milk and sour cream together can be replaced by 1 cup (227 g) plain whole milk yogurt, or with 1 cup (8 fluid ounces) real buttermilk.
Instructions
Preheat your oven to 350°F. Grease or line a standard 9 x 5-inch loaf pan and set it aside.

In the bowl of a stand mixer fitted with the paddle attachment, or a large bowl with a handheld mixer, place the butter. Beat on medium-high speed until light and fluffy. Add the 1 cup of granulated sugar and the eggs, beating well after each addition.

In a separate, medium-size bowl, place the flour blend, xanthan gum, baking powder, baking soda and salt, and whisk to combine well. Place the cranberry halves in a separate, small bowl. Add about one tablespoon of the dry ingredients to the cranberries, and toss to coat. Set the cranberries aside. To the bowl with the butter and sugar mixture, add the dry ingredients, alternating with the milk and sour cream, beginning and ending with the dry ingredients. The mixture will be thick but smooth. Add the cranberries and reserved dry ingredients, and mix gently into the batter until evenly distributed throughout.

Scrape the batter into the prepared pan, and smooth the top. It will nearly fill the pan. Smooth the top with a wet spatula, and sprinkle with the remaining tablespoon of sugar. Place the pan in the center of the preheated oven and bake, rotating once, until golden brown on top and a toothpick inserted in the center comes out clean (about 1 hour). Remove from the oven and allow to cool in the pan for 20 minutes before transferring to a wire rack to cool completely. Slice and serve.

Original recipe posted in 2013. Recipe scaled down to make a slightly smaller loaf, and provide alternative ingredient recommendations.