These Brazilian cheese bread rolls are made simply with tapioca starch, some oil, cheese, and milk. With a thin outside crust and a chewy center. Naturally gluten free!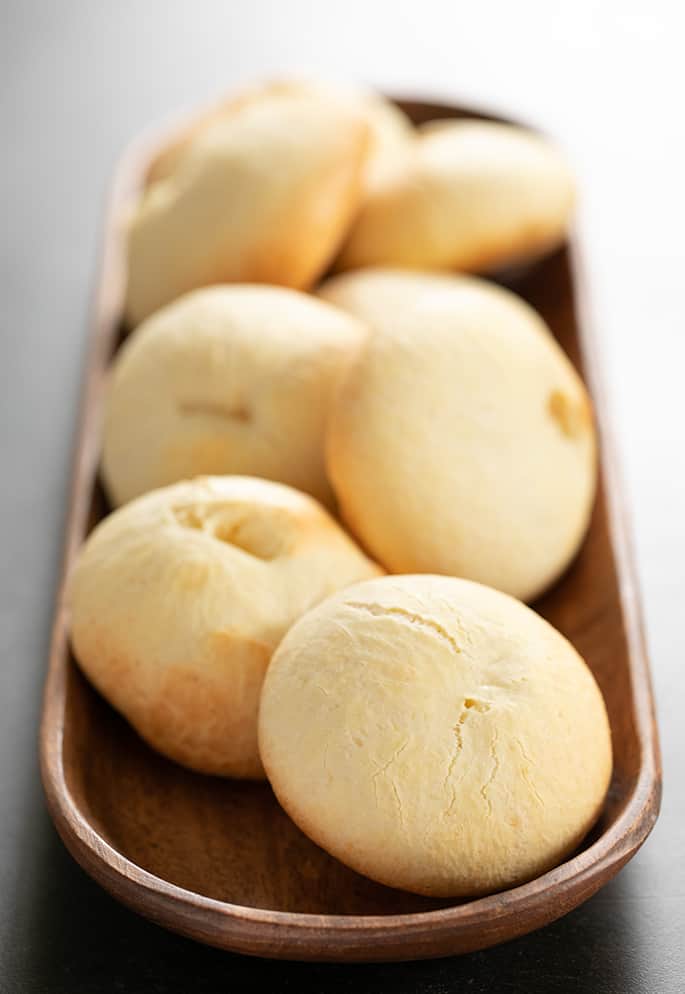 Why buy a mix for Brazilian cheese bread?
There are lots of different recipes for pão de queijo, or Brazilian cheese bread. This is simply my favorite way to make it.
I set out years ago to replicate the recipe for the original cheese bread dry mix that shall remain nameless since they sent me an e-mail telling me to remove reference to their product. That box contains little more than tapioca flour and salt.
This original mix has "modified manioc starch" as one of its lesser ingredients, which it claims is necessary for binding the wet and dry ingredients. Since both the dough and the bread are extremely chewy and stretchy without any modified manioc starch, I can't for the life of me imagine how that is necessary.
Baking mixes have their value
I have come to understand the power of buying a boxed mix for gluten free baking, particularly when you're new to gluten free baking. In fact, I've even developed recipes that replicate that experience, like gluten free cake mixes.
But buying a box of essentially one type of flour and salt just seems different to me. Remember, when you buy the boxed mix, you still have to add all of these other ingredients (eggs, oil, cheese, water or milk – I used milk instead of water and dry milk, like in this mix, so you don't have to go hunting for dry milk).
A note about cost-savings
This nameless company sells its 7.5 ounce original cheese bread mix for more than $3.00 (on average, being kind). The gluten free tapioca starch/flour necessary for this recipe costs about $1.12 (on average).
If you like that mix, then by all means keep buying it. But if you're ready to break out of the box, this recipe is for you.
Should you chill the dough for these rolls?
In my recipe directions, I recommend your chilling the dough before baking it, but really it isn't entirely necessary. Chilling the dough simply makes it stiffer, which allows you to make a slightly more round roll.
But a truly spherical pão de queijo would require a different, somewhat more complicated method entirely. So I chill the dough, but I consider that an optional step.
Don't overbake
Keep in mind that Brazilian cheese bread essentially has only one dry ingredient (other than salt), and that dry ingredient is a starch. That means won't brown much unless you seriously overbake it.
They should have a thin crust on the outside, and be quite chewy and stretchy on the inside. These are not intended to be light and fluffy rolls.
They're kinda fun and quick and easy to throw together, though, and when you make it yourself without the mix, it costs about half as much.
Ingredients and substitutions
Since this is a very simple recipe that relies upon the unique properties of cheese, eggs, and tapioca starch/flour, I'm afraid substitutions are not easy. Here's my best information and educated guesses:
Dairy: Cow's milk can easily be replaced by unsweetened almond milk, or your favorite unsweetened nondairy milk. The cheese is an entirely different story.
Pão de queijo is similar to pan de bono, a Colombian cheese bread made with a similar combination of crumbly cheese, corn flour, tapioca starch, and egg. And when my oldest daughter was briefly dairy-free, I successfully made a dairy-free version of that recipe.
If you review the Ingredients and substitutions section of that recipe, you'll find the exact modifications I made to that recipe to make it successfully dairy free. You may be able to use that as a guide for how to make dairy free Brazilian cheese bread.
Eggs: Since there are two eggs in this recipe, you can try replacing each of them with a "chia egg" (1 tablespoon ground white chia seeds + 1 tablespoon lukewarm water, mixed and allowed to gel). Since this is such a simple recipe, and relies heavily upon eggs for rise, I simply can't promise results.
Tapioca starch/flour: Tapioca starch/tapioca flour (both the same product; the names are used interchangeably for reasons unknown) has uniquely stretchy qualities. It has no appropriate substitute, particularly in a recipe like this which is made with no other flour.
Brazilian Cheese Bread | Quick Pão de queijo
Yield:
8 rolls, depending upon size
Ingredients
2 eggs (100 g, weighed out of shell) at room temperature, beaten
3 tablespoons (42 g) extra-virgin olive oil
2/3 cup (5 1/3 fluid ounces) milk, at room temperature
6 ounces sharp & hard cheese, grated (I used a blend of sharp cheddar and Parmigiano Reggiano)
1/4 teaspoon kosher salt
2 1/2 cups (300 g) tapioca starch/flour
Instructions
Preheat your oven to 400°F. Line a rimmed baking sheet with unbleached parchment paper and set it aside.

In a blender or food processor, place the eggs, oil, eggs, milk, cheeses, salt, and about 1/2 cup tapioca starch and blend or process until smooth and well-combined. Pour the relatively thin mixture into a large bowl and add about another 1 1/2 cups tapioca starch. Mix to combine. If the mixture still sticks to the spoon, add more tapioca starch by the tablespoonful and mix in until it pulls away from the spoon. It should be tacky to the touch, but not gooey.

Divide the dough into 8 to 12 portions, depending upon the size you want. Put about 2 inches apart on a prepared baking sheet and chill in the refrigerator for about 10 minutes if you'd like a rounder roll. Roll into rounds and replace on baking sheet. Place in the center of the preheated oven and bake until puffed and beginning to brown (15 to 18 minutes, depending upon size). Serve immediately.

Originally published on the blog in 2013. Method improved, ingredient balance tweaked a bit. Photos and video all new.