Low in sugar and with no added butter or oil, this gluten free peanut butter bread is still moist, tender, and full of peanut flavor.
This quick bread loaf makes a lovely protein-packed breakfast, where it will certainly be making an appearance in my house especially with back-to-school coming. It's also perfect for an afternoon snack that will satisfy without ruining dinner.
The only fat in the quick bread is from the peanut butter itself and the egg yolks (no butter! no oil!), and from the milk unless of course you use nonfat milk (which I never recommend since nonfat milk tastes like water to me, but it would still work).

How to make this easy peanut butter quick bread
The batter for this recipe is made entirely in one bowl. But unlike most one-bowl recipes, like our one bowl gluten free chocolate cake, this time we begin with the wet ingredients and build up to the dry, one by one.
In a large bowl, place the peanut butter and warm it up a bit in the microwave to make it easier to stir, and then incorporate into the other ingredients. If you don't have a microwave, you can warm it up over a double boiler on the stovetop. It's best not to warm it directly in a saucepan on the stove, which will cook it a bit and dry it out.
Next, add the milk, eggs, and granulated sugar, and whisk to combine well. The milk and eggs must be at room temperature, or they'll force the peanut butter to clump, making a smooth batter all but impossible.
Then, the usual baking powder, baking soda, and salt, followed by one of my recommended all purpose gluten free flour blends and cornstarch. If you're using Cup4Cup or another high-starch blend, use 18 grams more of the all purpose blend in place of the 18 grams of cornstarch.
Peanut butter and jelly/peanut butter and chocolate
When I first started making this recipe, I only included a few chocolate chips on top of the loaf. Now, I've added about another ounce of chips and mix more than half of the total into the batter itself. The rest go on top. You can omit the chocolate chips altogether, just add a few on top, or balance it out however you and your family prefer.
I find that a few chocolate chips go a long, long way to convincing my children to try something, and in this recipe they really balance out the relative richness and deep peanut butter flavor of the quick bread. And after you've made this magic with one bowl, a whisk, and a spoon, slice the bread thickly and you can serve it plain or with some jam.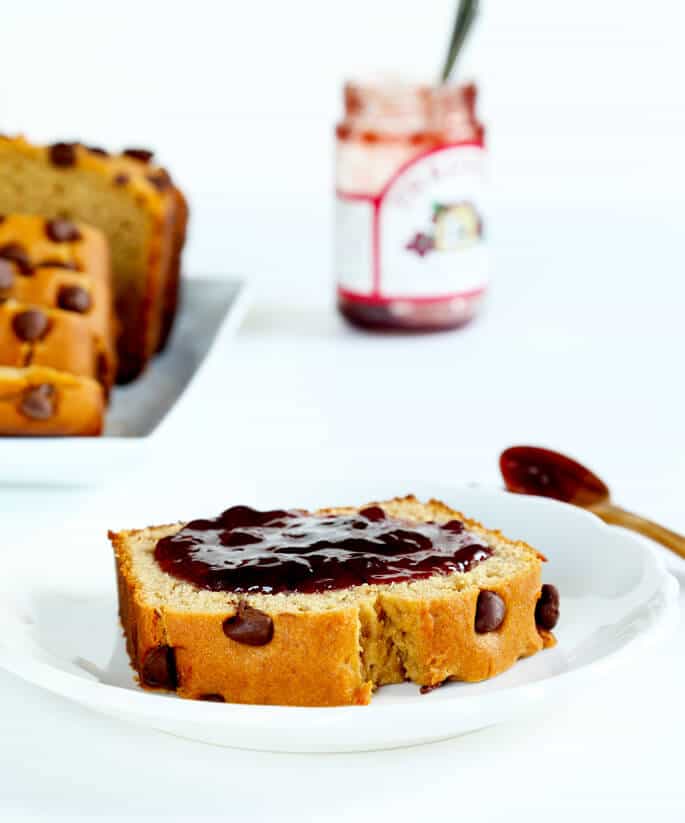 Ingredients and substitutions
Dairy-free: This is nearly dairy-free as written. Just be sure to use your favorite unsweetened nondairy milk (my favorite is unsweetened almond milk), and dairy-free chocolate chips. Done!
Egg-free: Since there are two eggs in this recipe, you can try replacing each of them with a "chia egg" (1 tablespoon ground white chia seeds + 1 tablespoon lukewarm water, mixed and allowed to gel). If you have another favorite egg replacer for quickbreads, try that!
Cornstarch: If you can't have corn, just substitute arrowroot or potato starch for the cornstarch.
Peanut butter: Even though this is a peanut bread, I know you are wondering if you can make it without peanuts. Amiright? I haven't tried it with any nut butter substitutions, but I can say with confidence that no-stir almond butter (like Barney Butter brand) should work just fine.
If you are going to use a different nut butter, be sure it's the no-stir kind. All that means is that it doesn't separate at room temperature, even when it's new. The super drippy 100% natural kind of nut butter is not recommended. It's like an entirely different ingredient.
One Bowl Gluten Free Peanut Butter Bread
Yield:
1 loaf quick bread
Ingredients
1 cup (257 g) smooth no-stir peanut butter
1 1/4 cups (10 fluid ounces) milk, at room temperature
2 eggs (100 g, weighed out of shell) at room temperature, beaten
2/3 cup (133 g) granulated sugar
1 teaspoon kosher salt
2 teaspoons baking powder
1/2 teaspoon baking soda
1 1/2 cups (210 g) all purpose gluten free flour (I used Better Batter)
3/4 teaspoon xanthan gum (omit if your blend already contains it)
2 tablespoons (18 g) cornstarch
4 ounces semi-sweet chocolate chips
Instructions
Preheat your oven to 325°F. Grease and line a standard 9-inch x 5-inch loaf pan and set it aside.

In a large, heat-safe bowl, place the peanut butter. Microwave for 30-seconds on high power just to loosen up the peanut butter and make it easier to stir. Remove it from the microwave and whisk the peanut butter until smooth. Add the milk, eggs, sugar, salt, baking powder and baking soda, whisking to combine well after each addition. The batter will be thin. Switch to a large spoon or spatula, and add the flour, xanthan gum, and cornstarch, mixing to combine after each addition. The batter will be relatively thick. Add about 2/3 of the chocolate chips, and mix until evenly distributed throughout the batter. Scrape the batter into the prepared loaf pan, and smooth the top with a wet spatula. Using a very sharp knife, score the center of the loaf along the length from one end to the other in one swift motion. Scatter the remaining chocolate chips over the top of the batter, and press the chips gently into the batter to adhere.

Place the pan in the center of the preheated oven and bake until a toothpick inserted in the center comes out with a few moist crumbs attached (about 1 hour), rotating once during baking. Remove from the oven and allow to cool in the loaf pan for 15 minutes before turning out onto a wire rack to cool completely. Slice thickly and serve with jam, jelly or preserves. Wrap any leftover slices tightly in freezer-safe wrap and freeze until ready to use. Defrost at room temperature.

Adapted from She Wears Many Hats. Originally published on the blog in 2015. Some photos, video, and some text new; recipe tweaked to add more chocolate chips, but otherwise unchanged.