These crispy, cheesy mashed potato cakes are the best way to give new life to leftover mashed potatoes. Don't let those spuds go to waste!
For the love of potatoes
Potatoes are probably the most versatile food ever. You can make them into potato starch or potato flour to use in flour blends, make them into pierogi filling, or even cream of potato soup. Of course, there are the usual baked potatoes (my favorite way to make them is in their "jackets" right on the oven rack), French fries, potato chips, you name it.
I may be the only mother on the planet with a child who has never, ever liked French fries (really!), but everyone in my family can get on board with really creamy mashed potatoes. I often struggle with when to make my mashed potatoes, though, when they're for a holiday and the kitchen is super busy.
I'm thrilled to report that, on a whim, I tried the frozen mashed potatoes from Trader Joe's, and they happen to be amazing! You can defrost them at room temperature, in the microwave or on the stovetop, and they're perfect no matter the method.
Of course, this recipe works amazingly well with homemade leftover mashed potatoes. But I felt like I had to tell you about the frozen ones. They're such a find!
Can you fry mashed potatoes?
You actually can fry mashed potatoes without all of the added flavors and ingredients that we've used here. But they'll fall apart as they fry unless they have at least an egg and some cheese to bind them.
Everything else that we add here, including the herbs and spices, bacon and onions, is for added flavor. Fresh, warm mashed potatoes have all the flavor they seem to need, but when they're leftover for a day or so, they do tend to lose their flavor.
Are these potato pancakes?
These are not potato pancakes (latkes). Classic potato pancakes are made by shredding potatoes and onions, squeezing out as much moisture from them as possible, adding some eggs and flour, and frying patties of the resulting mixture.
They're similar since we are making these mashed potato cakes with aromatics, eggs, flour, and potatoes, but latkes are way, way more work. Since you're working with raw potatoes, they have tons of moisture that must be eliminated before frying.
If you don't remove the moisture from shredded potatoes and onions before frying them, you will be covered in splattered oil. Plus, your latkes will be soggy and not at all crisp.
These mashed potato cakes have deliciously crispy edges and soft middles. And you do indeed have to shallow fry them to get those crisp edges.
But they really don't splatter. And you can even make the raw mixture a couple days ahead of time and then shape and fry them as the craving hits.
A note about leftovers
Whenever I cook for the fall/winter holidays, I don't just *oops* have leftovers. I plan for them. If there's a guest who normally expects to leave with a care package of leftovers, plan for that, too.
You don't want to be caught cooking the Friday after Thanksgiving. That is literally the only day of the year that I refuse to lift a finger in the kitchen. I'm not even making a bowl of cereal.
The day after that, when I'm already sick of the planned leftovers, I'll be making these mashed potato cakes. And that leftover lasagna that has been making the cyber rounds lately. Except I'm the only one in my family who thinks it looks amazingly delicious…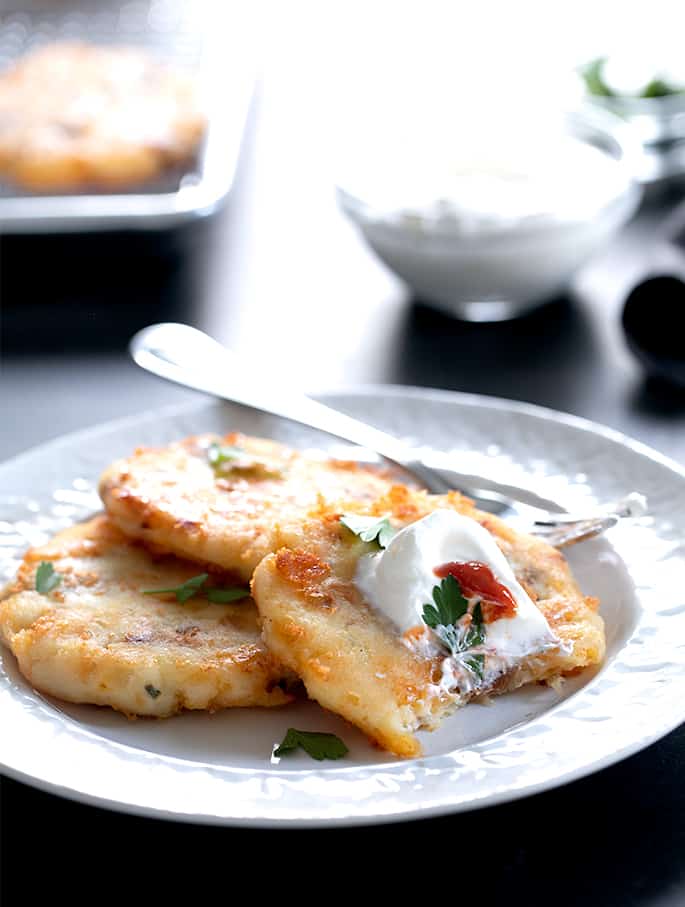 Ingredients and substitutions
Dairy-free: If you'd like to make these mashed potato cakes without dairy, first you'll need to replace any dairy you might have in your mashed potatoes (the Trader Joe's frozen mashed potatoes have dairy in them, so don't use those if you're dairy-free!).
The shredded cheese can likely be replaced with dairy-free shredded cheese like Daiya or Violife brands (my favorite dairy-free cheeses). Use dairy-free sour cream for serving, or skip that topping altogether.
Egg-free: There is only one egg in this recipe, but it is a workhorse of an egg! You can see by watching the how-to video that the only real binder is that one egg (in addition to the shredded cheese as it melts). I still think you could replace the egg with a "chia egg" (1 tablespoon ground white chia seeds + 1 tablespoon lukewarm water, mixed and allowed to gel).
Bacon: To make these pancakes vegetarian, you'll need to 86 the bacon. It does add a tremendous amount of flavor, plus some fat. The flavor can probably be replaced with some cooked chopped mushrooms.
Sauté the mushrooms long enough that much of their liquid evaporates. You may still need to add some extra flour, though, to absorb their extra moisture. The bacon fat that is used to sauté the minced onions can be replaced with unsalted butter, or even just some olive oil.
Leftover Mashed Potato Cakes
Ingredients
3/4 cup chopped bacon (from about 3 slices)
1 small yellow onion, peeled and minced
1 1/4 cups (250 g) leftover mashed potatoes
1 cup (4 oz) shredded sharp cheddar cheese
3/4 cup (105 g) gum-free gluten free flour blend
1 teaspoon mustard powder
1 tablespoon chopped scallions
1 teaspoon garlic salt (or 1/2 teaspoon garlic powder + 1/2 teaspoon salt)
1 egg (50 g, weighed out of shell) at room temperature, beaten
4 tablespoons (56 g) vegetable oil, for frying
Sour cream, for serving
Hot sauce, for serving
Fresh chopped herbs (parsley, chives, cilantro), for serving
Instructions
In a large, heavy-bottom skillet over medium-high heat, place the bacon and brown, stirring occasionally, until browned and crispy (about 10 minutes). Remove the bacon from the skillet, draining as much of the fat drippings as possible, and place on a paper towel-lined plate to finish draining. Remove all but about 1 tablespoon of the reserved bacon drippings and set aside to cool (use for another purpose or discard). Turn down the heat to medium, add the minced onion and cook, stirring frequently, until translucent and soft (about 10 minutes more). Remove the cooked onions and set them aside to cool.

In a large bowl, place the leftover mashed potatoes and break them up so they cover the bottom of the bowl evenly. Add the shredded cheese and flour blend, and mix to combine. Add the cooked onions and bacon, then the mustard powder, scallions, and garlic salt, and mix to combine. Add the egg and mix until moistened and fairly uniform in texture. Using a medium ice cream scoop or two large spoons, divide the mixture into 8 or 9 portions, about 3 tablespoons each. Roll each portion into a ball between your palms, and then pat back and forth until you've created a patty shape.

Line a baking sheet with paper towels, place a wire rack on top, and set the baking sheet aside. Returning to the original skillet, add about 2 tablespoons of the vegetable oil and place over medium-high heat until the oil shimmers. Place as many of the shaped patties as will fit without any crowding in the hot oil and fry for about 2 minutes or until golden brown on the underside. Flip the patties gently, and let finish frying until golden brown all over. Transfer the cooked patties from the pan to the prepared wire rack and baking sheet combo. Allow the cakes to drain briefly. Repeat with the remaining patties, adding the rest of the vegetable oil as necessary.

Dollop each cake with a bit of sour cream, some hot sauce, and chopped herbs, and serve immediately.

Adapted from AllRecipes Magazine.