This chickpea crust pizza is naturally grain free, needs no yeast, and is made on the stovetop in minutes. A healthy pizza crust that you can make in minutes, and even reheat and eat.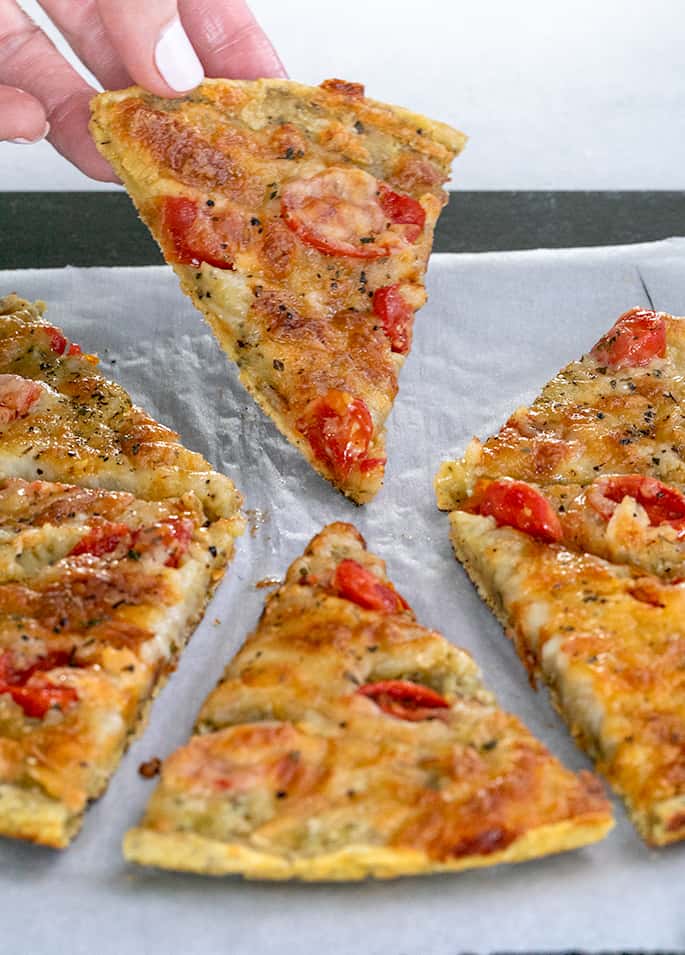 What is chickpea crust pizza?
This crust isn't made with chickpeas, but instead with chickpea flour (also known as garbanzo bean flour). I think the Banza brand chickpea pizza that's sold in frozen food sections of many grocery stores is made with whole canned or dried chickpeas.
I chose to make this recipe with chickpea flour because the flour has no moisture, which makes it easier to control the balance of ingredients. It does have a chickpea aroma, but I barely taste it in the pizza.
I don't often bake with chickpea flour, but it really works here. It, along with some tapioca starch/flour for texture, makes a high fiber batter that doesn't need to be shaped or baked in the oven.
If you were looking for a recipe for "chickpea pizza," that's a standard pizza crust topped with whole chickpeas and often bbq sauce. This isn't that!
Here, the crust itself is made of chickpea flour, which is simply dried chickpeas/garbanzo beans that have been ground into a fine powder. I did not grind my own chickpea flour, since buying it is rather easy and relatively inexpensive.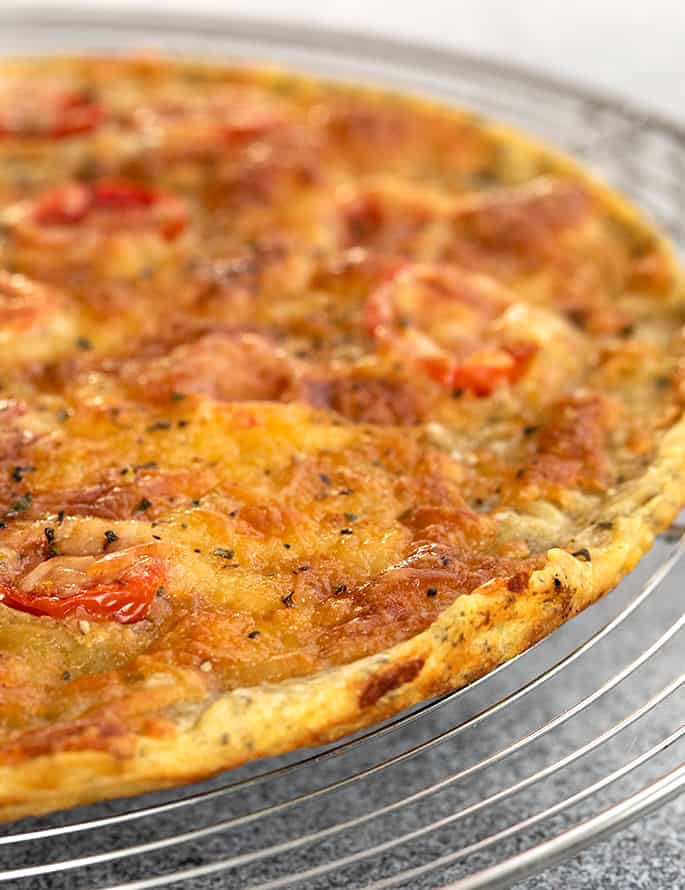 How is the crust pizza made?
Think of chickpea crust pizza as a dressed up version of socca, or a similarly unleavened chickpea flour flatbread. It's also made in a pan, usually with equal amounts' chickpea flour and water.
I've made socca before, and it's lovely in a very uncomplicated way. I like it best when it's super crispy on the outside.
This chickpea crust is made with a combination of chickpea flour and tapioca starch/flour, and has added oil and cheese, along with water, in the batter. I like to add a few different dried herbs and spices to the batter, too.
The simple batter is poured into a hot skillet with rippling hot oil, topped immediately, covered, and cooked until browned on the bottom. Then, the top is broiled to fully melt and brown the cheese and create crispness.
What kind of texture does the crust have?
Adding olive oil and cheese to the crust itself provide richness and savory flavor. The tapioca starch/flour adds chew and substance to its texture.
The grain-free starch added to the batter also helps the crust brown and crisp first on the stovetop and then under your oven's broiler.
If you place small, horizontally-sliced tomatoes on top of the raw batter, cut side up, and then cover them with cheese and spices, they soften in the heat but hold their shape. Only when you bite into the pizza do the tomatoes release their juices, though.
Ingredients and substitutions
Dairy
There is dairy in the pizza dough/batter in this recipe in the form of Parmigiano-Reggiano cheese. There is also cheese on top, in the recipe as written here.
It's easiest to replace the cheese on top with dairy-free shredded cheese (I like Violife best, but Daiya is also good). You can even use one of those cheeses to replace the shredded Parm in the batter itself, but they will have more moisture, so I recommend reducing the water by about 1 fluid ounces (2 tablespoons).
Tapioca starch/flour
You must use tapioca starch/flour in this recipe for it to have the proper texture. You cannot use Expandex modified tapioca starch, which chemically modified and behaves very differently.
Olive oil
I like to use extra virgin olive oil in both the batter/dough and in the pan to cook the crust. It adds a richness and flavor that add body to the taste.
You can really use any oil the taste of which you like. I don't recommend using butter in the dough, but you can use it in the pan to cook the crust.
Chickpea Crust Pizza | Grain Free
Yield:
1 10-inch pizza (easily doubled)
Ingredients
For the pizza batter
2/3 cup (93 g) chickpea (garbanzo bean) flour
1/4 cup (32 g) tapioca starch/flour
1 tablespoon dried herbs (I like a combination of oregano and basil)
Scant 1/2 teaspoon kosher salt
1/8 teaspoon freshly ground black pepper
3/4 cup (6 fluid ounces) lukewarm water
3 tablespoons (42 g) extra virgin olive oil
1/2 ounce Parmigiano-Reggiano cheese, grated or ground (See Recipe Notes)
Topping Options
Handful of grape or cherry tomatoes, sliced in half lengthwise
Shredded and/or shaved cheeses (I like a combination of shredded mozzarella cheese and shaved Parm) (See Recipe Notes)
Freshly ground black pepper
Dried oregano and/or basil
Notes
For the cheeses
If you're dairy free, try replacing the cheese on top with your favorite dairy-free cheese. The cheese in the pizza batter/dough can also be replaced with a shredded dairy-free cheese, but you'll probably have to reduce the water by about 2 tablespoons.
Instructions
To make the pizza batter, in a small bowl or other mixing container, place the chickpea flour, tapioca starch/flour, herbs, salt, and pepper, and whisk to combine. Add the water and 1 tablespoon (14 g) of the olive oil, and whisk until smooth. Add the Parmigiano-Reggiano cheese and mix to combine.

Place a 10-inch cast iron or other heavy-bottom saucepan over medium-high heat, and add the remaining 2 tablespoons olive oil. Heat the oil until rippling. Pour in the batter and shake and spread it out into an even layer. Top with the sliced tomatoes (cut side up), shredded and/or shaved cheeses, pepper and herbs. Cover the pan and allow the pizza to cook until set in the center and browned on the underside (5 to 7 minutes).

Uncover the pan and place under your oven's broiler. Cook until the top is browned and bubbling (about 3 minutes). Remove from the oven and transfer the pizza to a wire rack to cool for a moment, until the cheese sets. Transfer the pizza to a flat cutting surface, slice it into 6 pieces and serve warm.

Adapted heavily from Food & Wine.