This gluten free sponge cake is light and airy, and so simple to make. Serve it with fresh whipped cream and strawberries on a hot day. It's perfect for Memorial Day, or any day!
Gluten free sponge cake is a light and airy treat that I think of almost like a blank gluten free cake canvas. It has such mild flavor and tender texture you can serve it a million different ways: with or without fruit, with just a big dollop of whipped cream, or with a drizzle of simple syrup. And it's the perfect end to a big meal on a warm day.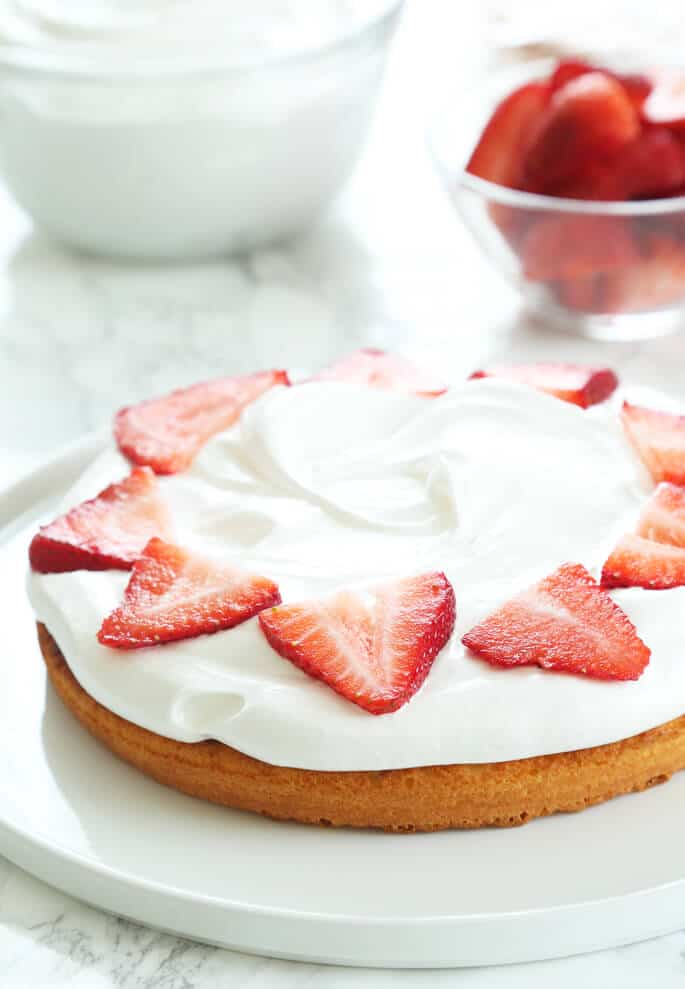 Sponge cake is very similar to gluten free angel food cake, but it includes the egg yolks instead of just the whites, resulting in a more flavorful, slightly more moist cake.
You can make this cake in a bundt or tube pan, but I don't recommend it. Since sponge cake doesn't have much fat (only that from the egg yolks), it has a tendency to stick a bit. And those pans are like cake prison.
You're much better off baking in a round cake pan. Generally, I bake one 9-inch cake, then slice it through the center and layer in some whipped cream or 7-minute frosting. In these photos, I increased the recipe by 50% and baked it in two 8-inch cake pans, then layered with frosting and berries.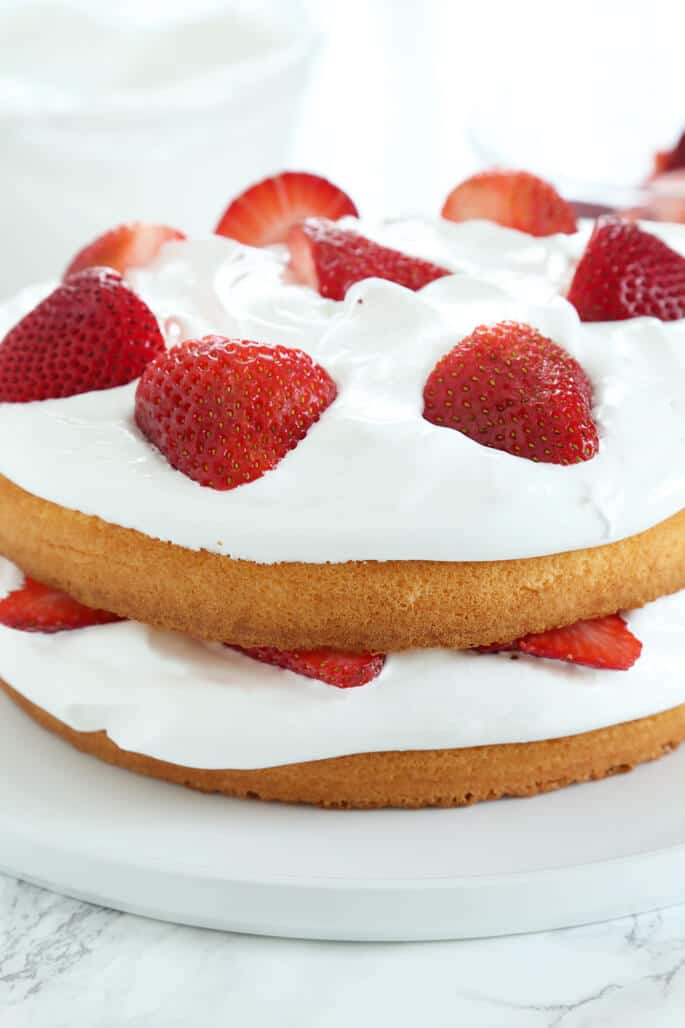 A word about the gluten free flour blend in this recipe. Please use my basic Gum-Free Basic Gluten Free Flour Blend, or your favorite, comparable blend. But no xanthan gum! I learned the hard way that a xanthan gum-containing blend will clump with the egg yolk mixture terribly. No bueno.
So fill it with berries and cream, serve it plain or cut it into cubes and layer it into your favorite trifle. So easy, and so versatile.
Links:
Trifle recipe ideas
Tips for whipping egg whites
Gluten Free Sponge Cake
Yield:
1 9-inch round cake
Ingredients
4 eggs (200 g, out of shell), separated
3/4 cup (150 g) granulated sugar
1/2 teaspoon cream of tartar (or 1 tablespoon freshly squeezed lemon juice)
10 tablespoons (88 g) Basic Gum Free Gluten Free Flour Blend (58 g superfine white rice flour + 19 g potato starch + 11 g tapioca starch/flour)
2 tablespoons (18 g) cornstarch (or try arrowroot)
1/4 teaspoon kosher salt
1 teaspoon pure vanilla extract
Instructions
Preheat your oven to 350°F. Grease a 9-inch round cake pan* well and set it aside.

*Alternatively, multiply all of the ingredients in this recipe by 150% or 1.5. Follow the recipe instructions as written, but divide the batter between two 8-inch cake pans. Bake them for about 25 minutes or until the cakes have begun to pull away from the sides of the pan and a toothpick comes out mostly clean, or with a few moist crumbs attached.

In the bowl of your stand mixer fitted with the paddle attachment (or a large bowl with a hand mixer), place the egg yolks and 1/2 cup (100 g) sugar, and beat on medium-high speed until pale yellow. Sift the flour blend, cornstarch and salt into the egg yolk mixture, and beat until well-combined. Transfer the egg yolk mixture to a small bowl and set aside.

Clean out the mixer bowl very well, and place the egg whites and cream of tartar or lemon juice in the bowl, fitted with the whisk attachment. Beat the egg whites on medium-high speed until soft peaks form. Add the remaining 1/4 cup (50 g) sugar, and beat until glossy, stiff (but not dry) peaks form. With the mixer on medium speed, slowly pour the egg yolk mixture and the vanilla into the egg white mixture, and beat until just combined. The mixture should be smooth and glossy.

Pour the batter into the prepared pan, and spread into an even layer. Place in the center of the preheated oven and bake until the cake has begun to pull away from the sides of the pan and a toothpick comes out mostly clean, or with a few moist crumbs attached (about 35 minutes). Allow the cake to cool in the pan for about 10 minutes before transferring to a wire rack to cool completely.

Serving Suggestion: Cool the cake completely, then wrap it tightly and freeze for 30 minutes. Unwrap and slice the cake in half horizontally, fill with fresh whipped cream or 7-minute frosting and a layer of sliced strawberries. Top with the other half of the cake, more whipped cream or frosting and another layer of sliced strawberries. Chill for about 2 hours before serving.

Recipe originally published on the blog in 2013. Recipe method and ingredients updated slightly; photos updated.