This recipe for gluten free French bread rises fast and bakes even faster. It makes the perfect baguette for sandwiches, garlic bread, and bruschetta.
A quick overview of this French bread recipe
These baguettes have a thin, crisp outside crust and a soft, almost squishy inside. They're as quick and easy to make as they are versatile.
The dough should be chilled for at least 30 minutes in a sealed container in the refrigerator before shaping, but it doesn't need a long first rise or rest. The recipe makes 2 10-inch rolls, but you can also make one roll that's double the length. You can even double the recipe, since it makes a small batch as it is.
The recipe calls for using a stand mixer, since the dough really does need to be beaten vigorously until it takes on a "whipped" appearance. That is what helps create that tender crumb. If you don't have a stand mixer, try using a food processor fitted with the steel blade.
How to shape and bake the baguettes
When I use my gluten free bread flour blend to make baguettes, I shape them a bit differently, much like I do our Olive Garden style soft breadsticks. That involved patting and rolling the dough into a rectangle, folding both of the long sides toward the center, then doubling the rectangle on itself. That's a classic way to create a baguette shape.
This recipe is made using one of my preferred all purpose gluten free flour blends (preferably, Better Batter), rather than bread flour. It isn't as similar to conventional gluten-containing bread dough, and it doesn't rise quite as readily. I find that when I use that other shaping method, there are more likely to be gaps in the bread after baking.
Here, I like to shape the dough by creating a cohesive piece of raw bread dough by pinching together any and all gaps in the dough so they don't separate during rising and baking. Then, roll out the dough with the palms of your hands so the dough is thicker in the center, and tapered toward the ends.
The best way to explain the shaping method is to watch the how-to video that is included in this post. But in case you aren't able to see that, I'd explain it in the following way:
Position the palms of both hands right next to one another on the top of the cylinder of dough. Roll the dough first away from your body and then back toward it as you move your hands in a half moon motion away from one another, toward the edges of the dough.
Baking them
Have you ever seen those baguette pans, which look like side-by-side slings made of metal, with a million little perforations? You don't need one of those.
I actually used to have a baguette pan, but I can't find it. That means that I must have given it away because it always drove me crazy when I tried to store it in a cabinet in my non-industrial-sized kitchen. I'm not sorry it's gone.
Those pans are, indeed, useful because they allow circulation of air all around the bread as it bakes. That's part of what creates a thin but extra-crispy crust even on the bottom of the bread—and helps shape the bread properly. I've found that it's just not necessary with this recipe, though.
For the crispiest crust, it does help to create some steam in the oven at the very start of the baking process. It's easy to do by adding some ice cubes to the oven floor at the very start of baking, then quickly closing the door.
If you don't feel comfortable adding ice cubes to the floor of your oven, try spraying the baguettes liberally with cool water in a clean spray bottle. Do the spritz either the moment right before or right after you place the pan in the oven.
How to get this yeasted dough to rise, and what to expect
When I originally started developing this recipe, I thought I'd have to use a very wet dough. That's typical of gluten free bread made with anything other than my gluten free bread flour blend.
But when I made it with a very high hydration ratio (that's something we talked about in detail in our recipe for NY-style gluten free pizza crust), the dough barely browned, wouldn't crisp well on the outside, and was super squishy almost no matter how much I baked it.
That's good news, though, since a less-wet dough is much easier to shape. It does take a little bit longer to rise, and requires a bit more yeast. But neither of those is much of a problem.
The consistency of this dough is best explained by describing what it's not. It's not stiff, but it's not fragile. You can and should shape it without adding much additional flour, and be sure to shape it with additional tapioca starch, not all purpose flour.
Rising
As with all yeasted dough, rising is variable with the ambient environment in your kitchen (not outside, unless you're setting the dough to rise outside). In warmth and humidity, rising time is shorter. If the air is cool and dry, it will take longer.
Be sure the dough is covered with oiled plastic wrap securely, but not tightly. You want it to have space to rise, but not be fully exposed at all.
And don't expect a doubling of the dough with this old-school gluten free bread dough. Instead, it will rise to about 150% of its original size. It's considered overproofed when the rise begins to break through the surface of the dough.
It will begin to look pockmarked, like it has craters on the outside, and it will become quite fragile. Stop before it gets to that stage, or at least the minute you observe it. This is a relatively quick-rising dough, so be watchful.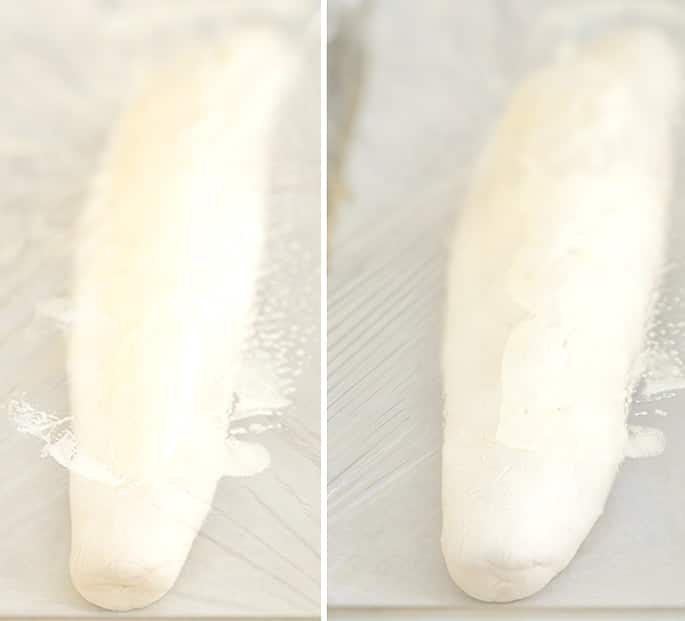 Ingredients and substitutions
Dairy
The only dairy in this recipe is the single tablespoon of butter. It can easily be replaced with Earth Balance buttery sticks, or (my favorite) vegan butters from either Melt or Miyoko's Kitchen brand.
Egg
There is only one egg white in this recipe, and it helps provide structure. If you can't have egg whites, you can try replacing the egg whites with an equal amount, by weight, of aquafaba, which is the brine from a can of chickpeas. Try beating the aquafaba until foamy with a whisk before adding it to the dough.
Yeast
You must use yeast in this recipe. There is no replacement, so if you can't have yeast, use the search function on the blog to search for "yeast free" bread recipes. They're completely different.
Instant yeast is also called bread maker or rapid-rise yeast. If you only have active dry yeast, multiply the amount of instant yeast called for in the recipe (here, 6 grams) by 125%, and proof the yeast in about 1/4 cup of the water called for in the recipe before adding it to the dough.
Here, that would mean using about 7 1/2 grams grams of active dry yeast. Since most scales (mine included) aren't sensitive enough to measure 1/2 gram, just keep adding more yeast slowly after it reads 7 grams and stop approximately halfway to 8. Just do the best you can!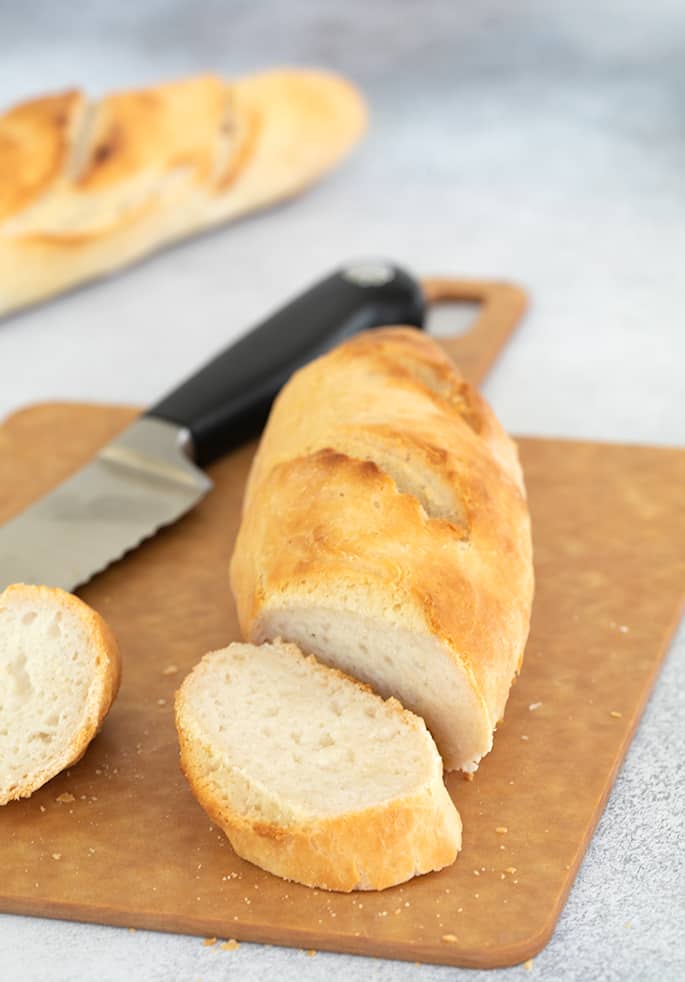 Gluten Free French Bread
Yield:
2 10-inch loaves of bread
Ingredients
1 3/4 cups (245 g) all purpose gluten free flour (I used Better Batter)
3/4 teaspoon xanthan gum (omit if your blend already contains it)
1/4 cup (36 g) tapioca starch/flour, plus more for sprinkling
2 teaspoons (6 g) instant yeast
1/2 teaspoon kosher salt
3/4 cup (6 ounces) warm water (about 95°F)
1 egg white (25 g), at room temperature
1 tablespoon (21 g) honey
1 teaspoon apple cider vinegar
1 tablespoon (14 g) unsalted butter, at room temperature
Cooking oil spray
Instructions
In the bowl of a stand mixer fitted with the paddle attachment, place the flour, xanthan gum, tapioca starch/flour, and yeast, and whisk to combine well. Add the salt, and whisk again to combine. Create a well in the center of the dry ingredients and add the water, egg white, honey, vinegar, and butter, and mix to combine.

Beat the mixture with the paddle attachment with the stand mixer on medium speed for about a minute. The dough will clump. Increase the speed to medium-high and continue to beat until the dough begins to stick to the sides of the mixing bowl and looks "whipped" in texture. Transfer the dough to a container with a lid that seals tightly, cover, and refrigerate for at least 30 minutes and up to 3 days.

When you're ready to shape the dough, turn the chilled dough out onto flat surface lightly sprinkled with tapioca starch. Dust the top of the dough lightly with more tapioca starch, and turn it over a few times and knead it gently to smooth the dough. Using a large knife or bench scraper, divide the dough into 2 equal portions. Working with one piece of dough at a time, dusting very lightly with more flour as necessary to prevent sticking, shape the bread into a cylinder, pinching together any breaks in the dough to seal them. Position the palms of both hands right next to one another on the top of the cylinder of dough. Roll the dough first away from your body and then back toward it as you move your hands in a half moon motion away from one another, toward the edges of the dough. The shape should be thicker in the center, tapered toward the ends. See the video for a visual of shaping the dough. Place the shaped rolls a couple inches apart on a parchment lined baking sheet. Cover with lightly greased plastic wrap and place in a warm, draft-free environment and allow to rise until risen to about 150% of its original size. Rising will take longer in a dry, cool environment, and less time in a warm, humid environment. Do not place it in a heated oven, to any temperature, to rise or you risk killing the yeast.

As the bread dough is nearing the end of its rise, preheat your oven to 475°F and position the top rack a bit higher than the center of the oven. When the rise is complete, uncover the baking sheet. Using a small, sharp knife or a lame held at a 45° angle to the dough, slash each roll on top 3 times at evenly spaced spots on the dough about 1/4-inch deep. Spray the tops and sides of each roll liberally with cooking oil spray.

Place the baking sheet on the top oven rack, toss a few ice cubes on the floor of the oven, and quickly close the oven door. Bake for 18 minutes, and rotate the baking sheet one half turn. Continue to bake for about another 5 minutes or until lightly golden brown all over and an instant read thermometer inserted into the thickest part of the roll read about 190°F. For a softer crust, wrap the hot rolls in a tea towel as they cool. Allow to cool for at least 10 minutes before serving.