Learn how to make homemade gluten free garlic bread from scratch with maximum garlic butter flavor all over, a tender center, and a crispy crunchy crust.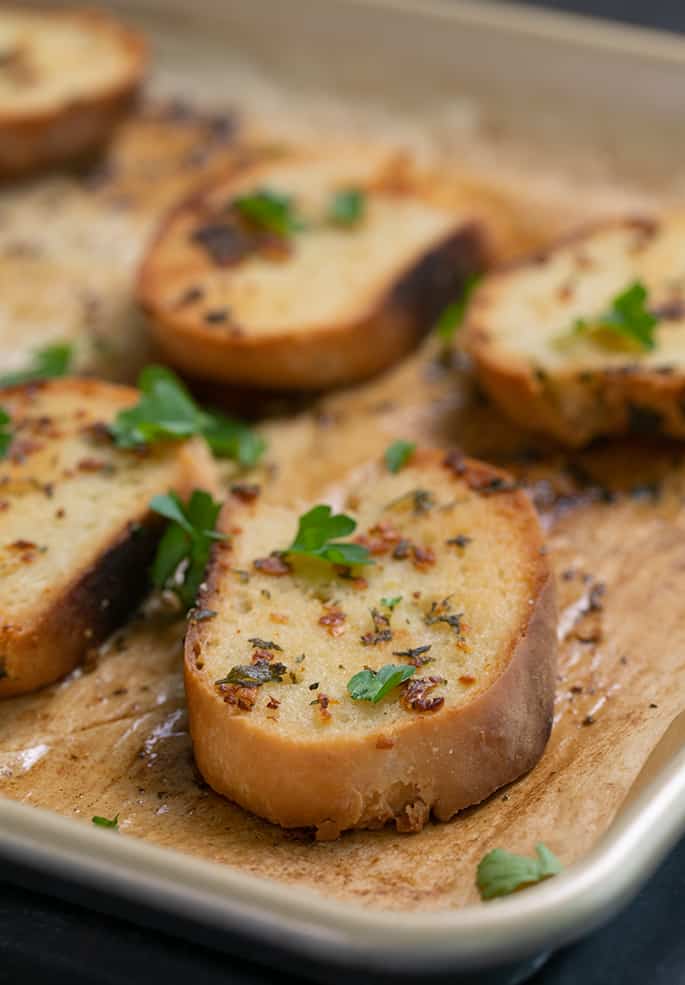 The best method for making garlic bread
That "garlic bread" we've all settled for, the one that's made by buttering some bread, sprinkling it with garlic powder, and toasting it? That's going to be a thing of the past once you try my method.
The best method for making garlic bread is to soak it in garlic-packed melted butter and olive oil. Then, squeeze out the excess, and bake it to perfection.
Resist the urge to sauté the garlic in the butter when you melt it. If the garlic isn't raw when it goes into the oven, it will burn.
Instead, we make the garlic into a paste by mincing it and then pressing it with the flat side of a chef's knife (I use a Santoku knife but you get the idea). That way, you break down the garlic without heating it, and it eliminates any sharpness of the raw garlic—and ensure that no one is going to bite into a piece of raw garlic.
Why soak the bread?
If your garlic bread only has some garlic flavor on the very outside of the bread, it will probably smell a lot better than it tastes. When you soak the slices of bread in oil and butter, mixed with garlic paste and herbs, the flavors will make it past the very outer layers of the bread.
If you didn't squeeze out the excess garlic butter from the slices, the bread wouldn't crisp properly during baking. We want flavorful bread that's soft in the very center, but crispy on the outside. This is how you make that happen.
What sort of gluten free bread can you use?
I didn't cook anything as a kid—except perfect garlic bread, using this method. The difference now, of course, is that to make gluten free garlic bread, you need the right gluten free bread.
Since garlic bread is typically made with French bread, I prefer to make our recipe for gluten free French bread for use in this recipe. It has the perfect texture and shape—although I shape it without tapering the ends as directed in the original recipe so that I get more perfect slices from the loaf.
If you don't want to go through the trouble of making homemade French bread for this recipe, you can of course use packaged gluten free bread. I recommend using something sliced thickly (like packaged gluten free hamburger or hot dog buns), or that you slice yourself after you buy it.
If the bread you're using is too thinly sliced, it won't ever reach the right balance of crisp outside and tender inside. Bread that's sliced too thin also can't soak up as much garlic butter without getting soggy.
Ingredients and substitutions
Dairy
For instructions on how to make the gluten free French bread without dairy, please click see the Ingredients and substitutions section of that recipe. To make the rest of this recipe dairy-free, use your favorite nondairy butter substitute.
Any butter substitute that adds flavor, and not just fat, should work. If you use Earth Balance buttery sticks, reduce the kosher salt by half since it's already quite salty.
Herbs
I like this recipe with dried parsley since it's a relatively neutral herb that adds a bit of flavor without competing with the garlic. Oregano and/or basil are also nice.