Gluten free chocolate eclairs are just fresh gf choux pastry filled with pastry cream, topped with chocolate. They're French, but they just look fancy!

If you can make the Gluten Free Cream Puffs, you can make gluten free chocolate eclairs. It's as simple as that. It's all about the deceptively fancy, easy peasy gluten free choux pastry. Make it into gougéres, too, if you're feeling savory. It just dead simple.
Choux pastry is a basic French (oooh la la!) pastry dough that has no yeast, and not even any chemical leaveners like baking soda or baking powder. But it puffs up like nobody's business. How? Eggs! That's it. Really. Oh, and the proper method. That doesn't hurt either.
Right there in the middle, flecked with gorgeous, delicious and fragrant vanilla seeds? Pastry cream. Another basic recipe I want you to have in your back pocket.
The pastry cream is a kind of pudding, really. And it can easily be made ahead of time. It has to chill anyhow. Make it first!
You don't need me to tell you that these are just like what you'd find in any good bakery, right? You can see for yourself. Ah, the beauty of photography, a picture telling 1000 words and all that jazz.
It really is key to bake the pastries, and then turn the oven off, prop open the door and let them chillax in there for about 30 minutes. That way, they dry out a bit, which really helps them hold their shape once you fill them.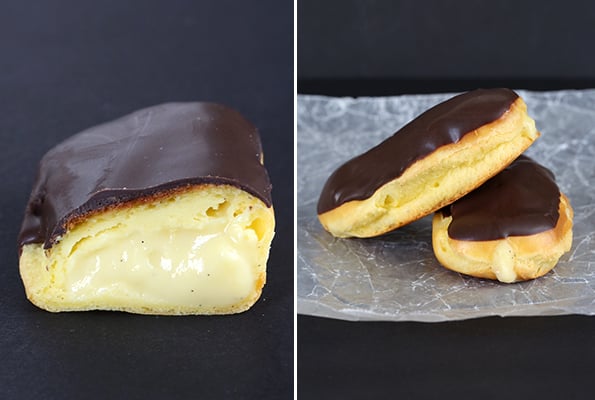 The weekend is coming up. Spring has sprung! This is how to celebrate.