These soft, intensely buttery gluten free crescent rolls are just as flaky and soft as the ready-made kind from the grocery store. And the dough is just as useful!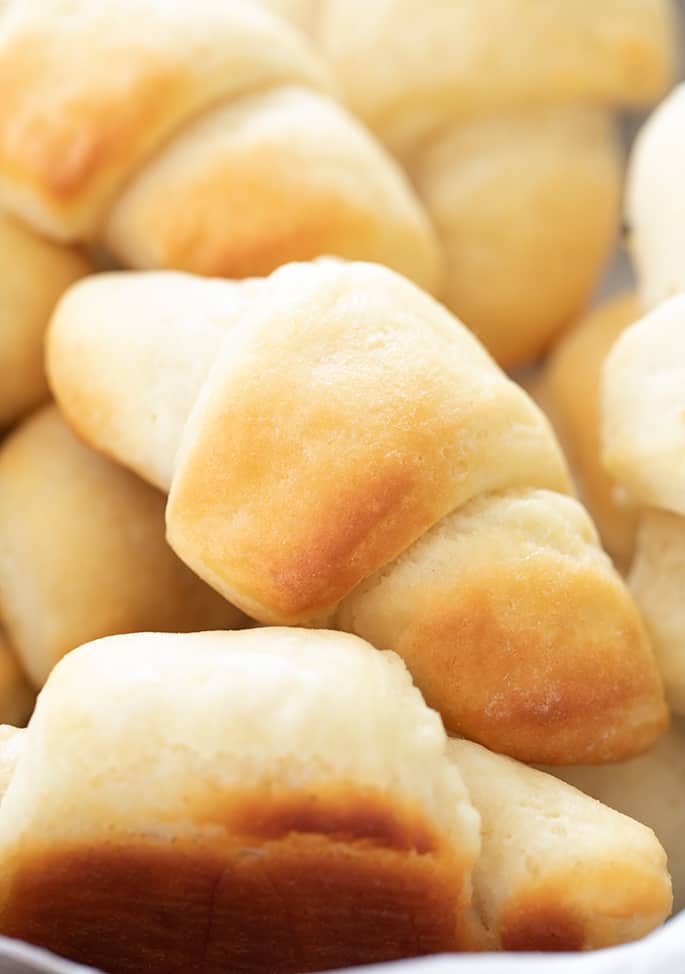 I assume you already know about the crescent rolls in the refrigerated section of nearly every grocery store in nearly every town in America. And if you haven't been gluten free your whole life, you've probably already bought that dough and used it in a bunch of interesting and fun ways.
Well, with this gluten free crescent roll dough, you can have all of those recipes back. And, of course, you can have back the classic basket of buttery rolls that makes any dinner instantly better.
The dough will keep in the refrigerator, as long as it's in a tightly sealed container, for a few days. Bake off the rolls on the same day you plan to serve them, preferably warm, though. Bread is always best the same day it's baked.
Are crescent rolls the same as croissants?
In a word, no, crescent rolls are not the same as croissants. They are similar in shape to one another, but a crescent rolls is bread a croissant is pastry.
You can, indeed, make gluten free croissants (we've done it!). But you'll need to work with the dough as if it were pastry, using cold ingredients and rolling and folding the dough so that it creates light, flaky layers. Croissants are like a cross between crescent rolls and flaky layered biscuits.
Serving suggestions for using this soft, buttery bread dough
Have you ever bought a metal can of Pillsbury crescent rolls and used it to make something other than straight-up crescent rolls? Any way you may have used that dough, you can use this gluten free crescent rolls dough.
Ham and cheese sandwiches
Try making larger triangles by slicing each round into 6 or 8 pieces rather than 12. Then add a slice of ham and a slice of cheese to the top of the triangle before rolling it from base to tip.
Space the triangles farther apart from one another on the baking sheet. The cheese will melt onto the baking tray a bit. Just let it set a few moments after baking and before serving.
Cinnamon sugar rolls
Mix 1 teaspoon ground cinnamon with 1/4 cup (50 g) granulated sugar with 1 teaspoon cornstarch in a small bowl. After brushing the triangles with melted butter, sprinkle with a thin layer of the cinnamon sugar mixture.
Press the cinnamon sugar mixture down a bit to help it adhere to the melted butter on the dough. Roll from base to tip, and continue with the recipe as written.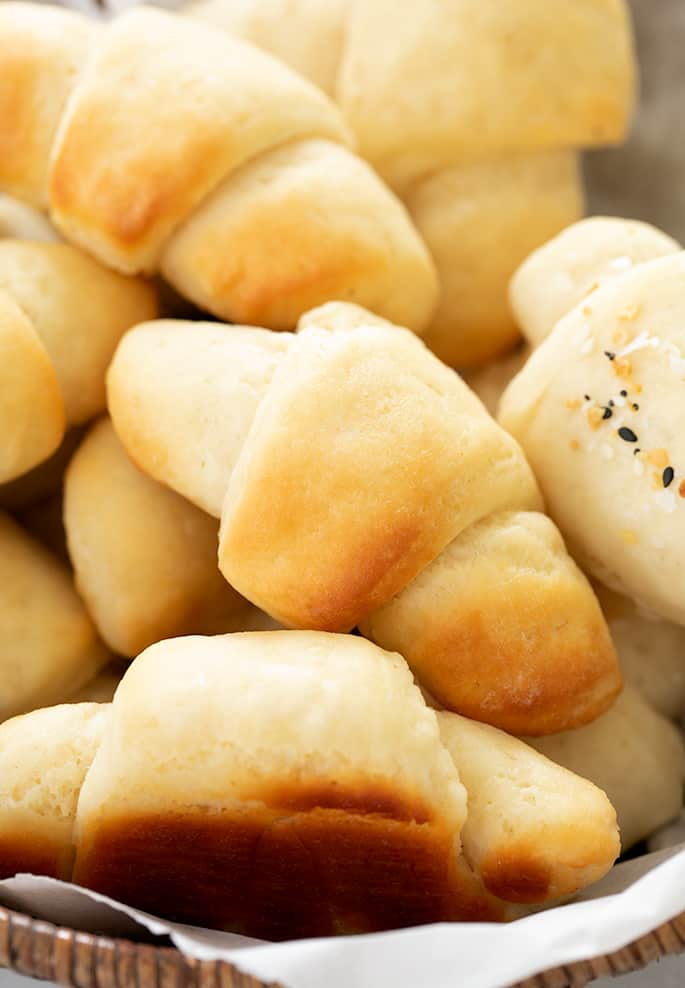 Ingredients and substitutions
Dairy
There are ways for me to suggest you try replacing the yogurt and butter in this recipe, but the gluten free bread flour blend necessarily calls for whey protein isolate, which is nearly pure milk protein. There is no substitute for whey protein isolate that will produce the same results.
Egg
There is only one egg in this recipe, so you may be able to replace it with a "chia egg" (1 tablespoon ground white chia seeds + 1 tablespoon lukewarm water, mixed and allowed to gel).
The egg yolk also adds richness, so you might want to add another tablespoon of butter to the dough and reduce the yogurt by 1 tablespoon to compensate for the added moisture.
Yeast
There is no substitute for yeast in a yeast bread recipe. I do have a recipe for yeast free dinner rolls here on the blog, if you can't have yeast.
If you don't have instant yeast, as called for in the recipe, you can use 25% more active dry yeast. See the recipe notes for instructions on how to make the conversion.
Gluten Free Crescent Rolls
Ingredients
For the starter
1 1/4 cups (175 g) gluten free bread flour (see Notes)
1 tablespoon (12 g) granulated sugar
1 2/3 teaspoons (5 g) instant yeast (see Recipe Notes)
1 cup (8 ounces) warm water (about 95°F)
For the dough
3 1/2 cups (490 g) gluten free bread flour (see Notes), plus more for sprinkling
1 tablespoon (18 g) kosher salt
1 1/2 teaspoons honey
3/4 cup plain whole milk yogurt or buttermilk, at room temperature
1 egg (50 g, weighed out of shell), at room temperature
3 tablespoons (42 g) unsalted butter, at room temperature
Risen Starter
4 tablespoons (28 g) unsalted butter, melted (for brushing)
Notes
For a full explanation of my gluten free bread flour blend, including questions regarding substitutions in that blend, how to create it, and how to handle it, please click the link in this sentence.
If you're already comfortable with the bread flour blend, here are the weight measurements for making the total 4 3/4 cups (665 grams) required for this bread dough:
475 grams Better Batter original blend all purpose gluten free flour or my mock Better Batter
119 grams whey protein isolate
 71 grams Expandex modified tapioca starch
Yeast: This recipe calls for 5 grams of instant yeast, which is also called breadmaker or rapid rise yeast. If you would like to substitute active dry yeast in its place, you'll need to multiply the amount by 125% or 1.25 (5 x 1.25 = 6.25), then dissolve the yeast in the water from the starter first. Allow it to activate before adding the remaining starter ingredients and following the recipe as instructed.
Instructions
To make the starter, in a medium-size bowl, place the bread flour, granulated sugar, and instant yeast, and whisk to combine well. Add the warm water, and mix until smooth and well-combined. The mixture will be thick and shapeless. Cover and set the bowl aside in a warm, draft-free location to rise until doubled in size (about 45 minutes).

Once the starter has finished rising, make the dough. In the bowl of a stand mixer, place the flour and salt, and whisk to combine well with a separate handheld whisk. Add the honey, yogurt or buttermilk, egg, room temperature butter, and risen starter to the bowl, and mix to combine. Place the bowl in your stand mixer fitted with the dough hook and knead for about 5 minutes on medium-high speed or until the dough is smooth and stretchy, and appears to have lightened a bit in color. Spray a silicone spatula with cooking oil spray, and scrape down the sides of the bowl, Transfer the dough to a lightly oiled bowl or proofing bucket large enough for the dough to rise to double its size, and cover tightly with oiled plastic wrap or the oiled top of your proofing bucket. Place the dough in the refrigerator for at least 2 hours and up to 5 days.

On baking day, line a rimmed baking sheet with unbleached parchment paper and set it aside. Turn the dough out onto a lightly floured surface, sprinkle it very lightly with more flour. Handling the dough very gently so you don't incorporate too much flour into the dough, turn the dough over a few times until it's smoother. Divide the dough into two equal portions. Set one aside and cover so it doesn't dry out. Working with the remaining piece of dough, roll it into a 10-inch circle, turning the dough over frequently, sprinkling very lightly with more flour as necessary, and moving it around to prevent sticking. With a pizza wheel or sharp knife, slice the round of dough into 4 equal pieces, each a very wide triangle. Slice each quarter into thirds, making twelve triangles total. Brush the dough liberally with 2 tablespoons melted butter, then allow the dough to sit briefly to allow the butter to set. Repeat with the second half of the dough.

Once the butter has begun to set, separate one triangle from the circle, and roll it gently but securely from base to tip. Place the shaped crescent roll on the prepared baking sheet, with the tip of the triangle secured on the bottom. Repeat with the remaining 11 triangles, spacing the rolls about 2 inches apart on the prepared baking sheet. Cover the baking sheet with lightly oiled plastic wrap, and place it in a draft-free location to rise until about 150% of its original size (30 to 45 minutes). Do not overproof.

About 15 minutes before the end of the rolls' rise, preheat your oven to 350°F. Once the rolls have finished rising, remove the plastic wrap and brush the tops generously with more melted butter. Place the baking sheets in the center of the preheated oven and bake until the rolls are just browned (about 15 minutes). remove from the oven, and serve warm.

From the book Gluten-Free on a Shoestring Bakes Bread: Biscuits, Bagels, Buns, and More by Nicole Hunn. Excerpted by arrangement with Da Capo Lifelong, a member of the Perseus Books Group. Copyright © 2013.