Gluten free cowboy cookies are chewy and hearty, with just the right amount of chocolate chips in a big, generous cookie packed with oats and coconut chips.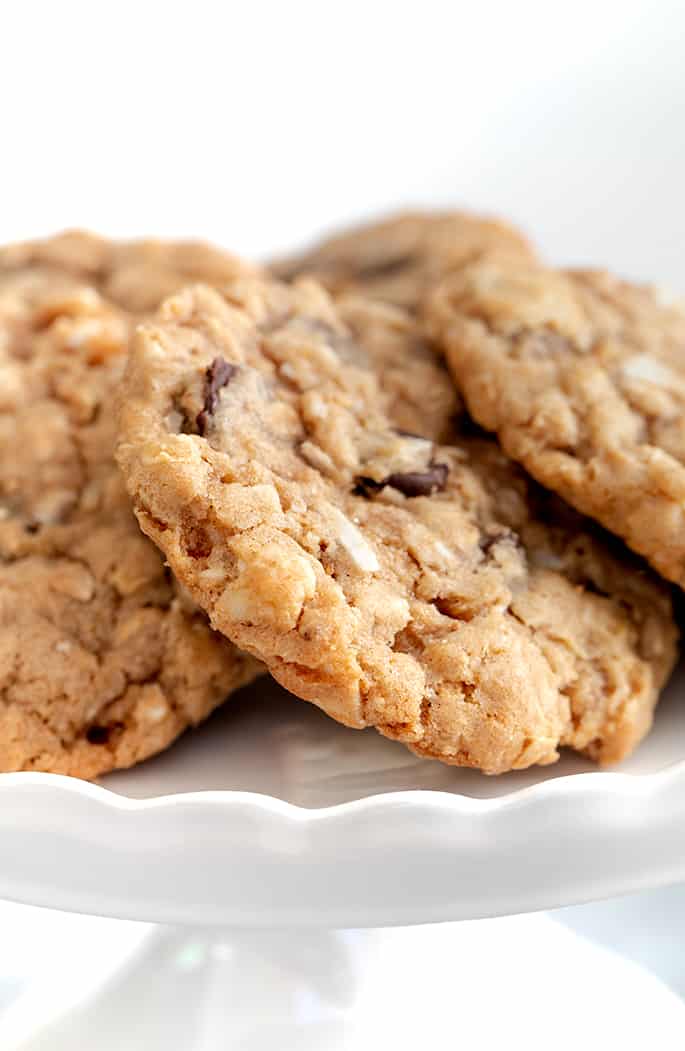 The cowboy cookies origin story
I'm no cowboy, and frankly I was always kind of neutral about Laura Bush, but these are some seriously good cookies. I don't think she "invented" cowboy cookies. Clearly, Tipper Gore didn't stand a chance with her gingersnap cookies.
I love snappy, spicy gingersnaps, but if I'm entering a contest I'm not showing up with that. Even just visually, a cookie with mix-ins beats a straight-up cutout cookie with no frosting, no nothing, any day of the week.
Let's ignore that, as recently as election year 2000, Family Circle Magazine held a cookie bake-off between the presidential candidates' wives, Tipper Gore and Laura Bush. That certain wifely stereotype, like that's all that they're good for, has thankfully been upended (right?).
I'm just in it for the cookies anyway. My gluten free cowboy cookies are chewy and hearty (oats!), with just the right amount of chocolate chips in a big, generous gluten free chocolate chip cookie.
A nubby, hearty cookie
My version of gluten free cowboy cookies, seen in these photos and the how-to video, don't spread much, if at all, during baking. I cut back on the butter called for in the original recipe (or at least Laura Bush's version of it).
I wanted a thick cookie that was crispy on the outside, chewy on the inside. So shape them before baking in the manner in which you'd like them to turn out after baking.
This is not the type of cookie you're going to eat when it's gooey, as it has a crisp outside when it cools. After baking and before they're cool, the cookies will be fragile. After they're mostly cool, their crisp and nubby texture outside makes them very stable.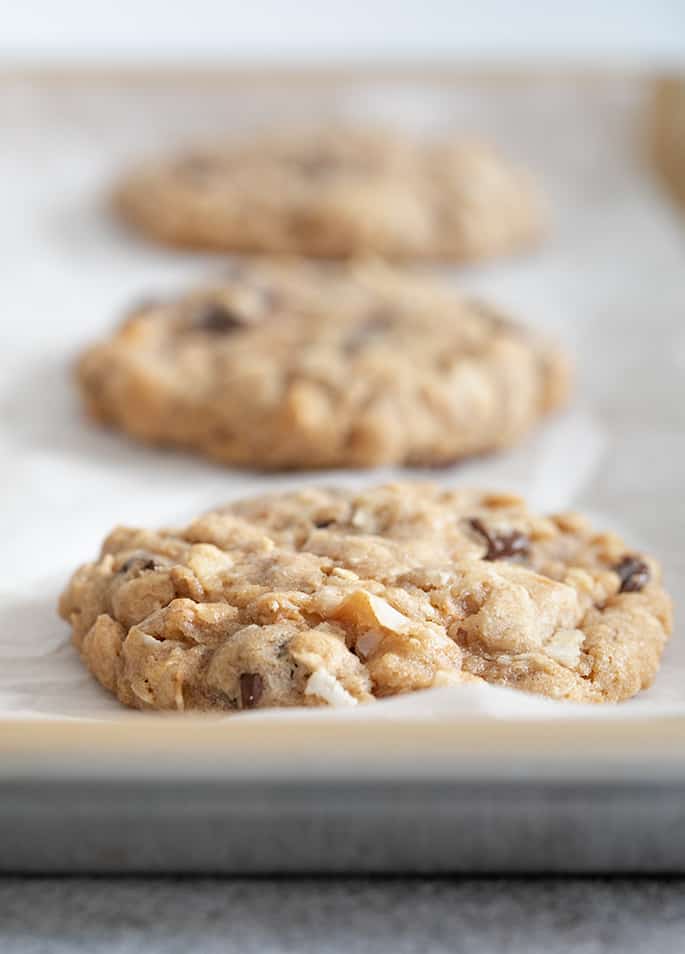 What the raw cookie dough is like
This cookie dough doesn't happen to be especially sticky, even though the cookies are chewy inside. Often, the chewiest cookies begin with the stickiest cookie dough.
These cookies are made in one bowl, using what's called the "reverse cream" method, where the wet ingredients are mixed into the dry. This way we don't add much air to the cookie dough, which preserves the hearty, chewy flavor.
There's enough butter and eggs to moisten all of the dry ingredients, but you may find that some of the most dry ingredients seem to resist combining. Just keep pressing the underside of the bowl of the spoon or spatula you are using for mixing into the wet ingredients so they absorb the flour.
Mix the dough with a spoon for as long as you can before switching to using clean, dry hands to knead the dough together. If you touch the dough with your hands too soon, too many wet ingredients will stick to your fingers.
I don't recommend using a handheld mixer, since beaters will aerate the dough too much. But you can use a stand mixer fitted with the paddle attachment and make quick work of making the dough.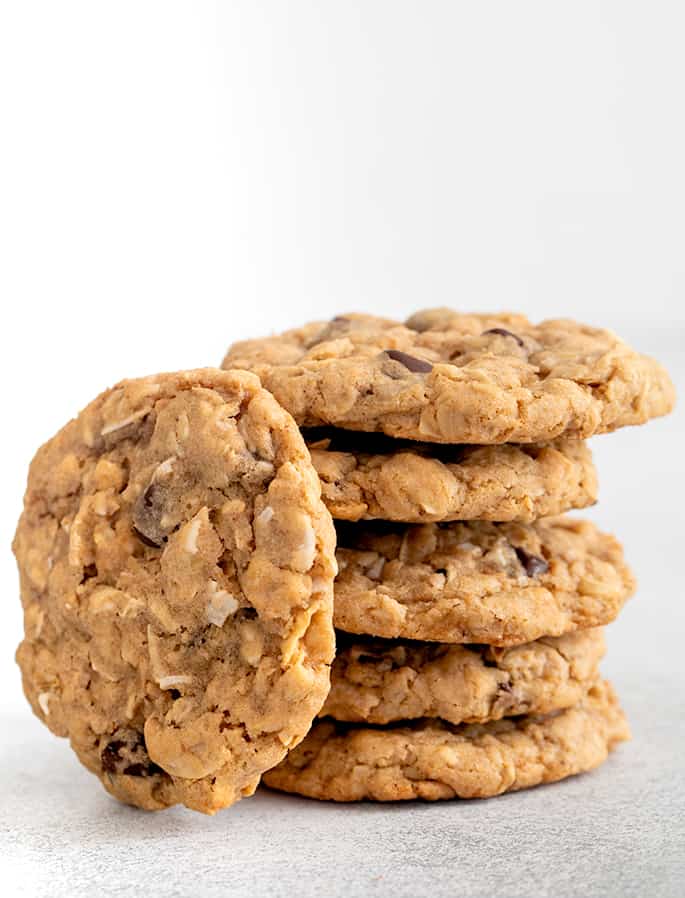 Ingredients and substitutions
Dairy
In place of the butter in this recipe, I recommend trying Melt or Miyoko's Kitchen brand vegan butter. I don't recommend Earth Balance buttery sticks, as they contain too much moisture and your cookies will spread too much and potentially burn before they're nicely browned.
If you're dairy-free, be careful about your chocolate chips. There are plenty of gluten free varieties of semi sweet chocolate chips. You could use any other sort of chip you like for a different flavor profile.
Eggs
There are two eggs in this recipe. Try replacing each of them with a "chia egg" (1 tablespoon ground white chia seeds + 1 tablespoon lukewarm water, mixed and allowed to gel).
Oats
Purity protocol gluten free oats are, indeed, safely gluten free. If you can't find those sort of oats, or you simply won't eat them, you can try using beaten rice in their place (for more detail on oat substitutions in baking <—click over).
Coconut chips
If you think you don't care for coconut, you might not be familiar with the good type of coconut (just an idea). are you thinking of the bagged, shredded sweetened coconut?
If you've never tried the wide, flat coconut flakes that are sometimes called coconut chips, I submit that you're selling coconut short. If you want to replace it here, though, maybe try an equal amount, by weight, of chopped nuts.
The coconut chips are adding flavor and texture, but not really entering into the chemical reaction in any meaningful way. So experiment away!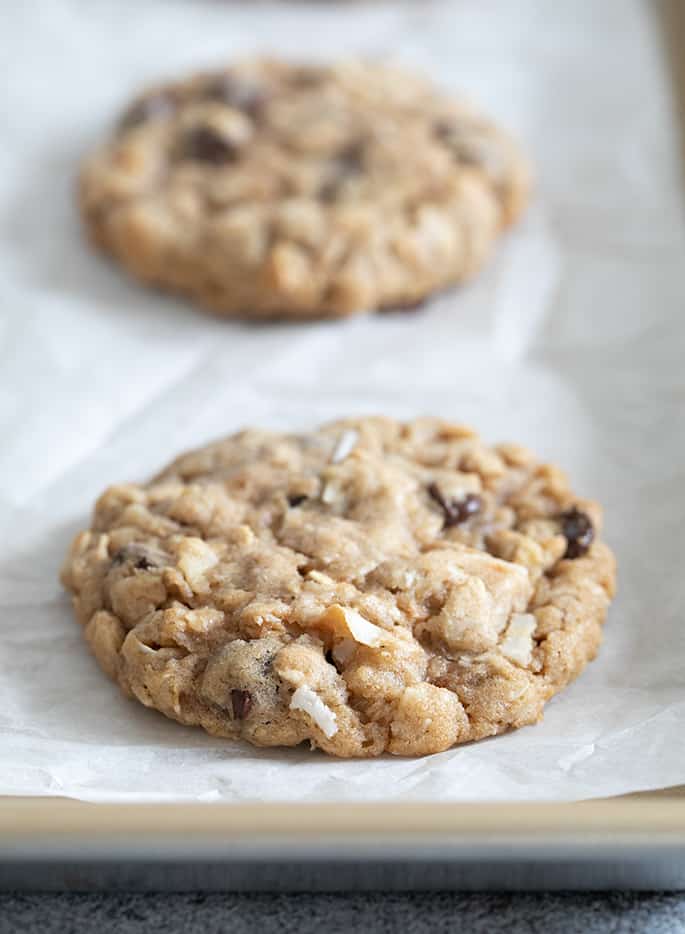 Gluten Free Cowboy Cookies
Ingredients
1 1/2 cups (210 g) all purpose gluten free flour (I used Better Batter)
1/2 teaspoon xanthan gum (omit if your blend already contains it)
1 teaspoon baking powder
1 teaspoon baking soda
1/2 teaspoon kosher salt
1 1/2 teaspoons ground cinnamon
1/2 cup (100 g) granulated sugar
1 cup (218 g) packed light brown sugar
1 1/2 cups (150 g) certified gluten free old fashioned rolled oats
1 1/2 cups (120 g) coconut chips (See Recipe Note)
10 tablespoons (140 g) unsalted butter, at room temperature
2 eggs (100 g, weighed out of shell) at room temperature, beaten
1 1/2 teaspoons pure vanilla extract
8 ounces semi-sweet chocolate chips
Notes
For more flavor: toast the coconut chips
If you'd like to add more flavor to the cookies, you can toast the coconut chips. Place them on a rimmed baking sheet in a single even layer, and then in a 300°F oven for 10 minutes or until the chips are beginning to brown on the edges
Rotate the baking sheet halfway through for even toasting. Remove from the oven and allow to cool before using in the recipe.
Instructions
Preheat your oven to 325°F. Line rimmed baking sheets with unbleached parchment paper and set them aside.

In a large bowl, place the flour, xanthan gum, baking powder, baking soda, salt, cinnamon, and granulated sugar, and whisk to combine well. Add the brown sugar and mix to combine, working out any lumps in the brown sugar. Add the oats and coconut chips and mix to combine. Create a well in the center of the dry ingredients and add the butter, eggs, and vanilla, mixing to combine after each addition. Press the back of your mixing spoon into the dough to moisten all of the dry ingredients and create a cohesive dough. Add the chocolate chips, and mix until they're evenly distributed throughout the dough. If necessary to bring the dough together, knead it with your hands. Divide the dough into 20 pieces, each about 2 ounces. Roll each into a ball and place about 2 inches apart on the prepared baking sheets. Flatten each ball into disk about 1/4-inch thick.

Place the baking sheets in the center of the preheated oven, one at a time, and bake until lightly golden brown all over (about 12 minutes). Remove from the oven and allow to cool on the baking sheet for about 5 minutes or until firm before transferring to a wire rack to cool completely.

Adapted from Laura Bush's Cowboy Cookies, as reprinted in The Washington Post. Originally published on the blog in 2014. Recipe unchanged; photos, video, and most text new.