This pupusas recipe for stuffed corn cakes is for when the cupboards are nearly bare, you need a hearty handheld meal—and you need it fast!
What are pupusas?
This pupusas recipe, for El Salvadoran corn cakes made with masa and stuffed with yummy stuff like garlic, onions, cheese, pork, or beans, is absolutely one of my go-to recipes. They're naturally gluten free, and they could not be simpler.
I have a special place in my heart for Latin American cuisine, since so much of it is naturally gluten-free. They're not wheat junkies like we Americans are.
Although pupusas originated in El Salvador, they're also popular in Honduras. Pupusas are also really common in Northern California, and when my family and I took a trip there a few years ago, the most common gluten free friendly restaurants had pupusas on the menu.
Are all pupusas gluten free?
Pupusas are naturally gluten free. Like anything else, though, they can be "glutened" if wheat flour is added to it, any of the filling ingredients are gluten-containing, or the masa harina used is contaminated with gluten-containing ingredients.
They're made primarily with masa harina corn flour, which is a precooked cornmeal that's dried, treated with limewater (also known as slaked lime or calcium hydroxide), then dried again. If you start researching slaked lime too much, you might not want to eat anything with masa harina. It has mostly industrial applications. But it gives masa harina its amazing aroma and flavor, and, well, it's gluten free. ?
The moment you open a bag of masa harina corn flour, you'll be reminded of fresh corn tortillas, which are made with the corn flour and water. Pupusas are thicker and more savory as they're filled before being cooked. Corn tortillas are cooked plain. For another meal option using masa harina, try my recipe for Colombian empanadas.
If you've only ever had packaged corn tortillas, you really should try making them fresh. Two of my three children will only bother to eat corn tortillas when I make them fresh, as that's ruined them for eating the packaged kind.

Working with masa harina
I typically buy Bob's Red Mill brand masa harina corn flour, as it's available through Amazon.com for a good price. If you're gluten free, just be sure you buy the variety that's labeled "gluten free."
Maseca brand is also labeled gluten free, but in the grocery store it's often stored on a shelf right next to some sort of wheat flour, so I prefer to buy it online.
You'll be surprised how easy it is to work with a simple dough made of masa harina and water. The masa absorbs the water fully after a few minutes, so it's useful to cover the dough and let it rest briefly before working with it or you might overhydrate it.
You'll know that the masa has too much water added to it if, after a few minutes, the dough is too soft to hold its shape properly. It's easy to add more masa to get to the proper consistency, though. It's easier still to add more water by the teaspoonful, though, so add less water at first.
The texture of properly made pupusa dough is like PlayDoh. You're better off working with it slightly dry (but never crumbly), and then moistening your fingers to seal up any cracked edges after shaping.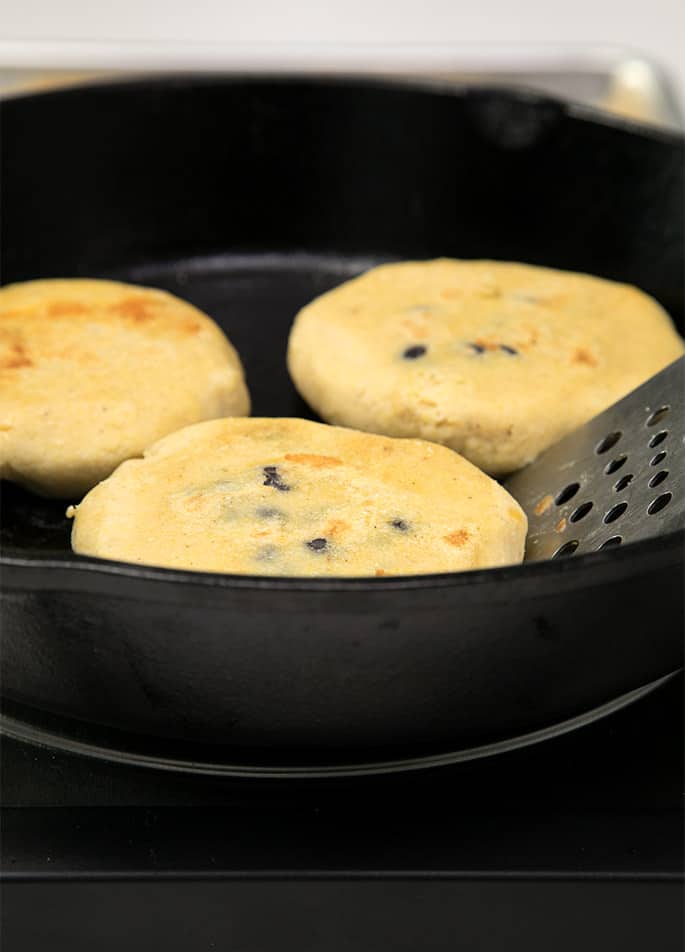 How to make pupusas at home
In this pupusas recipe, I use only one piece of dough, then flatten it into a pancake, create a well in the center, fill it, and then shape the masa around the filling. You can make pupusas with two pancakes of masa dough instead of just one. But that method yields a more doughy result, since masa harina alone tends to be bland.
Pupusas can be filled with cheese alone. I like them with beans, cheese, and some spices. They're awesome with pulled pork, too, especially if it's been cooked with plenty of Latin American spices. You can even add some warm spices like ground cumin, smoked paprika and chili powder to the dough itself for more flavor. It doesn't change the ingredient proportions.
Keep in mind that this is like any other new cooking technique: the first few tend to turn out much less beautiful. But you'll hit your stride soon before the dough runs out. The next time you make them, you hit your stride a little sooner.
Ingredients and substitutions
Since pupusas are so simple, there aren't many ingredients to discuss but here goes:
Corn
If you can't have corn, I'm afraid you really can't have pupusas at least not traditional ones. Although there are recipes on the web for corn-free cornbread, many of which use combinations of millet and almond flour, I've tried many of them and never been satisfied.
Masa harina, as we discussed above, is also quite the unique corn flour as it's treated with slaked lime. Short of curing your own corn substitute, I don't think there's a way to recreate that experience.
Dairy
As long as you use a dairy-free cheese in your filling, these pupusas are naturally dairy-free!
Beans, meat and other fillings
Since you can fill pupusas with anything savory, you can make this recipe without beans, without meat or without both quite easily. Get creative!