These soft Paleo flour tortillas are soft, bendable and have a savory buttery taste that goes with everything. They even reheat perfectly after being refrigerated or frozen!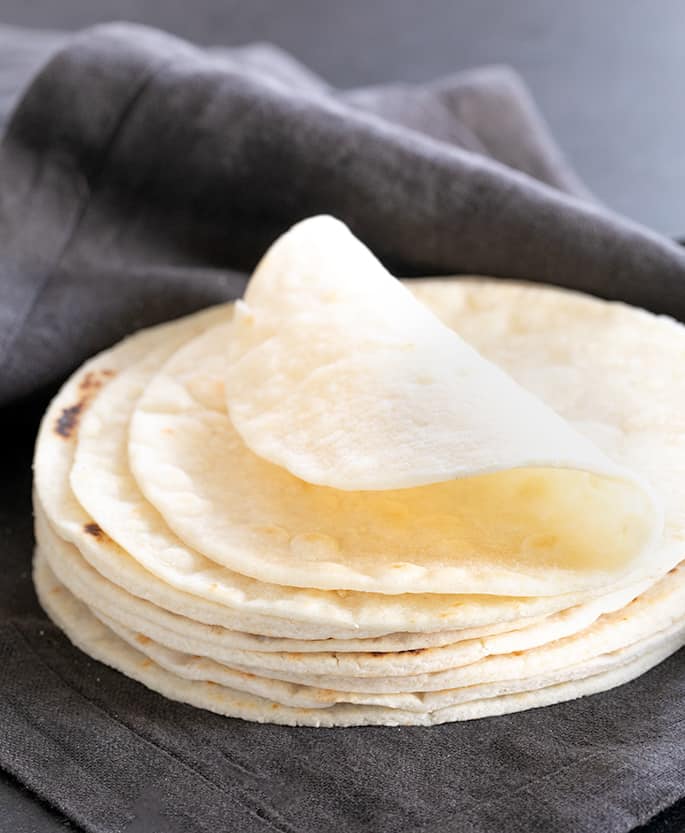 Wraps make everything better
These Paleo tortillas have just the right balance of almond flour and tapioca starch. They're really flexible but have the savory, buttery taste of almond flour.
Flour tortillas have long been not just a favorite of mine to eat, especially since they're so versatile. When I finally developed a recipe for gluten free flour tortillas that I loved, it was really a relief, to be honest.
I just adore soft tacos, enchiladas, and just wraps and flatbread in general. If I know that I have some sort of fresh flatbread ready to serve for dinner, I'm more than halfway to a great meal. My kids will eat almost anything that's been wrapped in a tortilla!
These days, you can purchase so many different kinds of packaged gluten free flour tortillas and gluten free corn tortillas. I've even reviewed enough to be able to recommend 8 great brands of each.
But fresh is always going to be better than packaged, gluten free or not. Plus, there's really only one brand of Paleo tortillas that are any good (spoiler: it's Siete brand), and they're quite expensive and overall not very easy to find.
Why add xanthan gum?
When I first published this recipe on the blog in 2015, the recipe instructions made all kinds of disclaimers about how delicate the dough was to handle. As time went on, whenever I made the recipe myself as it was originally written, I started to play with it a bit to improve the raw texture.
The most important change this time around is the addition of xanthan gum, which really helps hold the dough together.
How to make these Paleo flour tortillas
The dough for this recipe is made entirely in one bowl, with a whisk and then a spoon. That's all you really need. First, the dry ingredients (almond flour, tapioca flour, salt, baking powder, xanthan gum) get whisked together. Then, the wet ingredients (melted virgin coconut oil, egg white, and water) are added and a somewhat soft but thick dough comes together.
I've found that the dough is much easier to handle if you refrigerate it for at least 30 minutes and up to 3 days before working with it. I tend to make the dough for these tortillas on the weekend, wrap it tightly and then roll and cook it during the week since it's so easy to work with that way. The xanthan gum in the dough makes it more resilient, and chilling the dough makes it more of a pleasure.
For the very best pliable tortillas, the secret is to make sure that the skillet is very hot before you place the first raw tortilla on it. It should begin to bubble within the first 10 seconds of being on the skillet. At worst, the first tortilla will be less than perfect.
Just don't expect to roll them quite as thin as conventional tortillas. In fact, if you do roll them thinner than 1/4-inch, they tend to cook too quickly on the skillet and aren't quite as flexible.
Can you make them in advance?
In a word, yes! You can definitely make these Paleo tortillas in advance. They're even more versatile than most other wraps, in fact, since they are just as good when they're made in advance and refrigerated or frozen. The raw dough itself even benefits from being made a day or two in advance and stored in the refrigerator.
If you don't plan to serve the tortillas immediately after they come off the skillet, I recommend stacking them and wrapping the stack tightly in something like Glad Press 'n' Seal or beeswax. If you think you'll serve them within 3 days, store them in the refrigerator and microwave them for about 20 seconds right before serving.
If you'd like to freeze the tortillas (make a double batch and freeze half!), just defrost them either in the refrigerator overnight or at room temperature. Then refresh them in the microwave. You can of course refresh them in a hot, dry skillet, but I find that they're more flexible after a few moments in the microwave.
Ingredients and substitutions
Since these tortillas are Paleo, they're already gluten free and dairy free, by definition. Here are a few words about some of the ingredients, in case you have additional dietary restrictions. I haven't tested them with any substitutions, but these are my best-educated guesses, as always.
Egg-free: The egg white in this recipe helps to add structure to the tortillas, so if you can't have eggs, I don't recommend just eliminating the ingredient. You can try replacing it with a "chia egg" (1 tablespoon ground white chia seeds + 1 tablespoon lukewarm water, mixed and allowed to gel), but since it's only an egg white (and not a full egg), I'm honestly not sure how well that would work.
I don't recommend using aquafaba as a substitute for the egg white since some readers have reported that that hasn't been successful when the egg whites in the recipe aren't first aerated by whipping.
Almond flour: You cannot use almond meal in place of finely ground blanched almond flour, which is much more coarsely ground skins removed (a process called blanching). I recommend using Honeyville brand or Nuts.com brand for really good almond flour that I know will work in this recipe and my other Paleo recipes.
If you can't have nuts, you can try using finely ground sunflower seed flour in place of almond flour. It will react with the baking powder and produce a greenish hue, but it won't affect the taste.
Baking powder: Most baking powder is not grain free, as it's often made with cornstarch. However, you can either buy a grain-free baking powder, which is available. Alternatively, you can make your own Paleo baking powder.
To make your own grain-free baking powder, mix of 1 part baking soda + 1 part tapioca starch + 2 parts cream of tartar. For example, if you're making 1 teaspoon of baking powder, combine 1/4 teaspoon baking soda + 1/4 teaspoon tapioca starch + 1/2 teaspoon cream of tartar.
Tapioca starch/flour: I only recommend buying tapioca starch/flour from Nuts.com or Authentic Foods. Bob's Red Mill tapioca starch is of inconsistent quality. Do not buy tapioca starch/flour from the Asian food store as it is frequently contaminated.
I'm afraid there is absolutely no appropriate substitute for tapioca starch/flour. It is very unique in its ability to provide stretch and pull. If you'd like to make almond flour tortillas without tapioca starch, try my recipe for low carb almond flour tortillas.
Soft Paleo Flour Tortillas
Yield:
8 to 10 6-inch tortillas
Ingredients
1 1/4 cups (140 g) finely ground blanched almond flour
1 1/2 cups (180 g) tapioca starch/flour, plus more for sprinkling
1 teaspoon kosher salt
1 teaspoon grain-free baking powder
1 teaspoon xanthan gum (optional, but highly recommended)
2 tablespoons (24 g) virgin coconut oil, melted and cooled
1 egg white (25 g), at room temperature
3/8 to 1/2 cup (3 to 4 fluid ounces) warm water
Instructions
In a large bowl, place the almond flour, tapioca starch/flour, salt and baking powder, and (optional) xanthan gum, and whisk to combine well. Create a well in the center of the dry ingredients, add the coconut oil, egg white, and about 3 fluid ounces warm water, and mix to combine well. The dough should come together and be thick but relatively soft. Add more water by the teaspoonful if necessary to bring the dough together. Press the dough into a disk, divide it into two portions, wrap each tightly in plastic wrap and chill in the refrigerator for at least 30 minutes, and up to 3 days.

Once the dough is chilled, heat a cast iron skillet or tortilla pan over medium heat until quite hot. Working with one half of the dough at a time, knead the dough in between your palms a bit. Lightly sprinkle a flat surface with tapioca flour, place the dough on top and sprinkle it lightly with more tapioca flour. Moving the dough frequently and sprinkling with more flour as necessary to prevent it from sticking, use a rolling pin to roll the dough until it's about 10 inches wide. The dough will be thicker than the final tortillas will be. Using a 6-inch cake cutter or the lid of a pot about the same size, cut out a proper 6-inch round. Remove the scraps of dough and set them aside. Sprinkle the round with more flour and roll it out again, moving it frequently to avoid its sticking, until it's about 1/4-inch thick (no thinner). Cut out a 6-inch round again. Place the raw tortilla in the hot skillet and it to cook until bubbles form on the underside (about 45 seconds). Using a wide, flat spatula, flip the tortilla over and continue to cook on the other side until just set (about 20 seconds more). Remove the tortilla from the skillet and place it in a tea towel to keep warm. Gather the remaining dough and repeat the process at least 3 other times with this half of the dough. You won't likely have to cut a round and then reroll the dough thinner after the first tortilla. Repeat with the second half of the dough.

If you're not planning to serve the tortillas right away, wrap them tightly and refrigerate for up to 3 days and freeze for longer storage. To refresh before serving, microwave the tortillas at full power for about 20 seconds before serving. They'll be good as new. If you freeze the tortillas, defrost at room temperature and then refresh as you would if they had been refrigerated.

Originally published on the blog in 2015. Recipe changed a bit (optional xanthan gum added, egg whites reduced, swapped out baking soda out for grain-free baking powder ), photos, video, and text mostly new.