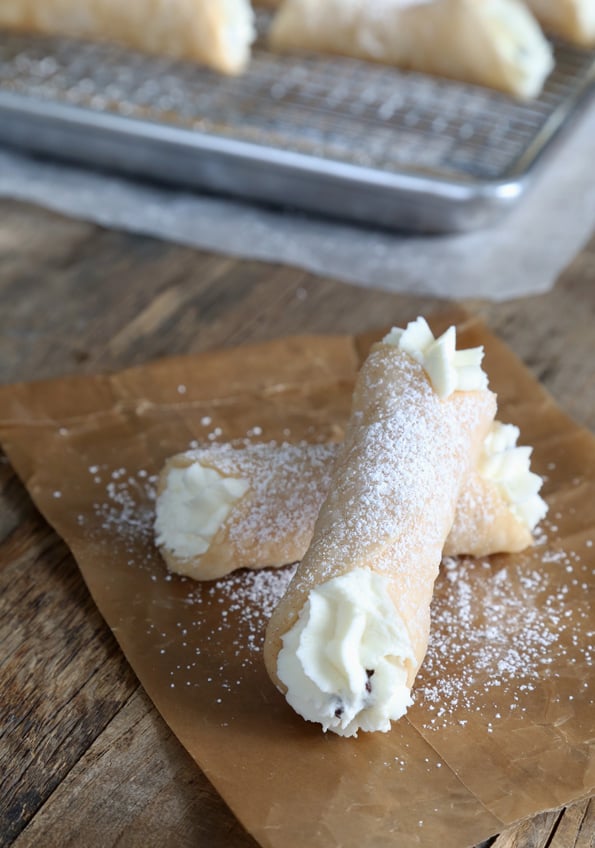 [pinit] Regular cannoli are special. You need cannoli forms (readily found online or at any large kitchen supply store), and there's no shortcut to rolling out the dough. But they're a labor of love. Gluten free cannoli are even more special. They're the very sort of pastry you probably thought you'd never have again, now that you're gluten free (kind of like the "Rye" Bread on page 101 of GFOAS Bakes Bread and Taco Bell Chalupas). In my ongoing quest to prove, once and for all, that if they can make it with gluten, we can make it without, may I present … gluten free cannoli that are just like you remember.
They're light and flaky, and they shatter when you bite into them. Just like they're s'posed to.
Traditionally made with Marsala wine, I provide a couple alternatives (including one that is alcohol-free) that work quite well. You will need cannoli forms, though, even if you only buy one set of 4. I have a few sets of 4, and they're all made by Ateco. Unless one of you has a suggestion for something more ordinary to use in their place during frying. Let us know in the comments if you do!
My favorite cannoli were always the ones with mini chips in the filling. Since I won't be there when you make these, I won't heckle you if you leave out the chips. If I were there, I'd sneak a couple chips into mine, though. They just make the whole cannoli so … delicious and perfect. I bet you have your own ideas about what makes the perfect filling, so feel free to modify that however you like. Cheers to making alllllll your old favorites safely gluten free!