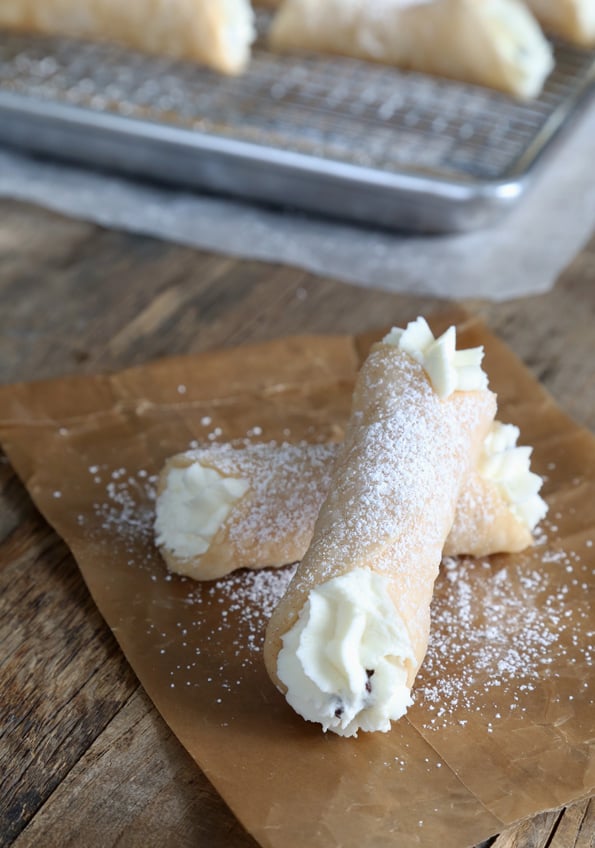 [pinit] Regular cannoli are special. You need cannoli forms (readily found online or at any large kitchen supply store), and there's no shortcut to rolling out the dough. But they're a labor of love. Gluten free cannoli are even more special. They're the very sort of pastry you probably thought you'd never have again, now that you're gluten free (kind of like the "Rye" Bread on page 101 of GFOAS Bakes Bread and Taco Bell Chalupas). In my ongoing quest to prove, once and for all, that if they can make it with gluten, we can make it without, may I present … gluten free cannoli that are just like you remember.
They're light and flaky, and they shatter when you bite into them. Just like they're s'posed to.
Traditionally made with Marsala wine, I provide a couple alternatives (including one that is alcohol-free) that work quite well. You will need cannoli forms, though, even if you only buy one set of 4. I have a few sets of 4, and they're all made by Ateco. Unless one of you has a suggestion for something more ordinary to use in their place during frying. Let us know in the comments if you do!
My favorite cannoli were always the ones with mini chips in the filling. Since I won't be there when you make these, I won't heckle you if you leave out the chips. If I were there, I'd sneak a couple chips into mine, though. They just make the whole cannoli so … delicious and perfect. I bet you have your own ideas about what makes the perfect filling, so feel free to modify that however you like. Cheers to making alllllll your old favorites safely gluten free!
Gluten Free Cannoli
Ingredients
For the cannoli shells
2 cups (280 g) all purpose gluten free flour (I used my mock Better Batter), plus more for sprinkling
1 teaspoon xanthan gum (omit if your blend already contains it)
1/4 cup (29 g) confectioners' sugar
1 teaspoon ground cinnamon
1/4 teaspoon kosher salt
3 tablespoons (42 g) unsalted butter, at room temperature
3/4 cup (6 fluid ounces) Marsala wine, at room temperature*
Lukewarm water, by the half-teaspoonful as necessary
For the filling
1 1/2 cups (336 g) ricotta cheese
12 ounces mascarpone cheese
1/2 cup (100 g) granulated sugar
1 teaspoon pure vanilla extract
1/8 teaspoon kosher salt
1/4 cup (4 fluid ounces) heavy whipping cream
3 ounces miniature chocolate chips (optional)
For finishing
Cannoli forms (I purchased mine at a kitchen supply store, but they are readily available online)
Cooking oil spray for greasing the cannoli forms
1 egg white
Oil, for frying
Confectioners' sugar, for dusting
*Possible Substitutions for Marsala: In a pinch, the 3/4 cup Marsala can be replaced with one of the following:
10 tablespoons dry white wine (like Pinot Grigio) plus 2 tablespoons brandy
10 tablespoons white grape juice plus 2 tablespoons sherry vinegar
Instructions
First, make the cannoli shell dough. In a large bowl, place the flour, xanthan gum, confectioners' sugar, cinnamon and salt, and whisk to combine. Create a well in the center of the dry ingredients and add the butter and wine, and mix to combine. The dough should come together. Knead with your hands, adding lukewarm water by the half-teaspoonful as necessary to bring the dough together. It should be a relatively stiff dough, so add the water very judiciously. Wrap the dough tightly in plastic wrap and allow it to sit at room temperature while you make the filling.

Make the filling. In the bowl of your stand mixer fitted with the whisk attachment or a large bowl with a hand mixer, place the ricotta, mascarpone, sugar, vanilla and salt, and beat on medium speed to combine well. Add the heavy whipping cream, and continue to beat at medium-high speed until the mixture becomes fluffy and thickens (about 2 minutes). Carefully fold in the optional chocolate chips, cover the bowl and place it in the refrigerator to chill.

Shape the shells and place on the cannoli forms. Unwrap the dough and divide it in half. Cover one half lightly with a moist towel to prevent it from drying out. Place the other piece of dough on a lightly floured surface and roll out a bit more than 1/8-inch thick, dusting lightly with flour as necessary to prevent the dough from sticking to the rolling pin. Cut out circles from the dough about 4-inches in diameter. Dust the circles lightly with flour to prevent sticking and stack them together. Gather and reroll scraps of dough. Repeat with the second half of dough. Spray the cannoli forms with cooking oil spray (to help prevent the dough from sticking to the forms). As you wrap each round of dough around a greased cannoli form, brush the overlapping edges lightly with the egg white to seal. Repeat with as many forms as you have.

Fry the shells. Place about 3-inches of frying oil in a medium-size, heavy-bottom pot or fryer. Clip a deep-fry/candy thermometer to the side of the pot or fryer, and place the oil over medium-high heat. Bring the oil temperature to 360°F. Place the cannoli shells on the forms, a few at a time, on a spider or in a frying basket in the hot oil, taking care not to crowd the oil. Shake the spider or frying basket back and forth gently to ensure that the shells are not sticking to anything as they fry. The shells should bubble up immediately in the hot oil. Fry until the shells are very lightly golden brown all over (about 2 to 3 minutes per side). As soon as each batch is removed from the fryer, place the shells, still on the form, on a wire rack placed over paper towels to drain (turning each shell, still on the form, to allow any oil inside the form to drip out). Once the form is cool enough to handle, carefully slide the shell off the form and place the shell back on the wire rack to cool completely. Repeat with the remaining rounds of dough, reusing the cooled cannoli forms as necessary.

Finish the cannoli. Once the cannoli shells are cool, remove the filling from the refrigerator and unwrap it. Transfer it to a piping bag fitted with a large open star tip and pipe the filling into each cooled shell, piping from both ends toward the center of the shell. Dust lightly with confectioners' sugar and serve.