These gluten free breakfast puffs are just quick and easy pastry shells made from 5 simple pantry ingredients. Fill them with scrambled eggs and crisp bacon bits, or your favorite brunch ingredients!
I am continually amazed by everything you can do with the right flour, salt, milk, butter and eggs. This recipe for breakfast puffs is based upon my recipe for gluten free cream puffs, as the pastries are made with a variation of French choux pastry.
This version of the pastry is thicker and a bit more stiff. That's what helps them keep their shape even when they're made in this larger size. The ingredients are largely the same; only the proportions are different.
Choux pastry is a cooked, smooth pastry dough that is the basis for everything from cream puffs and chocolate éclairs to crullers and gougères. It's deceptively simple, even though it's French and stuff.
The secret to a smooth choux pastry is to use the proper ingredients, measured precisely, and to blend it in a blender or food processor. Although I absolutely loathe cleaning my food processor, I tend to prefer it for thicker mixtures as they're more difficult to transfer from the blender.
When I use a blender (which is of course so much easier to clean—just blend some soapy water and voila!) for anything thicker than a smoothie, I know that I'm leaving ingredients behind. There's just no effective way of removing every last bit of dough from around the blades.
You certainly don't have to use a piping bag to form the mounds of dough. And you can make them larger (as you see below) or smaller (as you see above in the side-by-side raw and baked photos). I generally prefer to make them larger so they accommodate more filling.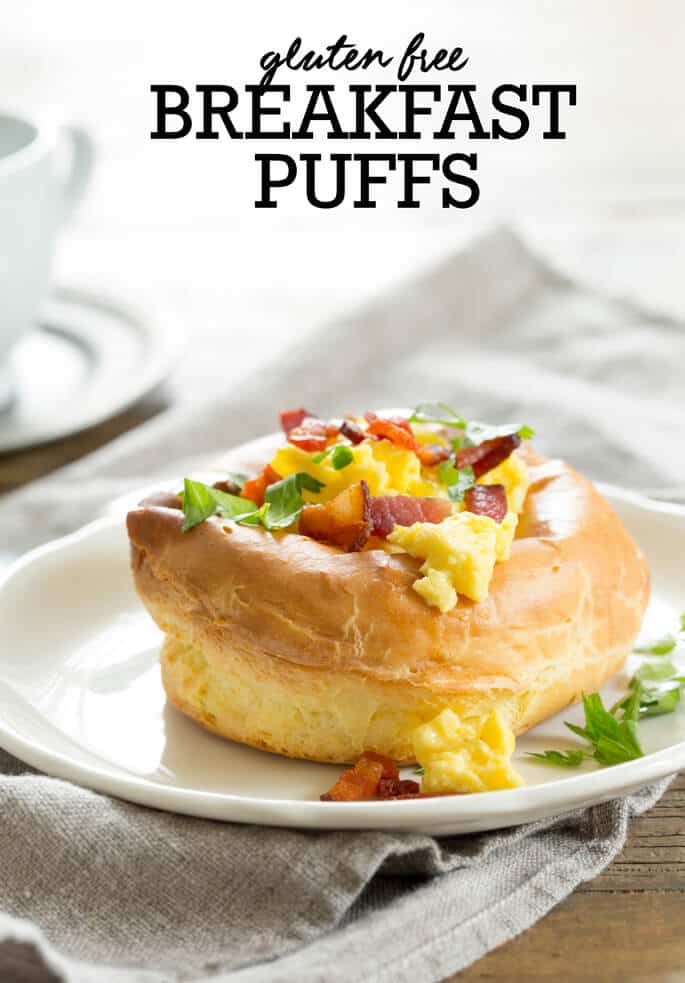 I'm sure you hardly need me to tell you how to sauté bacon or make scrambled eggs for the filling. But I've included my method anyway below. Of course, you can serve these breakfast puffs with any savory filling at all for breakfast or brunch, or even with pot pie-style filling for dinner with a lightly dressed salad.
Links:
Gordon Ramsay's Scrambled Eggs (video)
Cooking chopped bacon in a pan (from reddit)
Gluten Free Breakfast Puffs
Yield:
4 large or 6 small puffs
Ingredients
For the puffs
2 cups (280 g) gluten free cake flour (a combination of 1 2/3 cup (235 g) all purpose gluten free flour + 5 tablespoons (45 g) cornstarch = 280 g total)
1 teaspoon xanthan gum (omit if your blend already contains it)
3/4 teaspoon kosher salt
1 1/4 cups (10 fluid ounces) milk (any kind, just not nonfat), plus up to 1 tablespoon more as necessary
5 tablespoons (70 g) unsalted butter, chopped
5 eggs (250 g), at room temperature
For the filling
3 ounces bacon, diced
4 eggs (200 g) at room temperature
1/4 cup (2 fluid ounces) milk, at room temperature
1/8 teaspoon kosher salt
1 tablespoon (14 g) unsalted butter
Instructions
First, make the pastries. Preheat your oven to 375°F. Line a large rimmed baking sheet with unbleached parchment paper and set aside. In a medium-size bowl, place the flours, xanthan gum and kosher salt, and whisk to combine well, and set aside.

Place the milk and butter in a medium-size, heavy-bottomed saucepan. Place the pan over medium heat until the butter is completely melted and the mixture begins to simmer. Remove the pan from the heat, add the flour mixture and stirring vigorously. The dough will be thick. Transfer it to the bowl of a food processor fitted with a steel blade or a blender. Allow the dough to cool for at least 3 minutes, or until it is no longer hot to the touch. Add the eggs and process or blend until the mixture is smooth and uniform. If necessary, add up to one more tablespoon of milk at room temperature to allow the dough to be processed into a smooth mixture.

Transfer the dough from the blender or food processor to a pastry bag fitted with a large, plain piping tip (about 1 inch in diameter). Pipe the dough onto the prepared baking sheet in large mounds, each either 3-inches wide (for smaller puffs) or 4-inches wide (for larger), about 2-inches apart. Smooth the tops of the pastry dough lightly with wet fingers. Bake the puffs in the center of the preheated oven for 18 to 22 minutes (less time for smaller puffs, more for larger), or until pale golden all over. Remove the baking sheet from the oven and, working quickly, with a sharp knife, cut a small slit on top of each puff to allow steam to escape. Return the pastries on the baking sheet to the oven, turn off the oven, and prop open the oven door slightly. Allow them to sit in the oven until dry (about 30 minutes).

Make the bacon and eggs. In a small skillet over medium-high heat, sauté the chopped bacon, stirring occasionally, until golden brown (about 3 minutes). Place the bacon pieces on a paper towel-lined plate to drain. Cool and discard the rendered bacon fat (or strain it and save it in a sealed container in the refrigerator for another use). In a small bowl, beat the eggs, milk and salt until very well combined. Place the butter in a medium-size nonstick skillet over medium-high heat. Once the butter is melted, pour in the egg mixture and stir gently. Once clumps begin to form, fold the eggs over on themselves with a silicone spatula until there is no more liquid egg in the pan. Transfer the scrambled eggs to a plate to finish cooking as they stand.

Assemble the breakfast puffs. Using a sharp knife, cut about a 2-inch hole (1 1/2-inches for smaller puffs) in the top of each pastry and press the soft inside to the sides to create room inside. Fill with scrambled eggs and bacon bits. Either cover with the cut tops or serve the tops alongside. Serve warm.

Inspired by Taste of Home.