These gluten free breakfast puffs are just quick and easy pastry shells made from 5 simple pantry ingredients. Fill them with scrambled eggs and crisp bacon bits, or your favorite brunch ingredients!
I am continually amazed by everything you can do with the right flour, salt, milk, butter and eggs. This recipe for breakfast puffs is based upon my recipe for gluten free cream puffs, as the pastries are made with a variation of French choux pastry.
This version of the pastry is thicker and a bit more stiff. That's what helps them keep their shape even when they're made in this larger size. The ingredients are largely the same; only the proportions are different.
Choux pastry is a cooked, smooth pastry dough that is the basis for everything from cream puffs and chocolate éclairs to crullers and gougères. It's deceptively simple, even though it's French and stuff.
The secret to a smooth choux pastry is to use the proper ingredients, measured precisely, and to blend it in a blender or food processor. Although I absolutely loathe cleaning my food processor, I tend to prefer it for thicker mixtures as they're more difficult to transfer from the blender.
When I use a blender (which is of course so much easier to clean—just blend some soapy water and voila!) for anything thicker than a smoothie, I know that I'm leaving ingredients behind. There's just no effective way of removing every last bit of dough from around the blades.
You certainly don't have to use a piping bag to form the mounds of dough. And you can make them larger (as you see below) or smaller (as you see above in the side-by-side raw and baked photos). I generally prefer to make them larger so they accommodate more filling.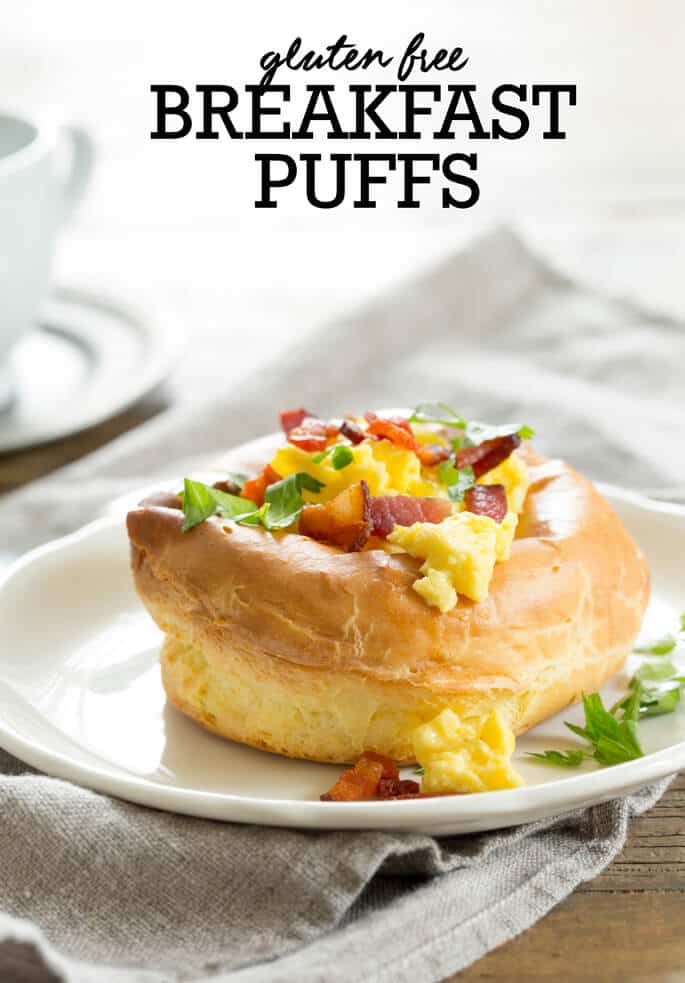 I'm sure you hardly need me to tell you how to sauté bacon or make scrambled eggs for the filling. But I've included my method anyway below. Of course, you can serve these breakfast puffs with any savory filling at all for breakfast or brunch, or even with pot pie-style filling for dinner with a lightly dressed salad.
Links:
Gordon Ramsay's Scrambled Eggs (video)
Cooking chopped bacon in a pan (from reddit)