This gluten free bacon jalapeño cornbread is light and fluffy, plus smoky and even a little bit sweet and spicy. I served it alongside an easy buttermilk-marinated grilled chicken and simple garden salad, but it would be completely at home with a hearty bowl of chili. Believe it or not, one of the most searched-for recipes on this old blog (did you know that I first started this blog in May 2009?) is gluten free cornbread. The recipe that comes up early and often when you google "gluten free cornbread" is this one. It's long been a favorite in my family—and, I dare say, in some of yours. It's naturally gluten free (no all purpose gluten free flour—just cornmeal), and a version of it even made it into my first cookbook.
This super fluffy cornbread is about half all purpose gluten free flour, half cornmeal, with smoky bacon (and bacon grease!) and sweet and spicy jalapeño jam. But you can make it with any type of jam (call it Bacon Cornbread) and even without the bacon (but why would you want to?!).
Like any cornbread, it's best when baked in a cast iron skillet. But if you don't have one, don't let that stop you! Just bake it in a 9-inch round or square baking dish. My current favorite brands of baking dishes are stainless steel Nordic Ware and Fat Daddio. They're not nonstick, but nothing sticks to them when they're greased, and they bake really evenly. I usually buy them on amazon.com.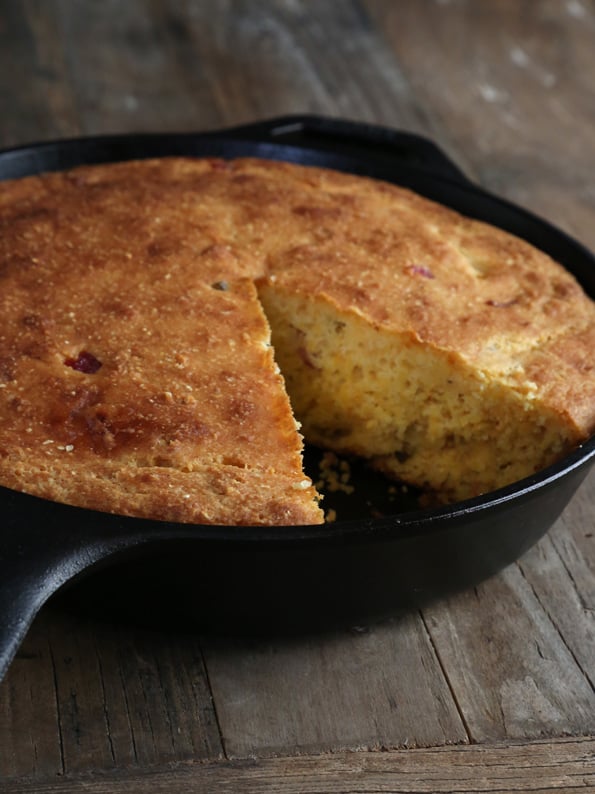 But nothing beats the crust you get by baking cornbread in a cast iron skillet. Mine is a 12-inch preseasoned Lodge cast iron skillet, and it gets a workout in my kitchen almost every day (and Lodge cookware is so economical). What cookware or bakeware do you reach for first, day after day?