Ditch the box, and make homemade jello style gelatin at home. So easy, with only a few ingredients—and it's actually good for you.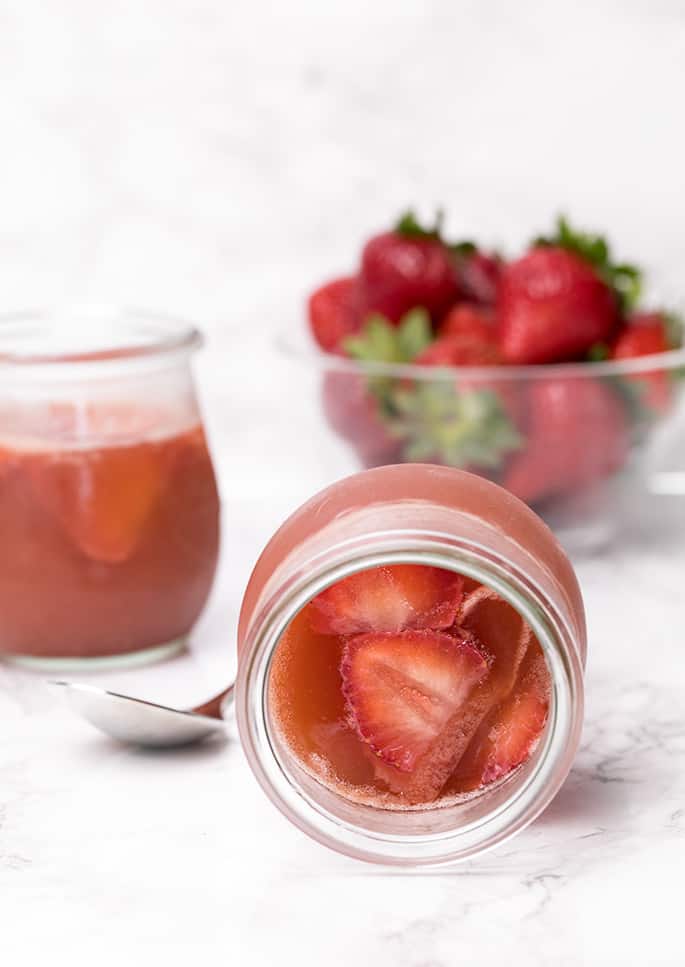 Making this easy homemade "JELLO" gelatin really requires just two ingredients: juice + gelatin. But, as with most intriguing things in life, the closer I looked, the more deliciously complicated it all became.
I'm boiling it all down for you here into just the facts. If you don't really want to know much more and just want to get to the recipe, feel free to scroll down to the bottom for the video and the recipe. But don't you want to know at least a little bit more?
Adding fresh fruit to homemade jello
At the very least, you'll want to know the best way to put some fresh fruit in there and make sure it doesn't sink to the bottom. Just let the gelatin chill for about 45 minutes in the refrigerator until it's beginning to set. Press a few slices of your favorite fruit into the mixture, then finish chilling until it's completely set.
When it's summertime and fresh berries are affordable and at their peak, those are the flavors of homemade jello that I'm most likely to make. Strawberry tops the list for me.
But when you're adding whole fruit to the gelatin, avoid chunks of pineapple, kiwi, mango, papaya or mango. When it's fresh, those types of fruit can make it difficult for the gelatin to set up properly. (Here's why.)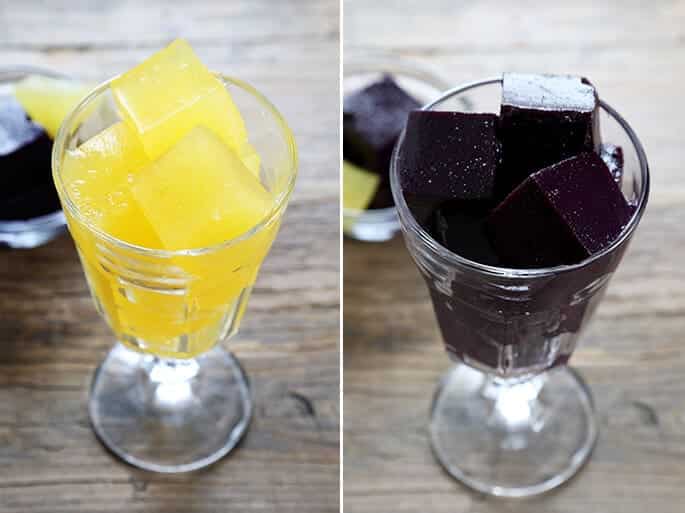 How pretty are these pineapple and blueberry "JELLO" flavors? No additives, no chemicals, no food dyes. Just food, glorious food.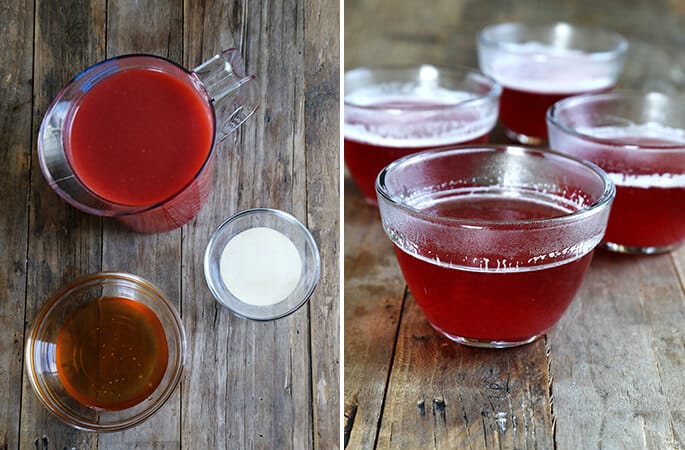 What type of fruit (juice)?
I don't generally keep any juice in the house other than pineapple. And that's only for my gluten free Hawaiian Rolls since they're some of the best burger buns around, and my gluten free pineapple upside down cake. I make that at least a couple times a year.
I do always have different types of fruit, both fresh and frozen at home. So I complicated things a bit by testing fruit purees in place of juice. I have good news and bad news.
The good news is that you most certainly can make homemade "JELLO" gelatin with fruit purees. The bad news? You must mix the puree with at least as much actual fruit juice or the "JELLO" simply won't set up.
So even though this is really so simple as to almost not even qualify as a "recipe," there were enough tips and tricks that I picked up along the way that I thought it was worthy of its own post.
Gelatin is actually quite healthy for you. So I'm often looking for ways to get some of it into my children without opening up a box of overly sugary JELLO.
If you're looking to make this vegan, maybe try agar agar powder in place of the gelatin? I've been experimenting with making vegan cheese (!), so I'm becoming more and more familiar with vegan magic ingredients. But just enough to make me dangerous, so far.
Now click play ▶️ and watch me make some strawberry homemade JELLO style gelatin!
Easy Homemade JELLO Style Gelatin
Yield:
4 servings gelatin (can be doubled, tripled or even halved easily)
Ingredients
2 cups (16 fluid ounces) fruit juice or combination fruit puree and juice*
1 tablespoon (8 g) unflavored powdered gelatin**
2- 3 tablespoons (42 to 63 g) honey (can replace with 3 to 5 tablespoons (38 g to 63 g) granulated sugar), to taste
*I have tested this recipe with many different combinations of fruit juice and pureed fruit, and have found that, if you use more than 50% fruit puree, the gelatin will not set properly. See the instructions for how to make a fruit puree for use in this recipe.
**I use Great Lakes brand unflavored grass-fed gelatin because, well, I like it a lot and can buy it in large quantities for a good price. I try to sneak as much of it into my children's diet as possible because of its health benefits. But, of course, any unflavored powdered gelatin will work just fine. 1 packet of Knox gelatin is approximately 8 grams.
Instructions
Select 4 single-serving heat-safe dishes to hold the JELLO as it sets, and set them aside.

To make a fruit puree for use in this recipe, soften the fruit by placing it in a heavy-bottom saucepan and adding just enough water to cover it. Bring the mixture to a boil over medium-high heat, stirring occasionally, and cook until the fruit can be easily smashed by pressing it against the side of the pan. For berries, this should only take a couple minutes after boiling. For more fibrous fruits like apples, peel, core and roughly chop the apples before cooking. It will take longer for the fruit to be tender enough. Once the fruit is ready, remove it from the heat and set it aside to cool for a few minutes before transferring the entire contents of the pan to a blender and puree until smooth. Pass the puree through a fine mesh sieve to remove any solids or seeds. Use only 1 cup (8 fluid ounces) of fruit puree per recipe.

Some notes about fruit juices: 

I prefer to use only 100% juice so I can control the amount of added sugar.
Apple juice is a nice, relatively neutral juice to add to berry purees. When I made the blueberry JELLO you see above, I used 1 cup of apple juice along with the 1 cup of fruit puree.
Pineapple juice makes for a surprisingly lovely gelatin flavor.
You can actually use water in place of juice for an unflavored gelatin, but you'll need to add considerably more sugar to make the JELLO palatable.

In a small bowl, place about 1/4 cup of the fruit juice and sprinkle with the powdered gelatin. Mix thoroughly and allow to sit until the gelatin swells in the liquid. Place the remaining 3/4 cup fruit juice, plus any fruit puree (or more juice) to make 2 full cups in a medium, heavy-bottom saucepan over medium heat. Bring to a boil and remove from the heat. Add the swelled gelatin and honey (or sugar) to the hot saucepan and mix until the gelatin and honey/sugar dissolve.

Divide the mixture immediately among the serving dishes, and allow to cool to room temperature. Cover the dishes and place in the refrigerator to chill until set (about 3 hours). If you're feeling particularly generous, serve with whipped cream.

Originally published on the blog in 2015. Some photos, video and some text new.