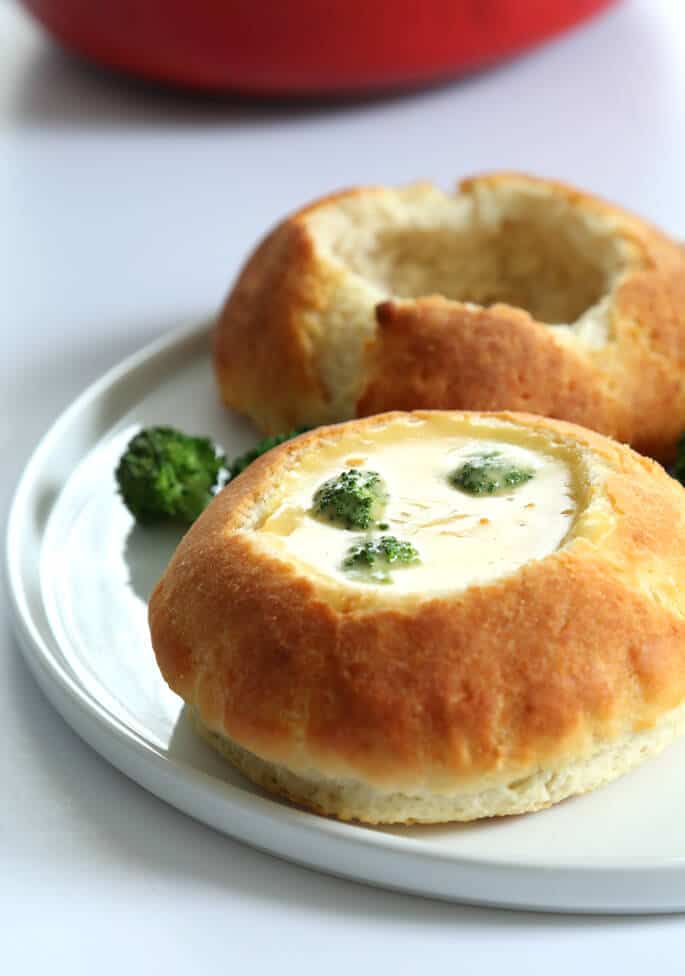 What makes this such a special recipe for gf broccoli cheddar soup?
A proper gluten free broccoli cheddar soup is a beautiful thing—and it is not cheese fondue. Does it sound like taking a spoon to a heaping bowl of warm, melted cheese might be a delicious experience?
Please for the love of Mike take my word for it: it's not delicious past the first bite. This gorgeous, creamy broccoli cheddar soup is, indeed, soup. It can be ladled into a bowl quite easily, and delivered to your mouth spoonful by spoonful without a fuss. And it'll fill you up without making you feel ugh stuffed.
It starts the way all good creamy soups start, with a roux. And it's that roux that does most of the thickening for us, not the cheese.
A roux is just a fat-and-flour mixture that thickens liquids, and I like to start the roux in this soup with butter. You can start yours with an equal amount of extra virgin olive oil, though. No problem.
A note about the broccoli: I believe that the very worst thing you can do to broccoli is to overcook it. So to save the broccoli from that fate, I don't cook it in the soup. Instead, I blanch the broccoli very quickly in some stock, juuuuust until it turns bright green.
Can you make a gluten free bread bowl to serve your gf soup in?
Yes! I couldn't resist making some bread bowls to show you that, yes, gluten free baking can do that. I have used my recipe for Gluten Free Texas Roadhouse Rolls to make them, and my recipe for Olive Garden-Style Gluten Free Soft Breadsticks from page 177 of GFOAS Bakes Bread. I love them both very much.
Just shape the dough after its first rise into individual rounds, allow them to rise until doubled, then brush with melted butter and score the tops before baking. Allow the bread to cool before removing the tops, scooping out the soft insides and filling with the creamiest, dreamiest gluten free broccoli cheddar soup ever.
Of course, an actual soup bowl works too. And if you plan to serve your soup as a starter, we've got tons of gluten free dinner ideas here on the blog.
Creamy Gluten Free Broccoli Cheddar Soup
Ingredients
1 small bunch broccoli
4 cups (32 fluid ounces) stock (vegetable or chicken)
4 tablespoons (56 g) unsalted butter, chopped
1 small yellow onion, peeled and diced
2 cloves garlic, smashed and peeled
2 carrots, peeled and shredded
1/2 teaspoon kosher salt
1/8 teaspoon freshly ground black pepper
1/4 cup (35 g) basic gum free gluten free flour blend (23 grams superfine white rice flour + 8 grams potato starch + 4 grams tapioca starch/flour)
2 bay leaves
1 cup milk (8 fluid ounces)
1/2 cup (4 fluid ounces) heavy whipping cream
8 ounces sharp yellow cheddar cheese, shredded
Instructions
Separate the broccoli florets from the stems, and rinse them clean. In a small, heavy-bottom saucepan, place about 1 cup of stock and bring to a simmer over medium-high heat. Place the broccoli florets in the simmering stock and cook until just bright green (about 2 minutes). Remove the florets, place in a separate small bowl and set aside. Remove the stock from the heat and set it aside.

In a large, heavy-bottom saucepan, place the butter and melt over medium heat. Add the onion, garlic, carrots, salt and pepper, and mix to combine. Sauté the vegetables until the onion is translucent and the garlic is fragrant (about 6 minutes). Remove and discard the garlic. Add the gum free flour blend, mix to combine and cook until the flour begins to smell nutty (about 2 minutes). Slowly add all of the stock (the 3 cups remaining, plus the cup used to blanch the broccoli), whisking constantly, until well-combined. Add the bay leaves, bring to a simmer and cook, stirring occasionally, until the mixture thickens (about 8 minutes).

Remove and discard the bay leaves, add the milk and cream, and continue to cook for another 2 minutes or until beginning to thicken. Add the cheddar cheese, and cook until the cheese is melted. Serve immediately with the blanched broccoli florets.