These 10 easy gluten free chicken recipes are the very best in everything from baked chicken casseroles and chicken fingers to take-out style orange chicken and fried chicken that tastes just like KFC. Let's get started!
Unless you're a vegetarian (if so, this post is definitely not for you!), most everyone eats (and cooks) a fair amount of chicken. I know I cook it quite a lot.
And if you're anything like me, most of it is skinless, boneless chicken breasts. Since these days I buy less meat than I used to, I like to have a plan in mind for how I'm going to prepare the breasts so I know I'll get the most out of my purchase.
My children do love a simple marinated, grilled chicken breast, but I rarely serve just that. I find that, the plainer the meat preparation, the more meat everyone expects to eat!
I really like Perdue's Perfect Portions, which are cage free (if not organic), and organic Bell & Evans chicken, which are humanely raised and organic. Both go on sale regularly, and that's when I buy them.
Oh, and one last tip before we get to the gluten free chicken recipes: If you have chicken breast that has nearly reached its date, make it plain (either in the oven or on the grill) with salt, pepper and olive oil.
Place the chicken on a lined rimmed baking sheet in the center of a 375°F oven and bake until it's is opaque throughout and reaches 160°F on an instant-read thermometer (about 20 minutes). Remove it from the oven and allow it to rest for about 5 minutes before cutting it into 1-inch square pieces.
Cool completely, place in a freezer-safe zip-top bag, and freeze until you're ready to use it, for example, in the first recipe on this list….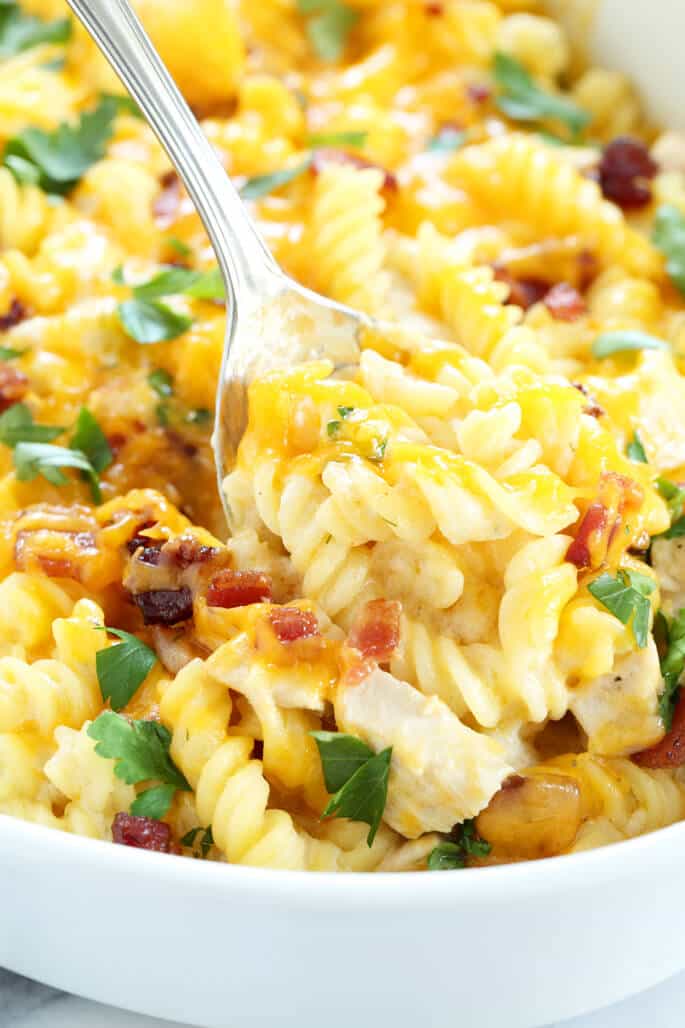 A creamy, cheesy chicken dinner, packed with an easy ranch cream sauce, bacon and all the right spices. This gluten free chicken bacon ranch casserole is the perfect comfort food!
You can start this recipe with raw chicken breasts and cook them as directed in the recipe, or use already-cooked chicken breasts cut into cubes, toss with the amazing easy homemade ranch dressing, and continue with the rest of the recipe.
This easy recipe for Asian chicken lettuce wraps is made with sesame oil, soy sauce, garlic, rice vinegar and wine, and just a touch of honey. A family favorite in my house.
The simple sauce is amazing on any sort of poultry or pork. Make it ahead and store it in the refrigerator, then give it a good shake and a whisk before using it on some stir-fried chicken. Dinner in a snap!
If you're looking for an easy, make-ahead casserole that the whole family will love, you can't do better than this gluten free chicken fajita bubble bake. All the taste of fajitas, made in a single skillet and then baked to perfection in the oven.
Make it as directed with prepared gluten free biscuit cubes, or try making it topped with my gluten free drop biscuits. Whichever is easiest for you!
Gluten free buttermilk coconut chicken fingers. How many times a week are you looking to make something for dinner that will make your hungry family happy but still make you smile, knowing that you gave them something good to eat that didn't take forever? If you're me, it's basically every single night.
These crispy chicken fingers are just the thing to delight everyone—even the cook. Don't forget the tasty, easy dipping sauce!
This simple recipe for gluten free chicken and dumplings is so easy, with make-ahead biscuits and make-ahead cream of chicken soup. It's also amazing with leftover holiday ham or cubed turkey.
Satisfy your craving for Chinese takeout with this recipe for crispy and tender gluten free sesame chicken that's packed with flavor.
By popular demand, super easy Chinese-style gluten free orange chicken. If you've ever wished that Panda Express would make their orange chicken gluten free, this is the recipe for you.
Intense orange flavor and baked, not fried, chicken bites makes this way better than mall-style orange chicken. And of course it's safely gluten free, so you'll want to make it tonight!
Try this easy recipe for gluten free chicken parmesan and enjoy tender, juicy chicken breasts with the beautifully crisp crust that you remember. Erin from Texanerin Baking showed us her secret to the best tomato sauce, and how to make sure your chicken parm crust stays beautifully crisp.
This recipe for gluten free Chinese-style lemon chicken makes the bite-sized, pan fried chicken with an easy tart and sweet sauce that will make it easy to ditch the take out any night of the week.
If you have a really good wok (I finally got a good one, so now I'm constantly looking for excuses to use it), instead of pan-frying the chicken, you can stir fry it in less than 2 tablespoons of oil. Much less mess, and healthier too!
Missing that extra-special blend of 11 herbs and spices in KFC chicken now that you're gluten free? This gluten free fried chicken will be a welcome addition to your family traditions!
Looking to make it healthier? Try my baked "fried" chicken with those same 11 herbs and spices. You'll be amazed by how delicious and juicy it still is.
P.S. I think it's hilarious that the Colonel officially switched to "KFC" from "Kentucky Fried Chicken" years ago. We know the "F" stands for "Fried" anyway, Sir.
P.S. If you're looking for more than just gluten free chicken recipes, try my full  gluten free recipe index. There are over 850 free GF recipes!