A creamy, cheesy chicken dinner, packed with an easy ranch cream sauce, bacon and all the right spices. This gluten free chicken bacon ranch casserole is the perfect comfort food!
Homemade Ranch
Do you stop in your tracks when you see an ingredient list that's longer than 6 or 7 ingredients? Me too. But this recipe for gluten free chicken bacon ranch casserole is only a bit longer than usual because we're making our own ranch dressing instead of opening up a bottle.
And we're making our own ranch dressing because, well, it's so much better that way, and it happens to be ridiculously easy. No slicing, no dicing.
Just pour buttermilk, sour cream and white vinegar in a bowl with some dried herbs and spices, and give it a good whisk. Then, use that as a quick marinade to cook the chicken while we boil the pasta and make a super simple roux-thickened ranch-style sauce.
Make-ahead options
Add some crisp bacon and shredded cheddar cheese, and you've got a killer casserole that satisfies everyone's comfort food-cravings. You can make the ranch dressing up to a week in advance (as long as your ingredients are fresh), and even cook the chicken up to 3 days ahead of time.
I've even made the roux-thickened ranch sauce 1 day ahead of time—or even the whole casserole the day before. Just pop it in the oven and dinner's served.
Make it your own
In baking, you must follow the recipe precisely to the letter. But this is cooking, and you have a whole lot more freedom.
If you have another way of cooking chicken breasts that you prefer, go for it. The most important thing is to use the proper flour blend (or flour, as explained in the recipe ingredients) and technique to make the roux, and measure those ingredients properly.
Other than that, if you have another favorite small dried pasta you'd prefer, use that. You don't like cheddar but you love Monterey Jack cheese? Use it. Don't care for bacon (say what?), leave it out.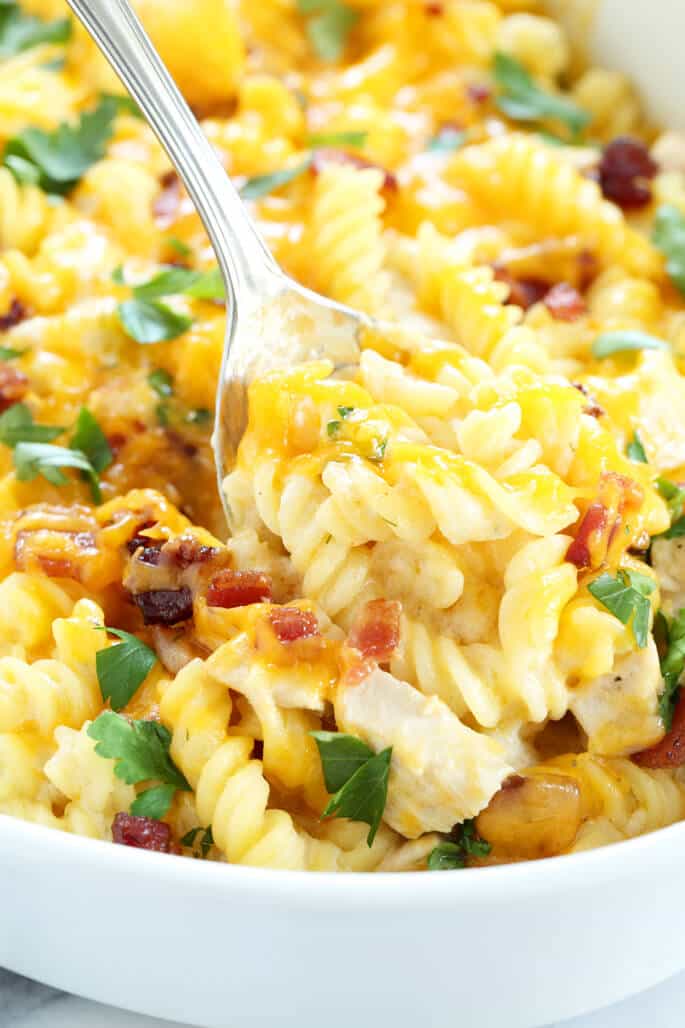 Now I personally think that everything savory tastes better with some chopped parsley scattered on top. But if your kids fear the green, leave that out, too.
But one thing's for sure. Make this creamy, dreamy chicken casserole once, and it will surely find its way into your regular dinner rotation. ?
Easy Gluten Free Chicken Bacon Ranch Casserole
Ingredients
1 cup (8 fluid ounces) buttermilk
1 cup (225 g) sour cream
1 tablespoon white wine (or white balsamic) vinegar
1/2 teaspoon kosher salt
1/4 teaspoon freshly ground black pepper
1 tablespoon dried dill
2 tablespoons minced dried onion (or 1 tablespoon dried ground onion)
1/2 teaspoon garlic powder
1 pound raw skinless, boneless chicken breasts
12 ounces dried gluten free rotini pasta
3 ounces (about 3 strips) sliced bacon, diced
3 tablespoons (42 g) unsalted butter, chopped
5 tablespoons (45 g) basic gum-free gluten free flour blend (30 g superfine white rice flour + 10 g potato starch + 5 g tapioca starch/flour) (or replace with an equal amount of superfine sweet white rice flour)
1 1/2 cups (12 fluid ounces) chicken stock
8 ounces sharp yellow cheddar cheese, shredded
Chopped fresh flat-leaf parsley (optional)
Instructions
Preheat your oven to 375°F. Grease a 3-quart casserole dish and set it aside. Line a large rimmed baking sheet with parchment paper and set it aside.

Make the ranch dressing and cook the chicken. In a medium-size bowl, place the buttermilk, sour cream, vinegar, salt, pepper, dill, onion and garlic powder, and whisk to combine well. This is the ranch dressing. Place the raw chicken breasts on the prepared baking sheet and spoon about 1/4 cup of the ranch dressing evenly on top of the chicken breasts. Place the chicken in the center of the preheated oven and bake until the chicken is opaque throughout and reaches 160°F on an instant-read thermometer (about 20 minutes). Remove the chicken from the oven and allow it to rest for about 5 minutes before cutting it into 1-inch square pieces. Lower the oven temperature to 350°F.

Boil the pasta. While the chicken is cooking, in a large pot of salted water, boil the pasta to an al dente texture according to the directions on the package. I used Barilla gluten free rotini pasta, and boiled it for 6 minutes. Drain the pasta, rinse it with lukewarm water and set it aside.

Cook the bacon and make the sauce. In a medium-size, heavy-bottom saucepan, cook the bacon over medium-high heat until browned and crispy. Remove the cooked bacon from the saucepan and transfer to a paper towel-lined plate to drain, and discard all but 1 tablespoon of the bacon grease. Place the unsalted butter in the pan, and melt over medium heat. Add the flour blend and cook, whisking constantly, until the mixture is bubbling (about 2 minutes). Add the chicken stock in a slow, steady stream, whisking constantly. Cook, whisking occasionally, until the mixture begins to thicken (about 2 minutes more). Add the remaining ranch dressing in a slow, steady stream, whisking constantly until well-combined. Remove the saucepan from the heat.

Assemble and bake the casserole. Add the cooked pasta, diced chicken and about 6 ounces of the shredded cheddar cheese to the saucepan and toss to combine. Transfer about half of the pasta and chicken mixture to the prepared casserole dish in an even layer, scatter with about half of the cooked bacon, top with the remaining chicken and pasta mixture, then the remaining bacon. Scatter the remaining shredded cheese evenly over the top. Place the dish in the 350°F oven and bake until the mixture is bubbling and the cheese is melted (about 10 minutes). Scatter with the optional chopped parsley and serve immediately.

Adapted from Damn Delicious.