This easy recipe for Asian chicken lettuce wraps is made with sesame oil, soy sauce, garlic, rice vinegar and wine, and just a touch of honey. A family favorite in my house!
PF Chang's is one of those restaurant chains in the U.S. that has had a gluten free menu since way, way back. I remember going there with my family, including my gluten free son, and being so grateful that they even knew what gluten was. The fact that they could accommodate him and we could all order the same food off a menu was a minor miracle.
These days, it would almost be hard to find someone who hasn't at least heard the term "gluten free" thrown around. There's gluten free pasta available in nearly every large grocery store you can find—and it might even be right next to the conventional pasta in the store.
But PF Chang's will always have a special place in my ?. We haven't been there in years, but their chicken lettuce wraps are still a favorite. We just have them at home now.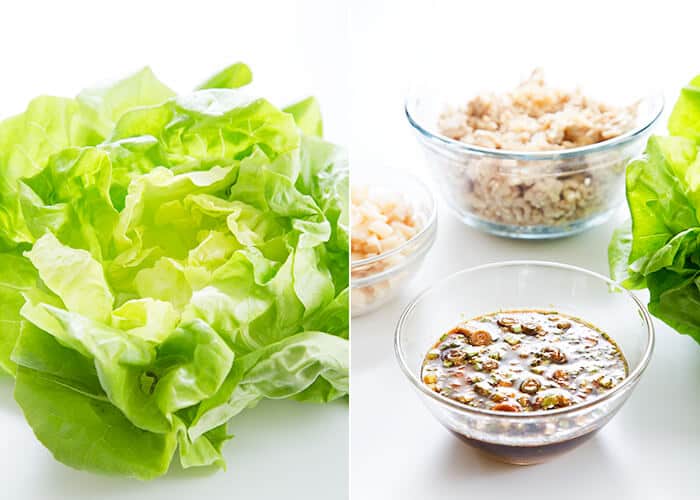 This recipe is so dead easy, and doesn't even require any specialty ingredients like gluten free hoisin sauce (which you can buy, but can be difficult to find). I've managed to avoid using hoisin by adding some extra soy sauce, a bit of honey, and a cornstarch thickener so the texture of the sauce is just right.
The balance of flavors (umami, saltiness, and a touch of sweetness) can't be beat.
PF Chang's may serve these lettuce wraps as an appetizer, but I like to serve them as a main dish. I serve some of the chicken mixture in lettuce cups, since the soft and savory chicken mixture pairs so well with the crunch of the lettuce. The rest, I serve over fluffy white or brown rice.
Some recipe notes:
In a rush? Try replacing the minced garlic with about half as much garlic powder, the diced onion with half as much dried minced onion, and the fresh ginger with half as much dried ground ginger (dried spices and aromatics are always about twice as potent as fresh).
If you'd prefer to use gluten free hoisin sauce, use 1/4 cup of it in place of 2 tablespoons of the soy sauce/tamari, the honey and the cornstarch.
Love fresh ginger but can't seem to keep it on hand when you need it? Try placing the whole root in a freezer-safe zip top bag and storing it in the freezer. Allow it defrost slightly before chopping it (or simply shaving some off with a vegetable peeler). You'll never find yourself without fresh ginger again!
Asian Chicken Lettuce Wraps
Ingredients
1/4 cup (64 g) gluten free soy sauce or tamari
1 tablespoon (9 g) cornstarch (or try arrowroot)
2 tablespoons rice vinegar
1 tablespoon rice wine (can replace with more rice vinegar)
1 teaspoon toasted sesame oil
2 tablespoons (42 g) honey
1 tablespoon minced fresh ginger (or 1 1/2 teaspoons ground)
2 fresh scallions, chopped (white and green parts)
2 tablespoons (28 g) neutral cooking oil (like grapeseed or canola)
1 pound ground chicken, pork or turkey
1 small yellow onion, peeled and diced
3 cloves garlic, peeled and minced
4 ounces water chestnuts (1/2 an 8 ounce can), drained and diced
1 head Boston lettuce
Instructions
In a small mixing bowl, place about half of the soy sauce and the cornstarch, and whisk until smooth. Add the remaining soy sauce, rice vinegar, rice wine, sesame oil, honey and ginger, and whisk until well-combined. Add about three-quarters of the scallions, and mix to combine.

In a medium, heavy-bottom skillet or wok, heat 1 tablespoon of the cooking oil over medium-high heat until rippling. Add the ground meat, and cook, stirring to break it up into small pieces, until no longer pink (about 5 minutes). Remove the chicken from the skillet and set it aside. Add the remaining tablespoon oil, add the diced onion and cook for 4 minutes, stirring occasionally. Add the minced garlic and cook, stirring frequently, until the onion is translucent and the garlic is fragrant (about 2 minutes more). Return the cooked meat to the skillet, add the soy sauce mixture, and mix to combine. Cook until the sauce begins to thicken (1 to 2 minutes). Remove from the heat, and add the diced water chestnuts.

Separate the leaves of Boston lettuce from the heat and spoon the chicken mixture into each as a cup. Sprinkle with the remaining chopped scallions and serve.