These super fluffy gluten free English muffins have nooks and crannies that will put Thomas to shame in a hurry. Once they're cooled and fork-split, they freeze perfectly. And you … more »
These super fluffy gluten free English muffins have nooks and crannies that will put Thomas to shame in a hurry. Once they're cooled and fork-split, they freeze perfectly. And you can even finish them in a toaster oven instead of a traditional oven so your kitchen stays cool. Clearly, they're a breakfast home run. I started out thinking I was making gluten free English crumpets—those cousins of gluten free English muffins that remind me of sturdier pancakes that are cooked on one side only, until bubbles break through the surface. I started with the recipe for gluten free English Muffins from page 118 of
Gluten Free on a Shoestring Bakes Bread
(which is adapted from the recipe for
English Muffin Bread
from page 74), and went from there.
The difference between the dough for crumpets and the dough for English muffins is mostly one of hydration percentages: Crumpet dough is more like pancake batter than any bread dough, English muffin dough seems kind of like how pre-gluten-free-bread-revolution gluten free bread dough—very, very wet (although not quite freely pourable).
So what's the difference between the English muffins from GFOAS Bakes Bread and these super fluffy English muffins? A few things, but it's also mostly a matter of hydration. I won't bore you with more of the details. I hear the devil is in there anyway.
Here's what you need to know about making these muffins: they're ridiculously easy. Just mix up the dough (with a whisk!), set it to rise for about 30 minutes, mix in the salt and baking powder right before filling English muffin rings (1-inch rings cut from empty aluminum cans work just fine, if you don't have actual rings) and letting them cook. Finish them in the oven or the toaster oven (or even in the skillet!) and let them cool.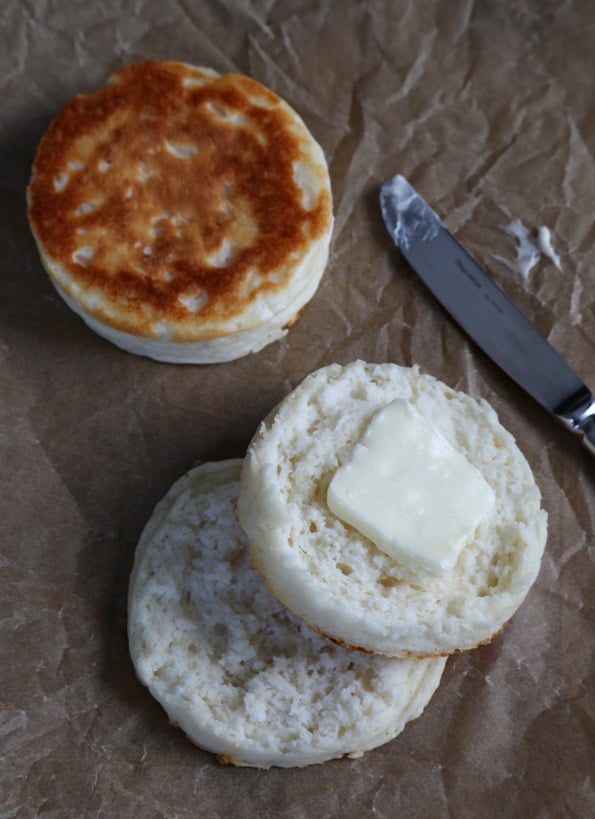 I do have to insist that you split them properly, with a fork, though. Otherwise? No nooks, not to mention crannies. And that's the whole point here, isn't it? Stay tuned for traditional English crumpets, but for now I think these will do. :)
Ingredients
2 1/2 cups (350 g) Gluten Free Bread Flour*
1 tablespoon (12 g) sugar
1 2/3 teaspoon (5 g) instant yeast
1 cup + 2 tablespoons (9 fluid ounces) warm milk (about 95°F)
1 1/4 cups (10 ounces/10 fluid ounces) warm water (about 95°F)
3/4 teaspoon baking powder
3/4 teaspoon (4 g) kosher salt
*BREAD FLOUR NOTES
1 cup (140 g) Gluten Free Bread Flour, as discussed more fully on pages 8 to 10 of GFOAS Bakes Bread, contains 100 grams Mock Better Batter all purpose gluten free flour (or Better Batter itself) + 25 grams whey protein isolate (I use NOW Foods brand) + 15 grams Expandex modified tapioca starch.
For a calculator that helps you build the flour using my Mock Better Batter, but without doing any math, please see my Gluten Free Flour page.
If you would like to use Ultratex 3 in place of Expandex, please see #6 on my Resources page for instructions.
Directions
Place the flour, sugar and yeast in a large bowl and whisk to combine well. Add the milk and water, whisking to combine well after each addition. The dough will be very wet, and should have a consistency that is slightly thicker than pancake batter. Cover with oiled plastic wrap and set aside in a warm, draft-free location to rise for about 30 minutes, or until nearly doubled in size. Line two small, rimmed baking sheets with unbleached parchment paper and set them aside. Preheat your oven to 325°F.**

**To avoid turning on your oven, you can either finish baking the English muffins in a toaster oven preheated to the same temperature, or try covering your skillet once the muffins are on the second side, reducing the heat to low and cooking until the internal temperature of the muffins reaches 195°F.

Place a 10-inch cast iron skillet over medium heat, or heat a griddle to medium. While the pan or griddle is heating, grease four metal English muffin rings (1-inch rings cut from empty aluminum cans also work well) and place them in the hot pan or griddle. In a separate, small bowl, whisk together the baking powder and salt. Uncover the bowl of dough and mix in the baking powder and salt. Using a spring-loaded ice cream scoop (or two spoons), fill the English muffin rings about three-quarters of the way full with the dough. Allow the muffins to cook for about 5 minutes before using tongs or a spatula to flip the rings with the muffins inside and cooking for another 3 to 5 minutes or until the underside of the muffins is lightly golden brown. Transfer the muffins in the rings to a prepared baking sheet, carefully remove the rings using the tongs, and place in the preheated oven (or toaster oven) to bake until the internal temperature reaches 195°F (about 7 minutes). Alternatively, cover the skillet or griddle until cooked through completely. Repeat with the remaining dough, using more greased muffin rings.

As soon as the muffins are finished baking or cooking, transfer them to a wire rack to cool completely. Split each muffin with a fork by inserting the tines in the center of the muffin along the middle, parallel to the muffin itself, and gently pry open the muffin with your fingers. Serve warm. With butter. Lots of butter.

Adapted from the recipe for English Muffins on page 118 of Gluten-Free on a Shoestring Bakes Bread.