Get Started Here!
Who & What I Am
Welcome to Gluten-Free on a Shoestring! I'm Nicole. I started this blog about halfway through 2009 to chronicle my family's gluten-free life, and to share the gluten free recipes I was developing at home.
My son, Jonathan, has celiac disease, but he also has 2 sisters (Bailey and Ava). And they all have friends. And kids and their kid-friends do not grade on a curve.
Everything I have made for my gluten-free son since 2005 I have made with 1 goal in mind:
It'd better be good. Not "good for gluten-free." Just plain good. Here's how we get it done around here:
What To Do
First, do some light reading! If you're new to gluten free eating, begin with The Basic Rules of a Gluten Free Diet, to help you understand what is safe to eat, and what isn't. There are links there to all sorts of important, reliable information. Then, read all about the gluten free flour blends I use—most of them all purpose gluten free flour blends. Then, read this post about How & When To Use The Flour Blends, and why they work best in particular types of recipes. And if you're wondering, here's How I Stock My Gluten Free Pantry For Baking.
Second, take a look at my Gluten Free Cookbooks. You can also take a look inside each of the books on Amazon, with their "Look Inside" feature. If you're relatively new to gluten free cooking and baking, my first cookbook is my flagship book and a perfect place to start.
Third, read through the blog FAQs. If you have general questions, the answers might just be in there!
Fourth, so you never miss another new recipe, sign up to receive my Email Newsletter. It's our favorite price (free) and you can easily unsubscribe any time. No hard feelings.
Finally, while you wait for the cookbooks to arrive, get started here on the blog. A great place to begin is the Visual Recipe Index, with photos of every single recipe here on the blog, by category. It gives a nice overview.
Here are some of the most popular posts and pages on the blog, along with some of my personal favorites:
Flour blend recipes
If you'd like to bake nearly anything gluten free, you'll need an all purpose gluten free flour blend. No single gluten free flour can do what conventional all purpose flour does. I promise it's really simple.
One of the most useful pages on the blog is all about those all purpose gluten free flour blends. We discuss what you can buy, and how to make your own if you need or want to go that way.
Below is an infographic that is a great at-a-glance resource. All the details are on that blog page, though.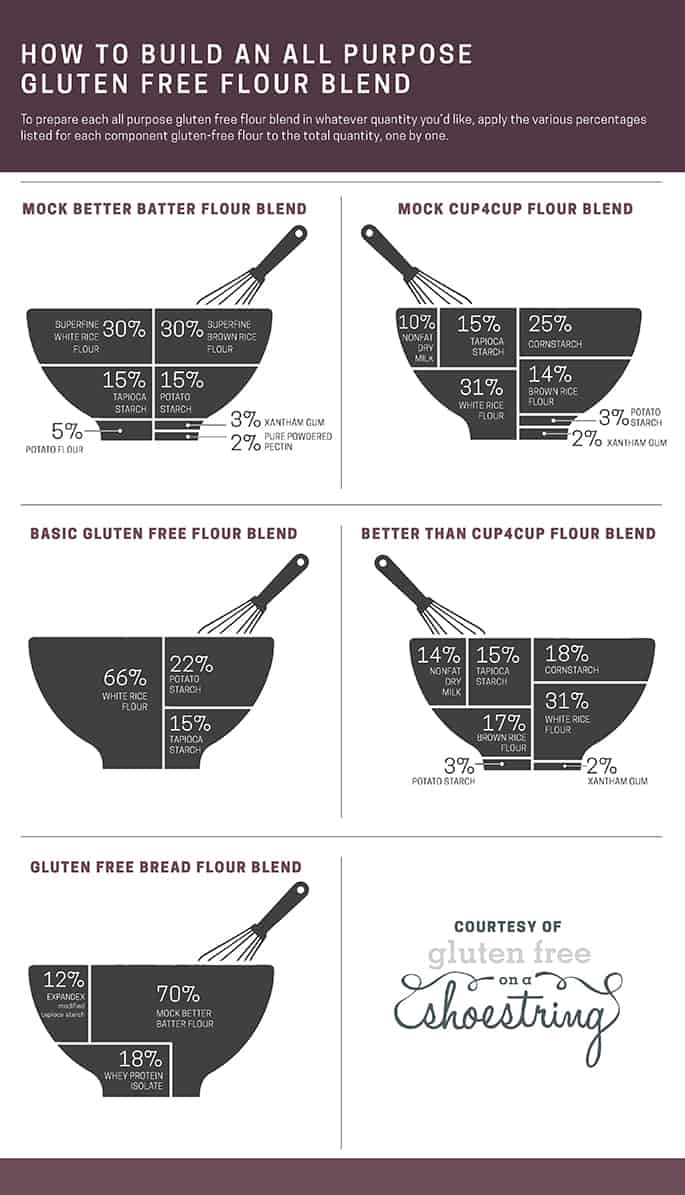 Drop cookies are a great first recipe
Let's start baking with an easy recipe for drop cookies. These gluten free chocolate chip cookies are the standard against which all other cookie recipes are judged. Plus, they're so easy. Perfect for beginners!
What to buy, since we can't make everything
If you're ready to learn about gluten free baking, but you're a normal human being who also sometimes needs to buy packaged gluten free products, I can help with that, too. I have a bunch of gluten free product reviews, like the Top 8 Brands of Gluten Free Bread.

When you're ready for some homemade bread
When you're ready to bake yeast bread, begin with my Top 10 Secrets to baking the best gluten free bread. Once you understand how to make gluten free bread successfully, you'll be ready to select your first recipe and get started with confidence.
The photo below is our gluten free white sandwich bread. It's a great place to start bread baking.
The perfect pie crust
One of the most popular recipes on the blog, season after season, year after year, is for our extra flaky gluten free pie crust. It's made with sour cream and rolls out beautifully.
Don't forget about the full Gluten Free Recipe Index. I'm really glad you're here. Let's get started!
Love,
Nicole