Make good use of that abundant summer squash in this easy recipe for savory gluten free zucchini parmesan squares. Perfect for a picnic lunch or a snack!
A great summertime snack (really!)
I have two teenage girls, and they both play softball competitively. That means lots (and lots) of packed coolers, and when you're playing in the summer heat, you need the good snacks that are easy to eat and don't weigh you down.
When it's between innings, we go for our homemade protein bars. But then there's the few times between games when you can really eat something that takes an extra moment.
On every team, there's that mom that you might think I would be (but you would be wrong, sadly): lots of homemade food cut into the perfect size to eat on the go, packed perfectly and served at just the right moment. I do, however, bring all the right chips, lots of fruit, and homemade chocolate chip cookies to share.
The first time I learned of these zucchini parmesan squares, I was sitting beside that mom on one of my daughter's softball teams. She isn't gluten free, so I didn't try the squares even though she was so generous in offering them to everyone.
She said that she makes these squares every summer and that they're flavorful, packed with vegetables (thank you, summer squash!). When she said that the squares are at their best when served at room temperature, I knew I had to try to make a gluten free version.
She started to describe the recipe, and it sounded a lot like a version of our 1970's special spinach balls. Every other person there tried it (even the youngest siblings, who had no idea they were eating vegetables).
How to make zucchini parmesan squares
To make the squares, whisk together the flours, leaveners, salt, herbs, spices, and grated cheese. Then add the nearly 2 cups of grated zucchini to a large bowl and toss it to separate the grated vegetable pieces.
In a separate bowl or larger measuring cup, whisk together the eggs, oil, sour cream, and grated onion, then add that wet mixture to the large bowl of dry ingredients. Mix to combine, and transfer to a greased baking pan. Sprinkle the top with some more cheese (grated or shredded Parmigiano-Reggiano), and bake for about 30 minutes.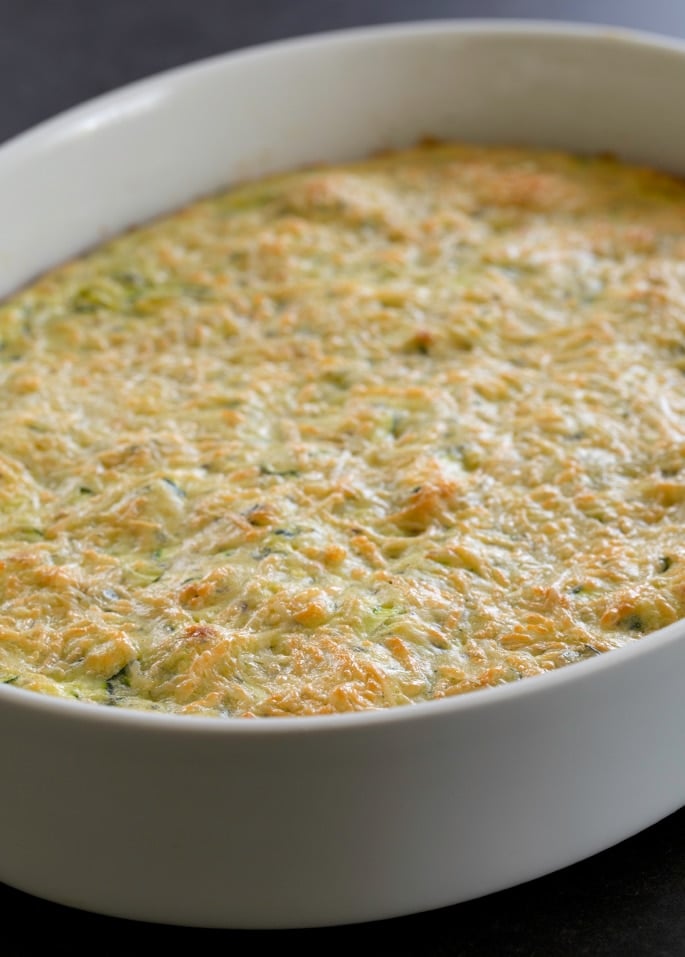 How to make zucchini parmesan squares even easier
If you glanced at the ingredient list in the recipe below and got intimidated because it's kind of a long list, I promise the list is only lengthy because of the dried spices (which are completely ordinary and are definitely already in your pantry).
Plus, instead of using a ready-made pancake mix, I broke down the flour-baking powder-baking soda-salt. Since the original recipe calls for using Bisquick, I began by using our homemade gluten free pancake mix (since I always have some of that on hand). I found that the recipe turned out just as well and was even simpler to make when I used an all purpose gluten free flour blend.
Since zucchini has such a mild taste, and this recipe is made with oil instead of butter which is naturally more flavorful especially in baking, you really do need to use plenty of spices. Garlic powder instead of minced fresh garlic added more depth of flavor to the squares. You can actually replace the grated onion with 2 tablespoons of dried minced onion and 1/2 teaspoon onion powder.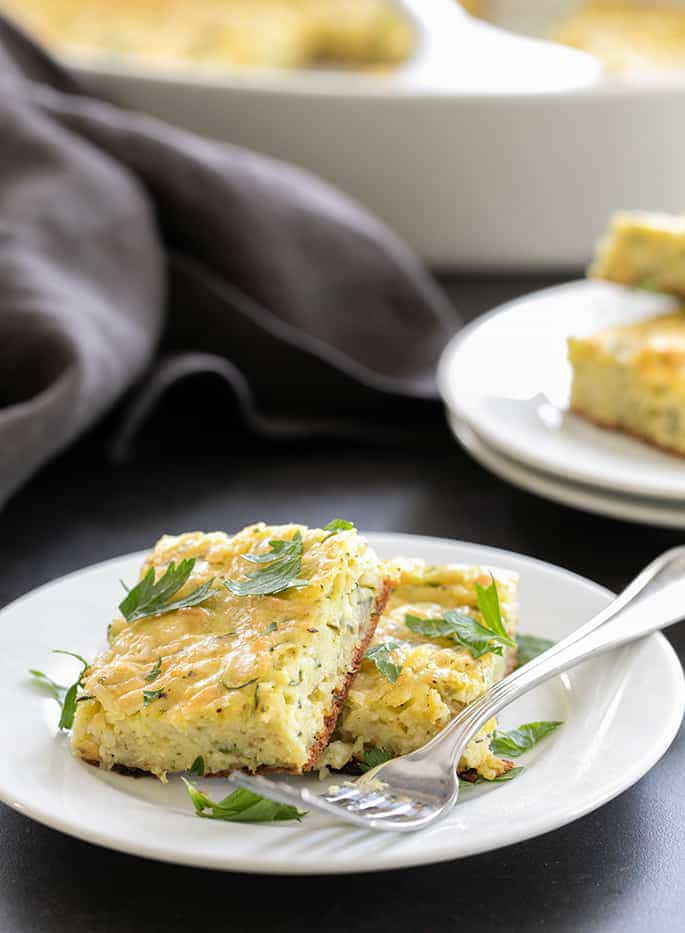 Ingredients and substitutions
Dairy-free: The dairy in this recipe comes mainly from the Parmigiano-Reggiano cheese. It's a tough one to replace, but not impossible. I recommend replacing it with 1/4 cup nutritional yeast (for that cheesy flavor) and the remaining amount as shredded nondairy cheese.
I like Violife brand or Daiya, but if you can find Violife brand, they have a Parmesan alternative that looks promising for the whole amount.  The sour cream can easily be replaced with an equal amount of plain nondairy yogurt. My favorite nondairy plain yogurt is by So Delicious brand.
Egg-free: There are 5 whole eggs in this recipe. I'm afraid that's just too many eggs to expect to replace them successfully with an egg replacer like a chia egg or a flax egg (even if you boil the flax seeds and strain them out). So sorry!
Corn-free: This one's super easy. The cornstarch is there to lighten up our standard all purpose gluten free flour blend. In its place, you can use potato starch or arrowroot in an equal amount.
Oil: The original recipe calls for vegetable oil, like the oil we use in our recipe gluten free zucchini bread, but I found the recipe to be too bland (and frankly, oily tasting) that way. So I switched to extra virgin olive oil, and it made a big difference. You could probably also use melted butter, and it would be delicious.
Gluten Free Zucchini Parmesan Squares
Ingredients
1 cup + 1 tablespoon (149 g) all purpose gluten free flour (I used Better Batter)
1/2 teaspoon xanthan gum (omit if your blend already contains it)
2 tablespoons (18 g) cornstarch
1 teaspoon baking powder
1/8 teaspoon baking soda
1 1/4 teaspoons kosher salt
1 tablespoon dried parsley
1/2 teaspoon dried oregano
1 1/2 teaspoons garlic powder
3/4 cup (75 g) finely grated Parmigiano Reggiano cheese, plus more (shredded or grated) for sprinkling
Heaping 3 1/3 cups (375 g) grated raw zucchini
5 eggs (250 g, weighed out of shell), at room temperature
1/2 cup + 2 tablespoons (140 g) extra virgin olive oil
2 tablespoons (30 g) sour cream, at room temperature
1 small yellow onion, peeled and grated
Fresh flat leaf parsley, chopped (optional, for serving)
Instructions
Preheat your oven to 350°F. Grease the bottom and sides of a 13-inch x 9-inch x 2-inch baking pan. Set it aside.

In a large bowl, place the flour, xanthan gum, cornstarch, baking powder, baking soda, salt, parsley, oregano, garlic powder, and 3/4 cup cheese, and whisk to combine. Add the grated zucchini, and mix to combine and evenly distribute the zucchini throughout the dry ingredients. In a separate small bowl or 1 quart or larger measuring cup, place the eggs, oil, sour cream, and grated onion, and whisk to combine well.

Create a well in the center of the dry ingredients in the large bowl, pour in the egg and oil mixture, and mix to combine. The mixture will be thick but soft. Transfer it to the prepared pan and spread into an even layer. Sprinkle the top evenly with the remaining grated or shredded cheese.

Place the pan in the center of the preheated oven and bake until puffed and lightly golden brown (about 30 minutes). Allow the casserole to cool for at least 10 minutes in the baking pan before cutting it into 2-inch squares. Sprinkle with the optional chopped fresh parsley, and serve warm or at room temperature. Store any leftovers in a sealed container in the refrigerator.

Adapted from Betty Crocker (hat tip to the mom on my daughter's softball team for the idea!)