Warm, comforting gluten free cinnamon buns, made without yeast so there's no rising time. Ready in less than an hour from start to finish, this is how you get your quick cinnamon-sugar fix!
Food isn't love. Everybody knows that! But let's just say, for the sake of argument, that maybe it was love…
When you're sad about something and, say, eat your feelings, that works for, like, the moment that you're actually eating. That warm, cinnamon goodness all through the tender dough of the cinnamon bun might feel like love.
But what about baking for someone else? I'm telling you right now, as I've experienced this first hand more times than I can count, that that is love. It's not like every time my kids feel sad, I ply them with sugar. But when I know that cinnamon rolls are a favorite, and that saddest teenage child smells them baking in our kitchen?
LOVE. On both sides of that equation. The fact that you went out of your way to bake for someone feels like love for the baker and the eater. It just does.
And if you're worried about baking with yeast, these yeast free gluten free cinnamon buns are the perfect place to start. Leavened only with baking powder and eggs, they're a sure thing. No finicky yeast to deal with!
This recipe was first reprinted on the blog on the publication day of Gluten Free on a Shoestring Quick & Easy, my second cookbook. It's from the very pages of that book, and I remember being so proud to share it with you!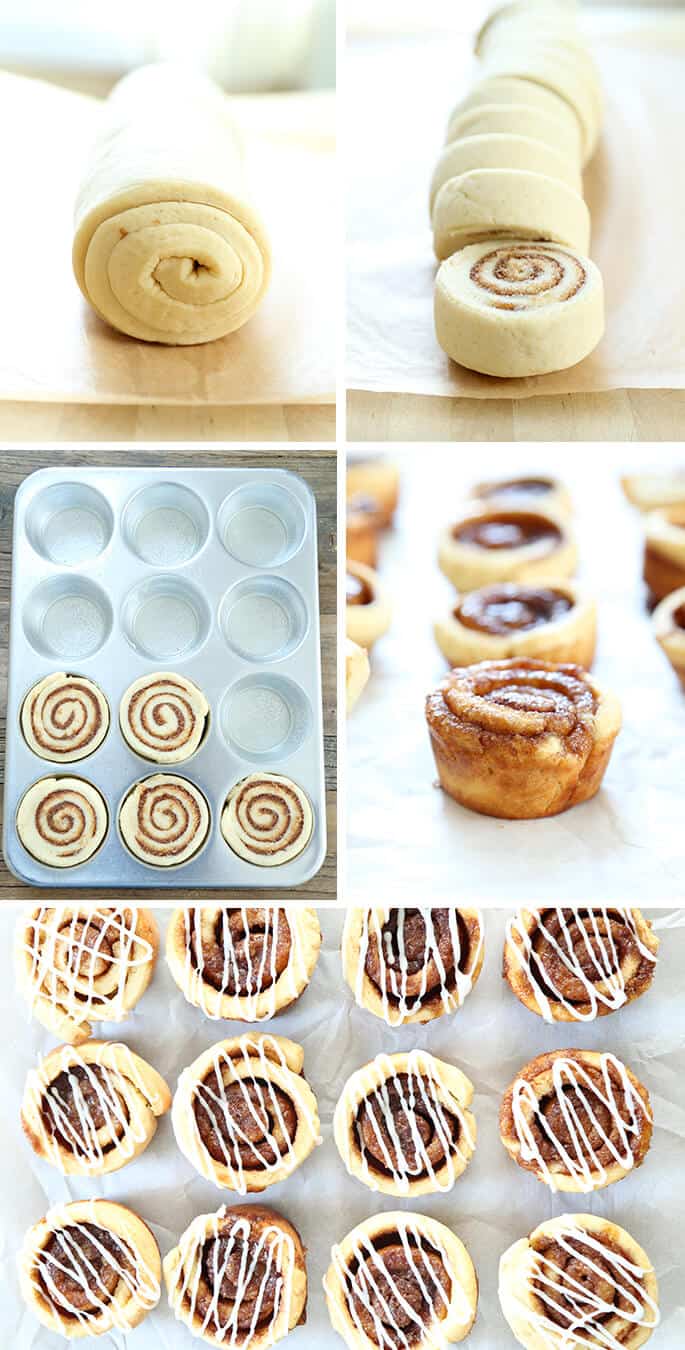 The dough for these yeast free gluten free cinnamon buns is smooth and even silky. With no more than a sprinkling here and there of flour as you work, it's truly a pleasure to roll out.
In just a few minutes, you're rolling up the dough. Then, all that's left is to slice it into 1-inch sections and nestle them into the wells of a muffin tin.
You can slice the roll of dough into individual pieces with a sharp knife, or even a piece of unflavored, unwaxed dental floss. It's a great way to get razor-sharp edges without crushing the roll at all.
After just 25 minutes in the oven, they're done. Classic, fluffy and soft cinnamon buns, with that perfect buttery cinnamon-sugar filling bursting out of the center and making those edges almost crispy.
A light drizzle of a simple glaze is all you need to make your lucky friends and family oooh and ahhhh.
Yeast Free, Gluten Free Cinnamon Buns
Ingredients
For the dough
3 1/2 to 4 cups (490 to 560 g) all purpose gluten free flour (I used Better Batter)
2 teaspoons xanthan gum (omit if your blend already contains it)
2 1/2 teaspoons baking powder
1/4 teaspoon kosher salt
1/2 cup (100 g) granulated sugar
6 tablespoons (84 g) unsalted butter, at room temperature
2 eggs (100 g, weighed out of shell), at room temperature, lightly beaten
1 cup (8 fluid ounces) milk, at room temperature
For the filling
1 cup (218 g) light brown sugar
2 tablespoons ground cinnamon
1/8 teaspoon kosher salt
4 tablespoons (56 g) unsalted butter, melted and cooled
For the glaze
1 cup (115 g) confectioners' sugar
1 tablespoon milk (any kind), plus more by the 1/4 teaspoonful if necessary
Instructions
Preheat your oven to 350°F. Grease the wells of a standard twelve-cup muffin tin and set it aside.

In a large bowl, place 3 1/2 cups (490 g) of the flour, the xanthan gum, baking powder, 1/4 teaspoon of the salt, and the granulated sugar, and whisk well. Add 6 tablespoons of the butter, the eggs, and the milk, and mix until the dough comes together. The dough should be smooth and relatively easy to handle. If the dough seems sticky, add more flour by the tablespoon and knead it in with well-floured hands until the dough is smooth.

Turn the dough out onto a piece of lightly floured unbleached parchment paper. Sprinkle the dough lightly with extra flour and roll it into a 12-inch by 15-inch rectangle, about 1/4 inch thick (no thinner). Trim any especially rough edges.

Make the filling. In a medium-size bowl, place all of the filling ingredients and mix to combine well. With a small offset spatula or large spoon, spread the filling in an even layer over the top of the rectangle of dough, leaving about 1/4 inch clean around the perimeter. Starting at a short side, roll the dough away from you into a tightly formed roll. Slice the roll in cross-section into twelve equal pieces, each about 1 inch thick. Place each roll in a well of the prepared muffin tin.

Place the tin in the center of the preheated oven, and bake for about 25 minutes, or until the rolls begin to turn golden brown and the filling starts to bubble out of them. Remove from the oven and allow to cool until the rolls are firm enough to handle (about 10 minutes), then transfer to a wire rack to finish cooling. Be sure to remove the rolls from the muffin tin before they are completely cool, or they will begin to stick to the muffin tin.

While the rolls are cooling, make the icing. In a small bowl, place the confectioners' sugar and 1 tablespoon of milk. Mix well until a thick paste forms. Add more milk by the 1/4-teaspoon, mixing to combine well, until the glaze falls off the spoon slowly, in a thick but pourable glaze. Add milk very slowly, as it is much easier to thin, than to thicken, the glaze. If you do thin the glaze too much, add more confectioners' sugar a teaspoon at a time to thicken it. Drizzle or spread the icing on the cooled rolls before serving.

From the book Gluten-Free on a Shoestring Quick and Easy: 100 Recipes For the Food You Love—Fast! by Nicole Hunn. Excerpted by arrangement with Da Capo Lifelong, a member of the Perseus Books Group.  Copyright (c) 2012.