These gluten free snowball cookies, also known as Russian tea cakes and Mexican wedding cookies, are super tender butter cookies, made with chopped nuts and always covered in powdered sugar.
Get to the recipe already?
Have you seen the memes around lately where readers of food blogs are complaining about all the conversation that comes before the actual recipe? Conversation exactly like we're having right here, right now?
Personally, I find most of the memes to be really funny (the best so far is "really sorry about the divorce, Pamela, but can you tell me how many eggs?"). In fairness, I do tend to be an easy laugh for silliness and sarcasm. It did occur to me that readers may not already know why food bloggers tend to talk so much before we tell you how many eggs. Spoiler: in this recipe? no eggs at all. :)
The first reason I talk before the recipe is because I have things I want you to know before you get to the recipe (already). There are things to keep in mind about the recipe as you decide whether or not to make it, including tips and tricks that will ensure that you have plenty of success.
And it never fails that, the more information I provide (like the whole section below about "ingredients and substitutions"), the more I get questions that are answered right there in the post. And in the comments, I'll say "please see that information above in the post." At least that's faster than having to repeat the information over and over again, right?
There's also a second (and third) reason for the pre-recipe talk: It helps our content rank more highly in Google search results (also known as SERP), plus it gives our ad networks a chance to serve advertisements to our readers (like you!). That's how we make money on a typical food blog—through ads. It's like clicking on an affiliate link since it doesn't cost you anything extra.
And advertisers increasingly pay for what's called "viewability." If you don't see the ads, they don't pay for them. And if you come here super fast, print out the recipe and never come back? We really don't make any money. I understand that being served ads can be a nuisance.
But not only is running a website super expensive (my email list alone costs about half the amount of the mortgage on my house!), this is part of my job. I provide you with free recipes, and you're served ads in the process. Give and take. I don't consider it greed. I consider it a time-tested transaction much like watching commercial television—or paying for commercial-free TV. But I really don't spend much time talking about myself or my family anyway. So you don't have to scroll past that with me!
If you're still reading (thanks! ?), you should also know that I do think that ad revenue is becoming a dangerous thing to rely upon for content creators like me. That's why I'm creating more and more products to sell so that I can continue to serve you more and more in-depth content. In fact, if you're on my email list, you're about to receive notice of my next online self-directed course, this time about gluten free yeast bread.
But for now, if you're looking for just the recipe and that's all, you should go to Allrecipes. I've checked out their gluten free recipes, and frankly, they're really lacking unless you're looking for naturally gluten free content. But it's there for you, if that suits your needs better.
Back to the cookies!
Now that we have that out of the way, let's talk about these amazing buttery delight gluten free snowball cookies! Much like the whipped shortbread cookies that we made the other week, these incredibly simple cookies are a mixture of butter, flour/starch, and sugar, but this time we're adding finely chopped nuts to the mix.
They still melt in your mouth, though, since the nuts should be very finely chopped. I chop mine in a miniature food processor or a blender. Be sure not to continue grinding until you have a flour, as you want the nuts to provide a bit of texture and not to completely disappear into the batter.
Watch this 1 minute video and learn how to make gluten free snowball cookies
Just push play ▶️ and see how to transform a few simple ingredients into the cookies you love and miss!
Another word about the nuts: When I use mostly raw pecans to make these snowball cookies (a.k.a. Mexican Wedding Cookies or Russian Tea Cakes), I grind the nuts a little more coarsely since pecans are such a soft nut. When I use almonds, I grind them more finely. You don't want the cookies to have any noisy crunch, which would all but ruin the overall silky smooth texture.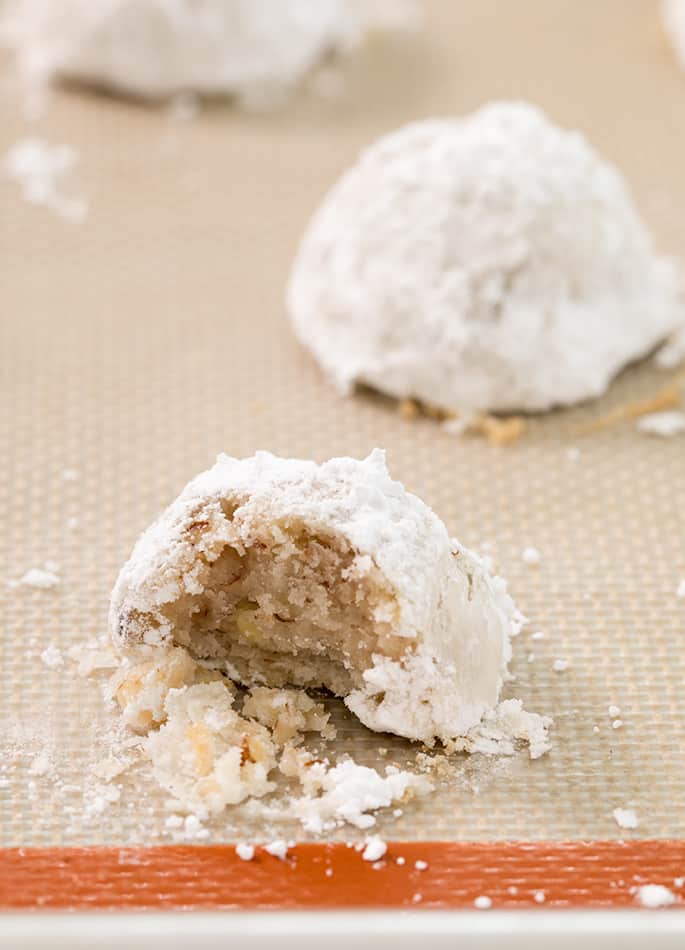 Ingredients and Substitutions
As always, unless I specifically state otherwise, I haven't tested these cookies with any substitutions. These are just my best-educated guesses:
Dairy-Free: I haven't tried it, but I bet these cookies would work just fine with butter-flavored Spectrum non-hydrogenated vegetable shortening in place of the butter.
Corn-Free: I recommend trying potato starch as a substitute for cornstarch in the recipe. Since most confectioners' sugar is made using cornstarch, you'll also have to source a corn-free version of that ingredient. A fellow reader has mentioned in the past that Trader Joe's has a corn-free confectioners' sugar, but I haven't investigated that personally. It's worth a look, though!
Flour Notes: If you use a gluten free flour blend that is already high in starch, like Cup4Cup, replace the cornstarch gram for gram with more Cup4Cup.
Nut-Free: If you can't have/won't have/don't want to have nuts, instead of these snowball cookies, I recommend my meltaway cookies. Or my whipped shortbread cookies. They're both very similar in taste and texture, but naturally nut-free! The nuts provide a depth of flavor to these cookies, but the other cookies of course have their own merits. You really can't lose.
Now, finally, here's the recipe itself. And thanks for reading (if you did). And if you didn't, and just skipped to the recipe, you're always still welcome here.
Gluten Free Snowball Cookies
Ingredients
1 1/2 cups (210 g) all purpose gluten free flour (I like Better Batter here)
3/4 teaspoon xanthan gum (omit if your flour blend already contains it)
10 tablespoons (90 g) cornstarch
1 cup (115 g) confectioners' sugar, plus more for dusting
1/4 teaspoon kosher salt
3/4 cup + 1 tablespoon (90 g) finely chopped raw pecans and/or almonds
16 tablespoons (224 g) unsalted butter, at room temperature
2 teaspoons pure vanilla extract
Lukewarm water, by the teaspoonful as necessary
Instructions
Preheat your oven to 375°F. Line a large rimmed baking sheet with unbleached parchment paper and set it aside.

In a large bowl, place the flour, xanthan gum, cornstarch, 2/3 cup confectioners' sugar (77 g) and salt, and whisk to combine well. Add the finely chopped nuts and whisk again to combine. Add the butter and vanilla, and mix until well-combined. I find that pressing down on the butter with the back of a spoon helps to distribute it throughout the dough. The cookie dough will look somewhat sandy, and will clump in places. Add water by the teaspoonful, mixing after each addition, and mix to combine until the dough holds together when scoop or squeezed.

Scoop the dough by the heaping tablespoon (an overfull #70 ice cream scoop is ideal here, but two spoons work well, too) onto the prepared baking sheet, leaving about 1 1/2-inches between pieces. Roll each piece of dough into a round gently between the palms of your hands. Don't pack the dough; just shape it. Place the remaining 1/3 cup (38 g) confectioners' sugar in a small bowl and place the balls of dough, one at a time, in the sugar. Toss to coat completely in the sugar and return to the baking sheet. Place the baking sheet in the freezer for about 5 minutes or until the cookie dough is firm.

Place in the center of the preheated oven and bake until the cookies are set in the center and firm to the touch (they will be fragile, but shouldn't be wet), about 12 minutes. Sometime between 10 and 12 minutes, the cookies will take on a slightly crackled appearance on top. Remove the baking sheet from the oven and allow to cool completely before rolling in more confectioners' sugar (optional) and serving.

These cookies can be stored for at least 3 days in a sealed glass container at room temperature. For longer storage, seal tightly in a freezer-safe container and place in the freezer. For best results, don't toss in extra confectioners' sugar before freezing. Defrost completely at room temperature before tossing in sugar a final time.