Get those eggs and butter ready, because you're going to want to make every one of these recipes, the best gluten free cookies of 2018.
(If you can't have eggs and butter, each recipe makes suggestions for how to replace them so never fear!)
The earliest best-of cookie lists here on the blog were based on web traffic on particular cookie recipes, and every single recipe on GFOAS.com was eligible. Now, the post must have a date in calendar year 2018 for the cookie to make the list. That's more fun for sure. ?
It's great for inspiration, too, since I bake all year long (for real!) with this roundup in mind. I wonder if I should pretend that I'm kidding, but I'm not!
Every year, we review the year's best gluten free cookies here on the blog. We've done it before (2013 is here and here; 2014's best is here; 2015's best here; 2016's best here and who could forget 2017's best here). Meet you back here next year the Friday before Christmas for 2019's best!
In case you're new here this year (welcome!), these recipes are not the only gluten free cookies published on the blog in 2018. They're just the best gluten free cookies of 2018 on the blog.
Each and every one of the 15 cookie recipes here in this collection freezes beautifully, so double and triple up on your favorites so your freezer stash is prepped. Let's plan to eat our feelings in 2019!
For each of the recipes, please click each photo or the link below each photo to see the full recipe for that particular cookie.
Remember the taste and texture of Mrs. Fields cookies? This easy gluten free chocolate chip cookie recipe in the Mrs. Fields style brings it all back. This has been one of the most popular recipes on the blog all year, and I make it at least once a month for my family—or for gifting throughout the year.
They're so chewy, not-too-sweet and have slightly crisp edges. They're the Cadillac of CCCs.
These easy, giant gluten free chocolate chip monster cookies are made with oats, peanut butter, and plenty of brown sugar, but no rice flour. One of my son's friends asks for these every time he comes to our house. He doesn't know it, but he has his own freezer stash.
These thin and crispy gluten free chocolate wafer cookies are rich and chocolatey and perfect for making all sorts of no-bake treats, from icebox cakes to cookie crusts. Keep them in a sealed glass jar at room temperature and they'll last and last.

These gluten free brown sugar shortbread cookies are made with little more than butter, brown sugar and flour, hold their shape, and are anything but plain. They're lightly sweet, and just a little bit tender but still crumbly like any proper shortbread must be.
These amazingly chewy vanilla gluten free cake mix cookies are made with just 4 ingredients. And they're not even cake-like at all. If you're looking for a traditional chocolate chip cookie, but just made with a cake mix, we did that this year too!
These gluten free soft chocolate wafer cookies are perfect for enjoying alone, making into homemade chocolate sandwich cookies or crumbling over ice cream. They also make the most lovely ice cream sandwiches. We've got all your chocolate wafer cookie bases covered!

These delicate gluten free meltaway cookies are a cross between a butter cookie and shortbread, and really do melt in your mouth. Make them as drop cookies or roll them out and cut out shapes. Your favorite new blonde cookie, trust me.
Baking these super easy chewy gluten free sugar cookies in a low oven keeps the cookies pale and tender, without crisping the edges much at all. The result is perfect chewy sugar cookies, decorated or plain.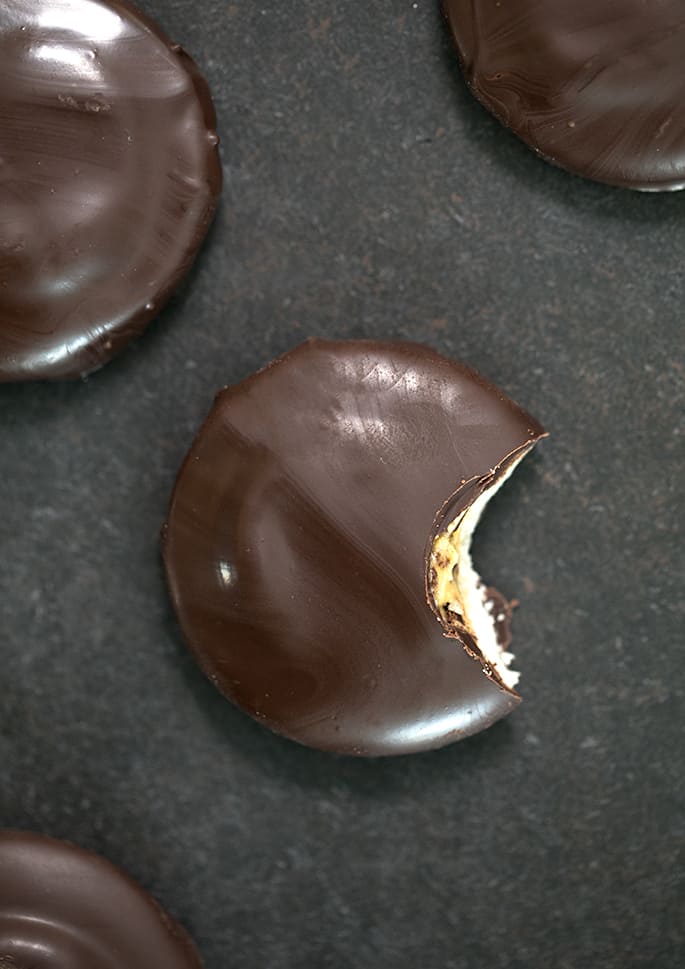 Gluten free Tagalongs cookies are a simple shortbread cookie topped with peanut butter and covered in chocolate. The Girl Scouts may make a few gluten free cookies, but they don't make these.
And I'm going to go ahead and say it: the GF cookies they do make are just. not. good. enough. I guess it's the thought that counts? #exceptwedeservebetter
These easy flourless fudge cookies are made with egg whites, sugar, cocoa powder and chocolate chips. Crisp on the edges, and chewy inside. Packed with chocolate flavor. Make these cookies when you've run out of gluten free flour and still have cookie needs.
These gluten free chocolate thumbprint cookies have a soft, brownie-like texture and rich chocolate flavor. You've all been making these tons since I posted the recipe, and you've been filling them with all sorts of fun stuff, like Hershey's kisses and even no-bake cheesecake filling.
These natural strawberry gluten free chocolate chip cookies are made with white chocolate chips and freeze-dried strawberries. They don't have any brown sugar or molasses, so the strawberry flavor really shines.
I buy my freeze-dried fruit at my local Trader Joe's, and hopefully you can, too. I'd better stock up, though, because I already have multiple requests from friends and family to make more of these!
Soft and tender gluten free cream cheese sugar cookies with slightly firm Lofthouse-style frosting. Basically, they're the perfect cookie because they are like cheesecake in a cutout. And they can hold any shape at all. You've been making them into trees, Santas and candy cane shapes. Go you!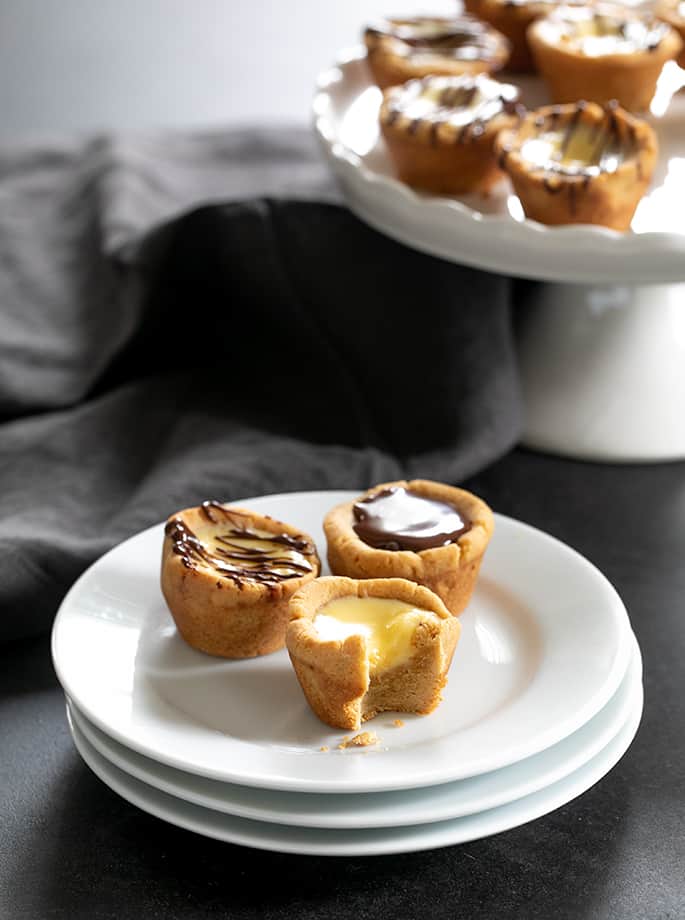 A soft graham cracker crust with the simplest cheesecake filling makes these cheesecake cookie cups the perfect cookie plate surprise. Top them with chocolate—or not.
These gluten free drop sugar cookies are simple, sweet and buttery, plus they're stable enough for mailing clear across the country if that's your holiday thing. You can even fill an entire cookie box or plate with these cookies, just dressed up in different ways.
Take a look at these beauties, and page through the cookie recipe archives here on the blog, and help me plan for next year! I need to post at least 20 cookie recipes next year so there are lots of choices for 2019's Best Of List!