This recipe for gluten free empanada dough makes light, flaky, flavorful pastries. Fill it, then bake or fry it to perfection.
This is the king of all gluten free empanada dough recipes. It rolls out smooth, yet it's still sturdy. And when you bite into it after it's cooked, it's as tender and flaky as any traditional empanada I have ever had in Spain made by my Spanish Señora.
This is a recipe for the raw pastry dough for use in making all sorts of gluten free empanadas. If you have a favorite filling, and it's already naturally gluten free, use that.
If you're looking for filling suggestions, I have plenty of suggestions here. My favorite is the ground meat filling (scroll down).
I almost always cook the filled empanadas by baking them, not frying them. It's so much easier to make a big batch, and they come out light and flaky and perfect as long as you use the egg wash.
General recipe tips and suggestions
The thinner you roll the dough, the quicker it will cook and the easier it will be to handle. But it will also burn more easily.
I try to roll the dough about 1/4-inch thick. That's thick enough that it will have multiple flaky layers to the dough, but not so thick that it can't be shaped without cracking.
Be careful about storing the dough for too long in the refrigerator both before it's shaped and after it's shaped into rounds. If you chill it too long before it's shaped, you'll have trouble rolling it out. If you store it in a stack of rounds for too long after shaping, you may have trouble separating the rounds from one another without tearing or breaking them.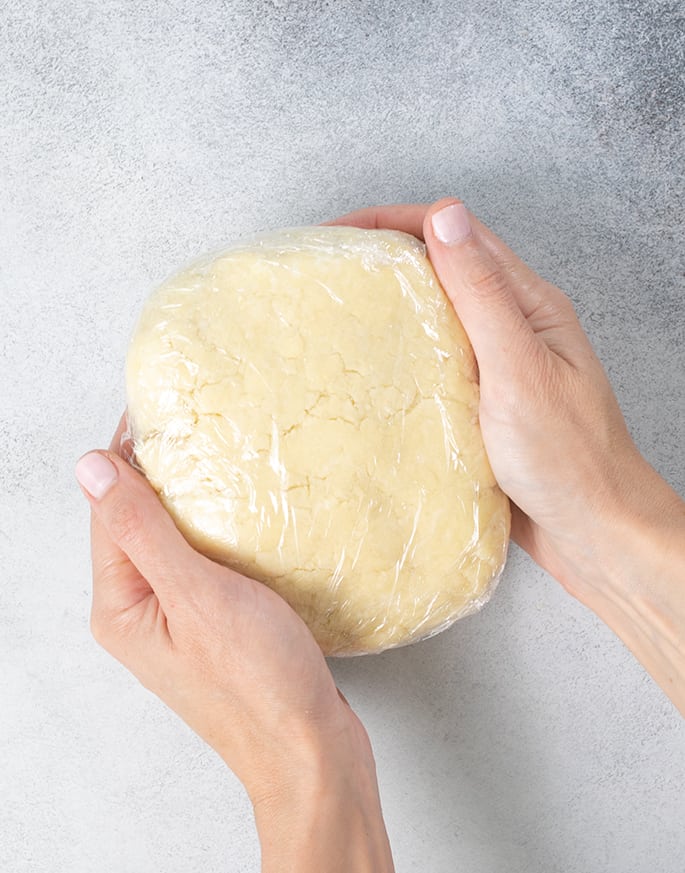 Filling suggestions
Ground meat filling
Begin by sautéing about 1/2 cup chopped onions in 1 tablespoon extra virgin olive oil until translucent. Add minced garlic, stir, and cook until fragrant. Remove aromatics from the pan and set aside.
Add about 1 pound bulk sausage (I like a combination of sweet and hot), ground beef, or ground chicken, and cook until no longer pink. Add a couple of tablespoons of tomato paste and reserved aromatics and mix to combine.
Vegetarian filling
Heat 2 tablespoons extra virgin olive oil and 1 tablespoon of butter in a sauté pan and cook over medium-low heat until the butter is melted. Add 1 cup finely chopped onions, 1 medium carrot, minced, 1 cup finely chopped bell peppers, 1/2 teaspoon kosher salt and a few cranks of freshly ground black pepper.
Cook, stirring occasionally, until softened (6 to 8 minutes). Add 1 tablespoon minced onions and cook, stirring frequently, until fragrant (about 2 minutes). Add 2 tablespoons tomato paste and 1/2 cup refried beans, and stir to combine. Salt and pepper to taste.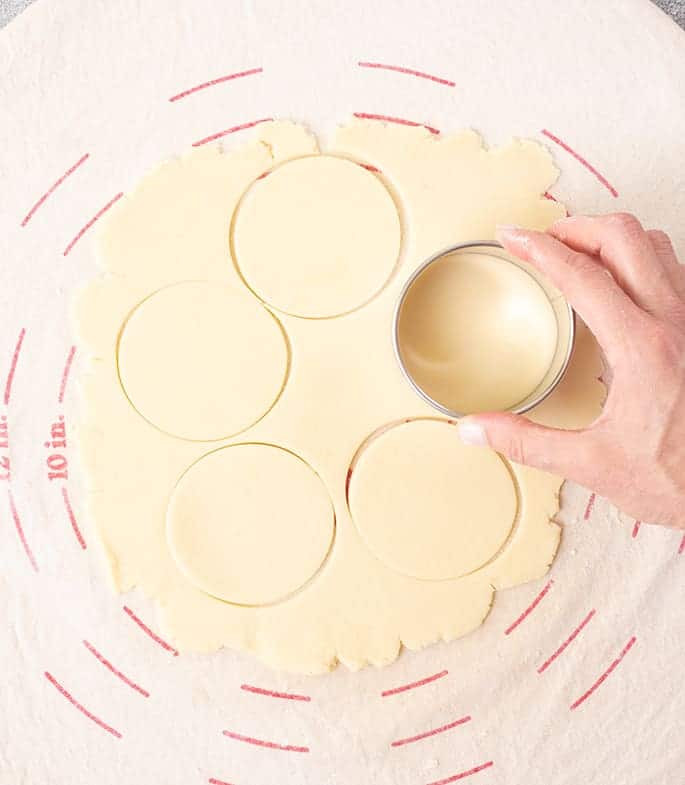 How to finish the empanadas
Allow the cooked filling to cool for about 10 minutes before using it to fill the shaped empanada dough. To fill, place the round of dough in the center of the palm of one hand and add a scant tablespoon of filling scattered down the middle of the dough.
Brush the egg wash sparingly around the edges of the round of dough. Fold the dough over on itself to enclose the filling, pressing out any air bubbles and pinching the edges together gently to seal. Press the tines of a fork gently into the edges to help secure the dough.
When you're sealing the dough, don't pinch or crimp the edge too tightly. You don't want to thin the edge, or it will cook too quickly and burn before the rest of the dough browns.
Place the filled raw empanadas, about 1-inch apart from one another, on a rimmed baking sheet lined with parchment paper. If you are baking the empanadas, brush the tops of the empanadas lightly with the egg wash.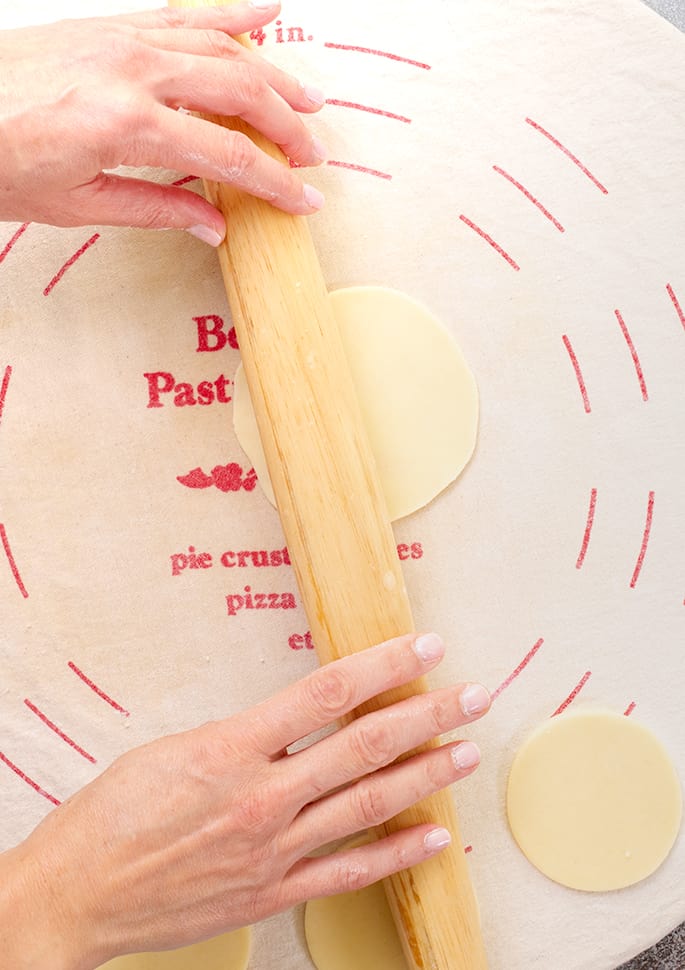 How to cook the filled empanadas
To bake, place the baking sheet in the center of a preheated 375°F oven and bake for about 15 minutes or until the empanadas are golden brown all over. Serve warm.
To shallow fry, heat about 1/2-inch of frying oil (I like a combination of grapeseed oil and shortening) in a wok or sautépan to about 350°F. You'll know the oil is ready when a toothpick inserted into the oil creates small bubbles surrounding it.
Place the empanadas in the oil and cook for about 2 minutes on one side. Flip gently and cook on the other side until fully browned, about 6 minutes total, flipping back and forth as necessary.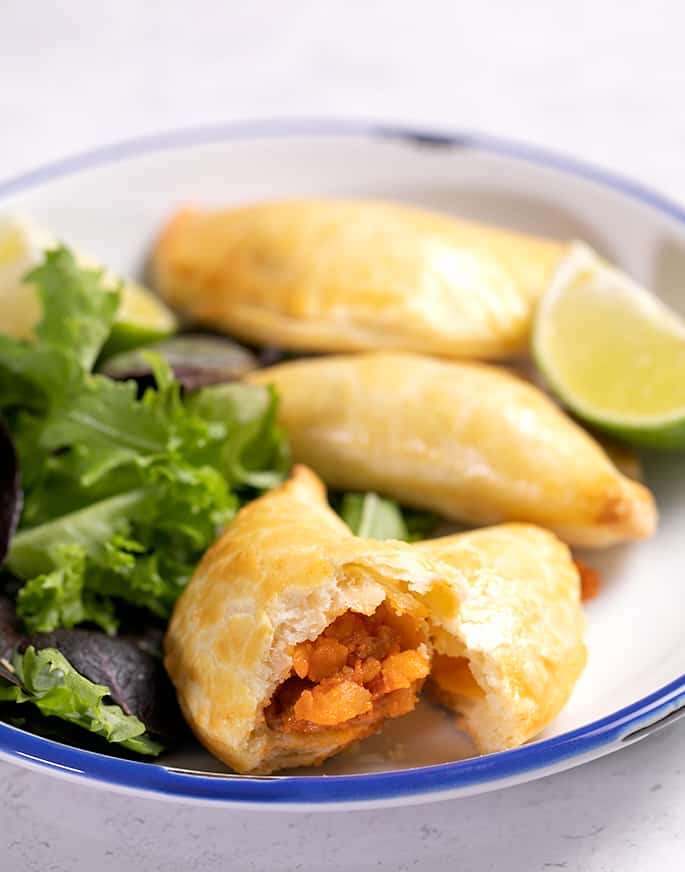 Ingredients and substitutions
Dairy
In place of butter, try using vegan butter. My favorite brands are Miyoko's Kitchen and Melt. I do not recommend using Earth Balance buttery sticks, which melt too easily.
Shortening
Whenever share a recipe on social media that calls for shortening as an ingredient, a few readers get very upset. Perhaps they are only familiar with much-maligned Crisco brand shortening.
I only use Spectrum brand nonhydrogenated vegetable shortening. It's made from sustainably sourced palm oil, and is completely nonhydrogenated. It has a lot less moisture than butter, and really helps make this empanada dough light and flaky but still easily shaped.
If you won't use shortening, try using virgin coconut oil in its place (the kind that's solid at room temperature). If you're concerned about a slight coconut aroma, be sure to use triple filtered virgin coconut oil, which has absolutely no coconut aroma.
Eggs
The eggs in this recipe help provide structure and cohesiveness to the dough, and the yolks add richness. If you can't have eggs, you can try replacing each of them with a "chia egg" (1 tablespoon ground white chia seeds + 1 tablespoon lukewarm water, mixed and allowed to gel).
To replace some of the richness of the butter, try adding another tablespoon of butter and another tablespoon of flour to rebalance the moisture. Instead of the egg wash, you can brush the edges of the rounds during shaping and the tops before baking with cream.
Wine
The wine in this recipe adds great flavor to the dough. There isn't enough that they taste like it specifically. It's just a depth of flavor.
I buy small bottles of Pinot Grigio for use in this recipe and in risotto. Keep in mind that cooking with wine intensifies its flavor, so don't use any wine in cooking that you wouldn't drink.
If you don't have an open bottle, or can't have wine, try replacing the wine with equal parts white grape juice and sherry vinegar. That will help replace both the flavor and the acidity of the white wine.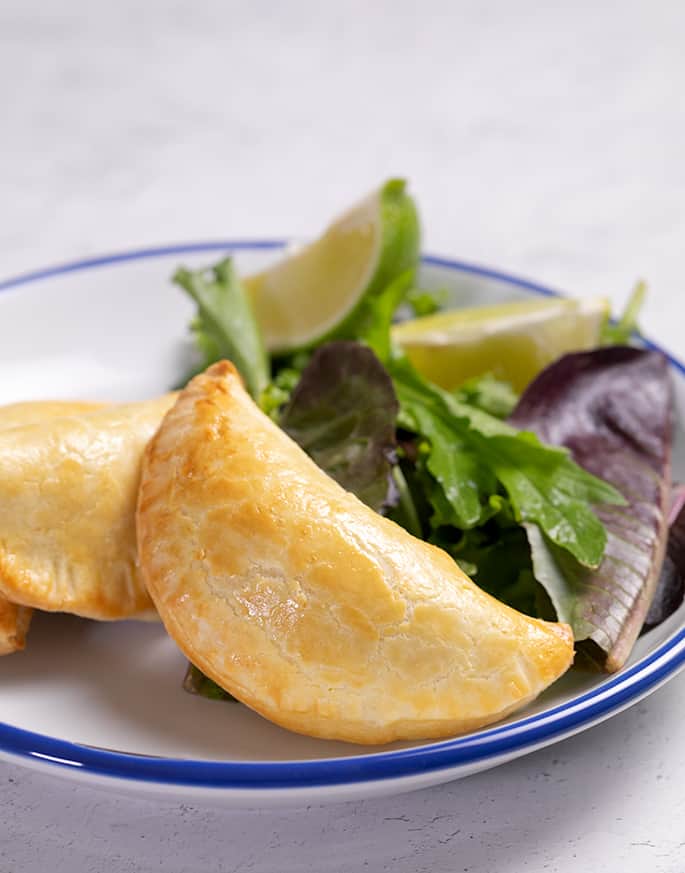 The Best Gluten Free Empanada Dough
Ingredients
1/3 cup (2 2/3 fluid ounces) dry white wine (like pinot grigio), chilled (See Recipe Notes)
2 teaspoons apple cider vinegar
2 eggs (100 g, weighed out of shell), beaten
3 cups (420 g) all purpose gluten free flour (see Recipe Notes)
1 1/2 teaspoons xanthan gum (omit if your blend already contains it)
1 1/2 teaspoons kosher salt
6 tablespoons (84 g) unsalted butter, roughly chopped or shredded and chilled
7 tablespoons (84 g) nonhydrogenated vegetable shortening
Your favorite filling (see Recipe Notes for suggestions)
Egg wash (1 egg + 1 tablespoon water, whisked)
Notes
The gluten free flour blend: I highly recommend using a flour blend like Cup4Cup (or our mock Cup4Cup blend), which I use like a pastry flour. It's perfect for creating light and flaky pastry-style recipes like this empanada dough. You can also use 80% Better Batter gluten free flour (here, 336 grams), and make up the remaining 20% with 10% milk powder (42 grams) and 10% cornstarch (42 grams).
Dry white wine: I buy small bottles of pinot grigio for use in this recipe and in risotto. If you don't have an open bottle, or won't use wine in cooking, you can replace the wine with equal parts white grape juice and sherry vinegar.
Filling suggestions: Sauté chopped onions and minced garlic in extra virgin olive oil until translucent. Remove aromatics from the pan and set aside. Add bulk sausage, ground beef, or ground chicken, and cook until no longer pink. Add tomato paste and reserved aromatics and mix to combine. Allow the filling to cool for about 10 minutes before using to fill empanada rounds.
Cooking suggestions: Bake shaped empanadas in a 375°F oven for about 15 minutes or until golden brown. Shallow fry in 1/2-inch frying oil at 350°F for 5 to 7 minutes, filliping as necessary to brown on both sides.
Instructions
In a small bowl or measuring cup with a pour spout, place the wine, vinegar, and eggs, and whisk to combine very well. Set the mixture aside.

In a large bowl, place the flour blend, xanthan gum, and salt, and whisk to combine well. Add the chopped butter, and mix to combine. Working quickly and using the thumb and forefinger of each clean hand, flatten the chunks of butter into flat disks. Add the shortening, and mix to combine, pressing the shortening down into the dry ingredients with the underside of your mixing spoon. Loosen any bits stuck to the bottom of the bowl. Create a well in the center of the dry ingredients, and add the wet mixture. Mix until just combined, ensuring that all of the dry ingredients are moistened. With clean hands, squeeze the dough together into a disk. Wrap the dough tightly in plastic wrap and refrigerate for 30 minutes. Much longer, and the dough may be difficult to roll out.

Unwrap the chilled dough and turn it out onto a lightly floured surface. I like to divide it in half and work with one half at a time. Press the dough into a flatter disk with the palm and heel of your hand, and sprinkle very lightly with more flour. Roll out the dough into a rectangle that's about 1-inch thick, moving the dough frequently and sprinkling lightly with flour to prevent sticking. Fold the dough over on itself like you would a business letter, and roll the dough into a rectangle about 1/4-inch thick. Cut out 3-inch rounds from the dough, and remove the surrounding dough to reroll later. Sprinkle each round with a bit of flour, and roll again a bit thinner into a nearly 4-inch diameter round. Repeat with the remaining dough.

Sprinkle each round of dough with a bit more flour, and stack the rounds on top of one another. Cover them with plastic wrap and refrigerate until you're ready to use them. They're best filled and fully shaped the same day, although after filling and shaping you can freeze them for finishing another time.

Filling/cooking suggestions: See Recipe Notes.

Originally published on the blog in 2011 (!). Recipe changed, text nearly all new, photos and video new.