Warm and fragrant, these traditional gluten free hot cross buns will make your house smell like a home, and make your Easter celebration special.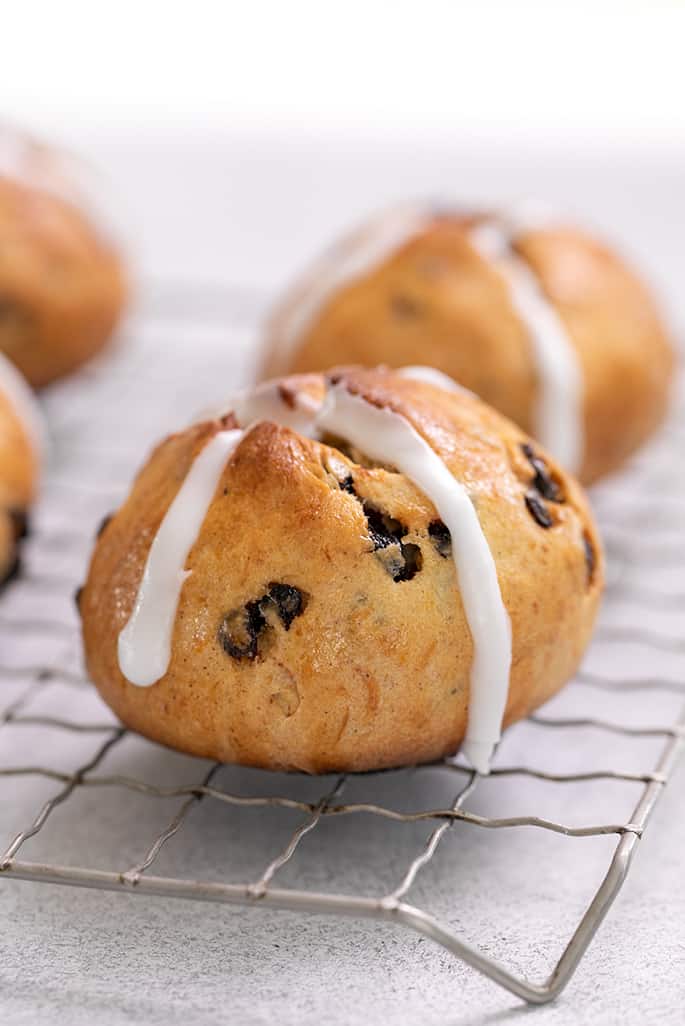 What makes these buns special?
Yeasty and lightly sweet, with just the right spices (don't skip the cardamom; they just won't smell right), these gluten free hot cross buns will bring back memories for many. They're like a less-eggy, differently spiced version of panettone.
These hot cross buns are made with a highly enriched dough, with plenty of unique flavors. The dough has eggs, and lots of butter, plus allspice, cinnamon, and cardamom.
The zest of a lemon and the zest of an orange brighten up the aroma and the flavors. If you really don't care for all those flavors, though, you can omit any of them without changing anything else in the recipe.
If you don't have all the different spices, you can use apple pie spice, which is quite similar. Or even just all cinnamon—but consider the other spices! They just smell so good.
What to expect from this bread-making experience
This isn't a high-rising dough
Be sure to read through the whole recipe before you begin, so that you account for the resting and then rising time for the rolls. This isn't a high-rising dough at all, despite 9 grams of instant yeast, since it isn't a very wet dough.
After you make the dough, you should allow it to rest for 45 minutes, covered. It won't rise much, but allowing this rest gives the flours some time to absorb the wet ingredients.
Once the buns are shaped, they will only rise to about 150% of their original size. The recipe in my bread book for gluten free hot cross buns is made with gluten free bread flour, and it rises higher.
You'll find that the buns have quite a bit of "oven spring," which is the rise that happens when yeast bread is in the oven. The rolls will separate at the site of their slashes, and the inside will be tender and chewy.
The buns will be tender but chewy
This recipe makes buns that are tender inside, thanks to the plenty of eggs and butter in the dough. But they're not meant to be light and fluffy.
The sweet egg glaze on the outside of the raw, risen buns helps them brown evenly and develop a crisp, thin shell during baking. Eat them sliced open and slathered with soft butter, or whole and plain.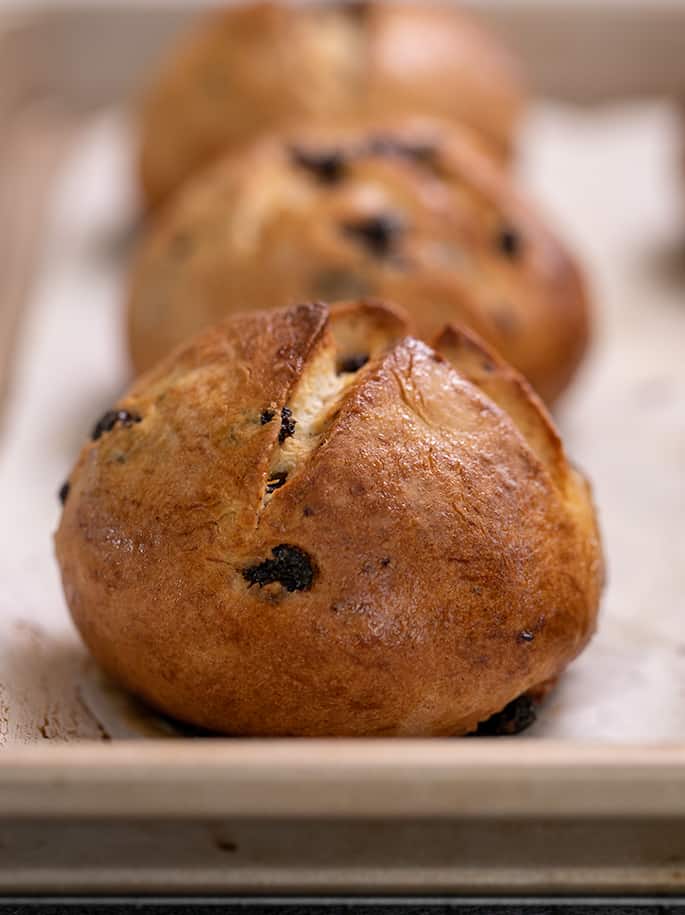 Ingredients and substitutions
Dairy
If you can't have dairy, in place of milk you can use any unsweetened nondairy milk you like. My favorite is unsweetened almond milk, and since it has fat it's not too watery.
In place of butter, you can try using your favorite vegan butter. My favorite brands are Miyoko's Kitchen and Melt.
Eggs
There is only one whole egg in the bread dough, but there's also an egg yolk which provides richness. The whole egg in the bread should be able to be replaced with one "chia egg" (1 tablespoon ground white chia seeds + 1 tablespoon lukewarm water, mixed and allowed to gel). In place of the egg yolk, you can try adding another tablespoon (14 g) of unsalted butter.
For the glaze, which is made with an egg, you should be able to make something similar by mixing confectioners' sugar with heavy whipping cream. That should also help the rolls shine and brown.
Tapioca starch/flour
Tapioca starch/flour is a separate ingredient from the all purpose gluten free flour blend in this recipe. That means that, regardless of the composition of your all purpose gluten free flour (all of my recommended blends contain tapioca starch), you will need 75 grams of tapioca starch/flour.
If you can't have tapioca starch, you can try using superfine sweet white rice flour in its place. That's also called "glutinous" rice flour, and is made with short grain rice. I can't promise results, though, since I haven't tried it.
Dried currants
Hot cross buns are traditionally made with dried currants, but if you can't find them or honestly don't feel like bothering (I hear you), you really don't have to use them. Any small dried fruit will work just fine.
I think they'd be great with chopped dried apricots, but of course raisins would work, too. You can also use fewer currants or other dried fruit, if you'd like a less currant-dense hot cross bun.
Instant yeast
If you don't have instant yeast (also called bread maker or rapid rise yeast), you can use active dry yeast in its place. You'll need more active dry yeast, and you'll need to let it prove in the milk first.
To convert a recipe that calls for instant yeast to use active dry yeast instead, you need 125% as much, by weight. Here, the recipe calls for 9 grams instant yeast, so you'll need (9 grams x 1.25) 11¼ grams. Just use a bit more than 11 grams and you'll be fine.