These gluten free "Thin Mints" cookies, crisp chocolate mint cookies in a rich chocolate coating, make you forget you can't have "real" Girl Scout Cookies.
What makes these chocolate cookies special
These cookies are different from the gluten free chocolate wafer cookies. The way I think of it, those are cocoa cookies and these are chocolate cookies, since there's also melted chocolate in the batter. Plus, this recipe doesn't call for any eggs and has a texture more like graham crackers than wafer cookies.
I recommend using chopped chocolate, and not chocolate chips, in the cookie dough. Chocolate chips have some wax in them without which they wouldn't hold their shape. Don't panic because I use chocolate chips all the time, but when you're melting chocolate into any sort of batter, you want it to be pure chocolate.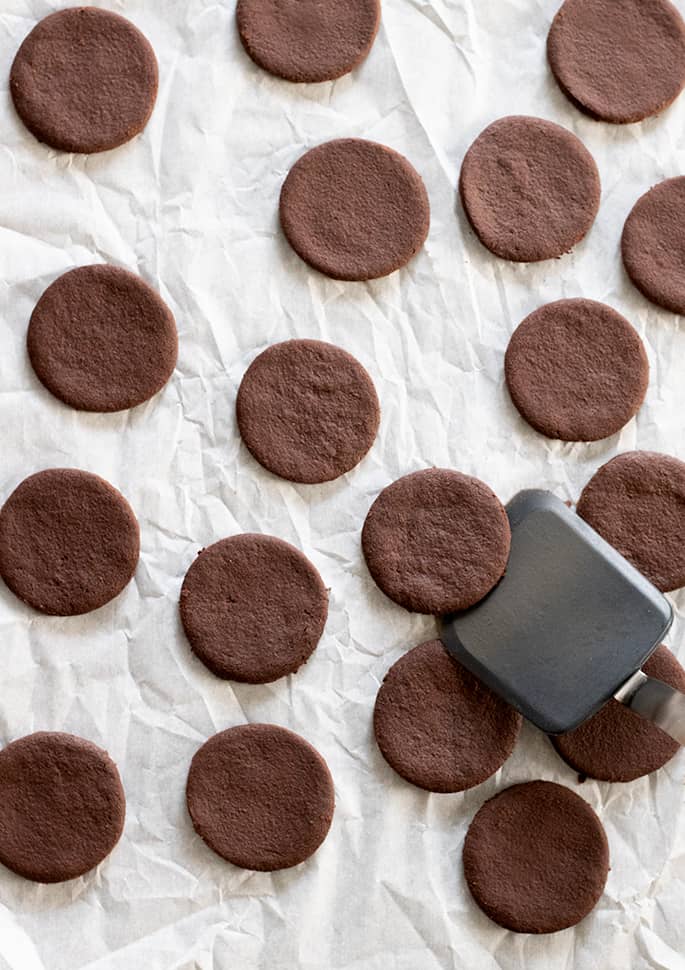 How to make these Thin Mints-style cookies
This cookie dough is made by melting chocolate and butter, and stirring to combine. Add the vanilla and peppermint extract, and mix, then set the bowl aside. In a mixing bowl, whisk together the flour, cocoa powder, baking soda, salt, and sugar, and add the chocolate mixture.
The mixture seem crumbly at first, and like it won't come together into a cohesive dough. Keep mixing, pressing the bottom of the spoon into the dough to moisten everything. With clean hands, knead and squeeze the dough together.
If you allow the cookie dough to sit before rolling it between two sheets of unbleached parchment paper, it will become dry and difficult to roll quite quickly. Just add lukewarm water by the droplet, kneading it in until the dough holds together and thick but not so stiff that it's unworkable.
An alternative way to create the cookie shapes
The easiest and best way to make these cookies is by rolling out the dough between two sheets of parchment paper. The dough is sticky, but not wet enough that it can handle any additional flouring.
Just roll and feel with your palms to see where it needs to be rolled thinner. It's not hard, and definitely does not need to be perfect.
If you simply refuse to roll anything out (!), and I cannot convince you that it is possible and even (dare I say it) easy, I have a solution. Divide the cookie dough into two equal portions, and knead and press each into a cylinder about 1 1/4-inches in diameter, rounding it as best you can, creating a blunt edge on each side of each roll.
Without chilling the dough, using a sharp knife, slice each cylinder by cross-section into slices that are a bit more than 1/4-inch thick. Place each piece flat on the baking sheet and, using your fingertips, pat each disk evenly until it's about 1/4-inch thick.
Your rounds will not be as perfectly round, and they will likely be of uneven thickness. But they get coated in chocolate anyway and if anyone has something to say about it, then no cookies for them.
Tips for the perfect chocolate coating
For a smoother coating of chocolate, try seeding it after melting. Simply melt most of the chopped chocolate, and then drop the rest in the hot melted chocolate. The reserved chocolate chunks will help bring down the temperature of the melted chocolate to the point where it is tempered and will make a nice, smooth coating.
Tap off some of the excess from the coated cookie by tapping the handle of the dipping fork on the side of the bowl before dragging the fork along the side of the bowl of melted chocolate to remove any final excess. That's how you avoid that big pool of chocolate on the bottom as the chocolate sets.
Carefully slide the coated cookie off the fork onto a piece of parchment paper. Allow the chocolate coating to set, either at room temperature or in the refrigerator. If you refrigerate the coated cookies, the chocolate may bloom on the surface, with white streaks appearing, but it won't affect the taste at all.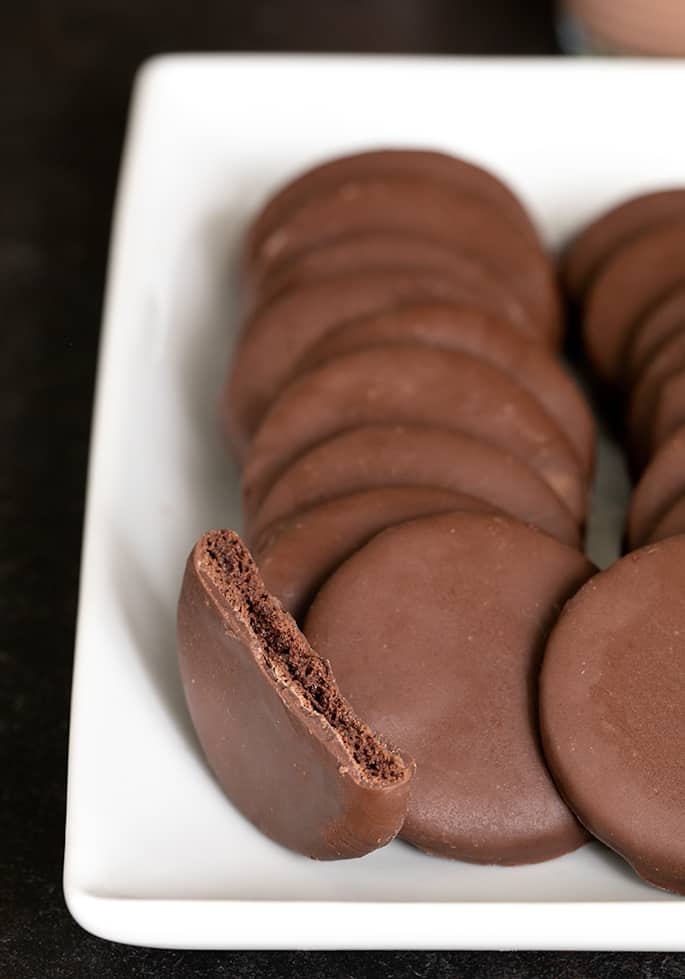 Ingredients and substitutions
Dairy-free: In place of the butter in this recipe, try using half (35 grams) Earth Balance buttery sticks and half (35 grams) Spectrum brand non hydrogenated vegetable shortening. If you can find it, you can also use a full 70 grams of Melt brand vegan butter, which behaves much closer to butter in baking. Of course, make sure your chocolates are dairy-free.
Cocoa powder: You can use either Dutch-processed cocoa powder or natural cocoa powder in this recipe. I prefer to use Dutch-processed because it tends to have a deeper chocolate flavor and more richness.
I use Rodelle brand Dutch-processed cocoa powder. Hershey's Special Dark is a nice blend of both natural and Dutch-processed cocoa powders and is widely available.
Chocolate: I often use Baker's brand semi-sweet chocolate bars for baking because it's well-priced, readily available, and of course are gluten free. I just buy a ton of boxes of it whenever it's on sale at my regular grocery store.
I often use Ghirardelli chocolate disks for melting when I plan to use chocolate as a coating, like in this recipe. For a fancier baking bar of chocolate, I'll use Scharffen-Berger semi-sweet or dark chocolate.
Gluten Free "Thin Mints" Cookies
Ingredients
For the cookies
5 tablespoons (70 g) unsalted butter
4 ounces semi-sweet chocolate, chopped
1/4 teaspoon pure vanilla extract
1/2 teaspoon pure peppermint extract
3/4 cup (105 g) all purpose gluten free flour (I used Better Batter here)
1/4 teaspoon xanthan gum (omit if your blend already contains it)
1/2 cup (40 g) Dutch-processed or natural cocoa powder
1/4 teaspoon baking soda
1/2 teaspoon kosher salt
1/2 cup (100 g) granulated sugar
Lukewarm water by the drop, as necessary
For the glaze
1/2 pound dark chocolate, chopped
Pure peppermint extract, to taste
Instructions
Preheat your oven to 300°F. Line rimmed baking sheets with unbleached parchment paper, and set them aside.

In a medium-size heat-safe bowl, place the butter and all of the semi-sweet chocolate except for about 3 1/2-inch-size chunks. Microwave at 50% power for 45 seconds at a time, stirring in between, until melted and smooth. Add the reserved chunks of chocolate, and stir until the chocolate has begun to thicken a bit and the chunks have melted. Add the vanilla extract and peppermint extract, and stir to combine. Set the chocolate mixture aside. In a large bowl, place the flour, xanthan gum, cocoa powder, baking soda, salt, and sugar, and whisk to combine well. Add the chocolate mixture, and mix until the dough comes together and is smooth. This is a relatively dry cookie dough, and may appear crumbly at first. Using clean hands, squeeze the dough to help it form a disk. If you have allowed the dough to sit at all before rolling it out, knead in water by the drop until the dough is still thick but not tough.

Place the dough between two sheets of unbleached parchment paper, and roll it out until it is about 1/4 inch thick (any thinner, the cookies are more likely to burn in the oven, and will crack when you try to coat them in chocolate). Cut out rounds that are about 1 1/2-inches in diameter. To remove the rounds from the surrounding cookie dough, peel the paper away from them while pulling up gently on the rounds. Place each round on a prepared baking sheet 1-inch apart from each other. Gather and reroll any scraps, and repeat the process. Place one baking sheet at a time in the center of the preheated oven and bake for 7 minutes or until the cookies no longer glisten in the center. Remove them from the oven, and allow the cookies to cool completely on the baking sheet.

Once the cookies are completely cool, make the glaze. Place all of the dark chocolate except for about 3 1/2-inch-size chunks in a medium-size, heat-safe bowl. Microwave at 50% power for 45 seconds at a time, stirring in between, until melted and smooth. Add the reserved chunks of chocolate and the peppermint extract, and stir until the chocolate has begun to thicken a bit and the chunks have melted.

Place the cookies, one at a time, in the glaze. Press down on the cookie with the tines of a (dipping or regular) fork, then flip it gently in the chocolate. Pull the cookie out of the chocolate by slipping the fork under it and tapping the handle of the fork on side of the bowl to remove some excess and break any air bubbles. Then, carefully drag the bottom of the fork (along with the bottom of the cookie) along the edge of the bowl to remove any drips, and carefully place the cookie on a clean sheet of parchment paper. Allow the chocolate coating to set at room temperature. Once the coating is set, you can place the cookies in a covered glass jar and store at room temperature for about a week.

Originally published on the blog in 2012. Recipe unchanged, but method clarified a bit. Most text, all photos, and video all new.