Don't be scared of the deco cake pattern on this gluten free strawberry cake roll! I promise it's really so easy to make. And anyway if you're not into the pattern or just don't have time for it or just don't really like your mother that much (no judgment here!), you can just make this vanilla sponge cake roll filled with whipped cream and strawberries … without the pattern.
Just leave it out! How easy is that? Even easier than making the pattern itself, which is pret-ty easy already. That's how easy.
We've made cake rolls before (remember the gluten free Bûche de Noël? how about our gluten free pumpkin cake roll??). There's a little flipping and rolling involved, but good news!
If you're worried that your cake roll is going to crack, I'm here to tell you to worry no more. All you have to do is roll your cake right out of the oven well before you fill it and when it's still quite warm. It creates a "memory" in the cake.
Let it cool like that completely. Then, fill it and reroll it and voilá (lots of accent marks today—are you impressed yet?)! Perfect cake roll. No cracks.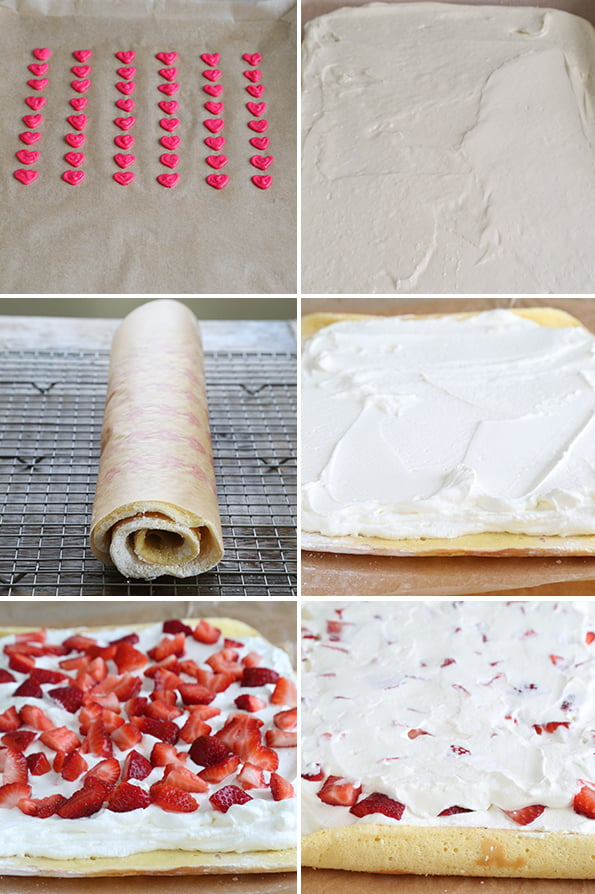 Some people are visual learners, and some aren't. I honestly have no idea which I am. But I know that I really really enjoy the show-and-tell for cake rolls. It just helps clear out the cobwebs in my brain. Look at that last photo on the right in the step-by-steps just above. That cake knows what to do!
Oh, and your mom called. She said that she'd be perfectly happy with the cake roll without a pattern and doesn't want you to go to any trouble she knows just how busy you are. And complimented you on your uncanny ability to read between the lines of everything. She really loves you!