Sorry, Girl Scouts, but you have forsaken us. We have no choice but to take matters into our own hands. These gluten-free Samoas (a.k.a. Caramel Delights) are way, way better than the original. And the original is one great cookie. But these are better for one main reason: coconut chips. Shredded coconut tastes like dental floss. Coconut chips (which I buy in my local health food store, and sometimes on amazon) are nice, big flakes of shaved coconut. When you toast it, and then crush it, you'll never wanna touch the shredded stuff again.
The shortbread cookie hiding underneath that coconut-caramel layer and all that chocolate must be hearty and it must be snappy. Resist the urge to add more butter to the dough to make it pliable! If it's super simple to roll out, it has too much butter and it will bubble and spread as it bakes. Trust me – I'm a pseudo-professional with a culinary degree from a crackerjack box. Oh, just trust my rather unfortunate recent experience, if nothing else. I messed up many, many times on the cookie alone before I got the proportions just right.
And these are juuuuuuust right. Here's how it's done, sister:
Don't forget the drizzle on top. It's just not the same without it.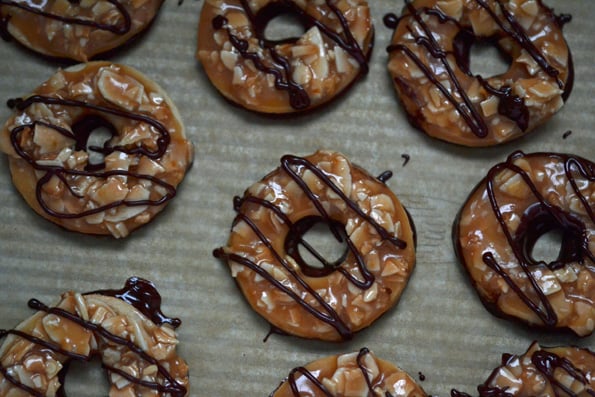 Try one of these, and then tell me you're missing what's missing. Go on! I dare you. Tell the Girl Scouts to take a page out of THIS book! Here's the printable recipe, with all the details. Read it allllll the way through before you get started.
Gluten-Free Samoas Girl Scout Cookies
Ingredients
Cookies
1 3/4 cups (245 g) high-quality all-purpose gluten-free flour (I used my Better Than Cup4Cup blend)
1/2 teaspoon xanthan gum (omit if your blend already contains it)
1/8 teaspoon kosher salt
1/2 cup (100 g) sugar
8 tablespoons (112 g) unsalted butter, at room temperature
1 to 2 tablespoons lukewarm water
Coconut Caramel Layer
6 ounces unsweetened coconut flakes/chips
8 ounces soft caramels
1 to 2 tablespoons milk, as necessary
Chocolate Dipping Layer
8 ounces semi-sweet chocolate, chopped
2 tablespoons vegetable shortening
Instructions
Preheat your oven to 325°F. Line a rimmed baking sheet with unbleached parchment paper and set it aside.

Make the Cookies. In a large bowl, place the flour, xanthan gum, salt and sugar, and whisk to combine well. Add the butter and 1 tablespoon water, and mix to combine. The dough will be a bit dry, and you will have to knead it with your hands to get it to come together. If necessary for the dough to hold together, add a second tablespoon of water, 1 teaspoon at a time. Press the dough into a disk, and then place the disk between two sheets of unbleached parchment paper and roll the dough between 1/8 inch and 1/4 inch thick. Cut out 2 inch rounds with a cookie cutter, then cut out a 1/2 inch circle in the center with either a 1/2 inch cookie cutter or the underside of a pastry tip. Gather, reroll and cut any scraps into rounds. Transfer the cookies carefully to the prepared baking sheet by peeling back the parchment paper from the bottoms of the cookies (they will be a bit fragile). Place the cookies in the center of the preheated oven and bake until the cookies are set and just beginning to brown around the edges (about 8 minutes). Allow the cookies to cool for a few minutes on the baking sheet until they are firm enough to transfer to a wire rack to cool completely.

Make the Coconut Caramel Layer. First, toast the coconut. Place the coconut chips in a single layer on a rimmed baking sheet, and place in the center of the  preheated oven and bake until the chips are lightly golden brown, stirring at least once (about 8 minutes). Remove the chips from the oven and allow to cool slightly before crushing the toasted chips in your hands. Second, remove the caramels from their wrappers and melt them in a double boiler or in a small, microwave safe bowl on 70% power at 30-second intervals, stirring in between, until melted and smooth. Add milk to the melted caramels as necessary to thin the liquid to a pourable consistency.

Assemble the Cookies. Dip one side of each cooled cookie lightly in the melted caramel mixture, and place, caramel-dipped side up, on a piece of parchment paper. Add the toasted and crushed coconut chips to the rest of the melted caramel mixture and mix to combine. With a butter knife or small offset spatula, spread the coconut-caramel mixture on top of the caramel layer on each cookie in a single layer a bit more than 1/8 inch thick. Place the assembled cookies in the refrigerator until they are set (about 10 minutes). While the cookies chill, make the chocolate coating.

Melt the Chocolate & Complete the Cookies. Melt the chocolate and shortening in a double boiler or a small, microwave safe bowl, on 70% power at 30-second intervals, stirring in between, just until melted and smooth. Remove the cooled cookies from the refrigerator, and carefully dip the bottom of each cookie in the melted chocolate, and place the cookie back on the parchment paper. Drizzle a bit more chocolate over the top of each cookie in a zig-zag pattern. Allow to sit at room temperature until the chocolate is set. Store in an airtight container in the refrigerator until ready to serve. Freeze any leftovers.