Sorry, Girl Scouts, but you have forsaken us. We have no choice but to take matters into our own hands. These gluten-free Samoas (a.k.a. Caramel Delights) are way, way better than the original. And the original is one great cookie. But these are better for one main reason: coconut chips. Shredded coconut tastes like dental floss. Coconut chips (which I buy in my local health food store, and sometimes on amazon) are nice, big flakes of shaved coconut. When you toast it, and then crush it, you'll never wanna touch the shredded stuff again.
The shortbread cookie hiding underneath that coconut-caramel layer and all that chocolate must be hearty and it must be snappy. Resist the urge to add more butter to the dough to make it pliable! If it's super simple to roll out, it has too much butter and it will bubble and spread as it bakes. Trust me – I'm a pseudo-professional with a culinary degree from a crackerjack box. Oh, just trust my rather unfortunate recent experience, if nothing else. I messed up many, many times on the cookie alone before I got the proportions just right.
And these are juuuuuuust right. Here's how it's done, sister:
Don't forget the drizzle on top. It's just not the same without it.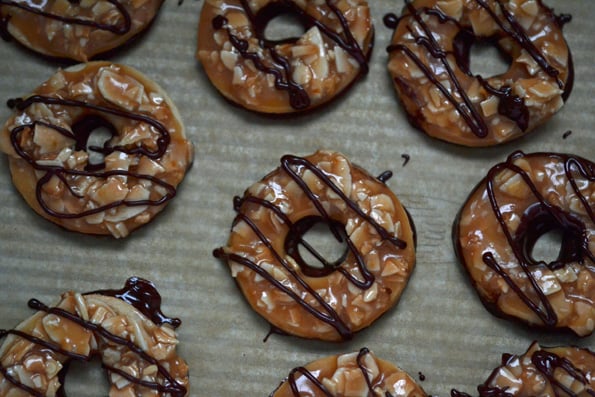 Try one of these, and then tell me you're missing what's missing. Go on! I dare you. Tell the Girl Scouts to take a page out of THIS book! Here's the printable recipe, with all the details. Read it allllll the way through before you get started.