This simple gluten free rum cake is a ridiculously moist, not-too-sweet bundt cake with a butter rum glaze that will make any occasion festive—and not just because it has booze.
In fact, the rum baked into the cake is minimal and bakes off (at least mostly), and the way I make the buttered rum glaze, most of the alcohol has a chance to boil off there, too. Since I know you love to tinker, I have provided as many substitution suggestions as I can.
It is a rum cake, though, so if you try to eliminate rum altogether, well, then it's not a rum cake. You get the idea!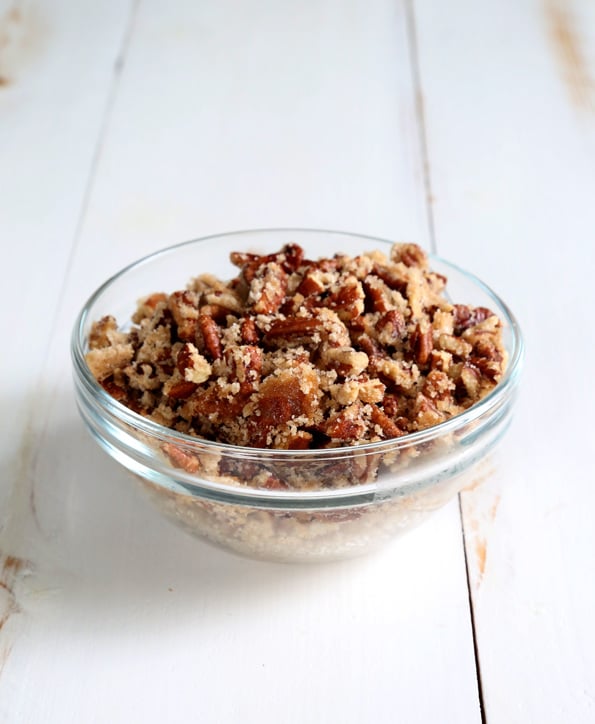 I used to consider nuts (especially in brownies!) to be sacrilege. These days, I realize that it has to be the right nuts for the occasion, and they have to be treated appropriately.
In this rum cake, I found that I rather like pecans scattered on (what becomes) the top of the cake—particularly when they're tossed with vanilla and a bit of sugar. If you're anti-nuts-in-baked-goods, just leave 'em out!
Well if this just isn't the prettiest little bundt cake process, I don't know what is. Can you see how the cake just soaks up that glaze like nobody's business? Mmmmmm…..
Not only does the glaze flavor the cake so beautifully, but it also keeps it fresh for days on end. This cake can easily be made days ahead of time (my last cake is at 4 days covered on the counter at room temperature, and still going strong) and you can still proudly serve it to guests. It's just that good.
But don't refrigerate it, whatever you do, as the refrigerator dries out baked goods in a flash. Either keep it on the counter, covered, or wrap it tightly in freezer-safe wrap and freeze for longer storage. But it's so good when it's warm out of the oven and has just been glazed. So, promise me you'll try it at least once that way?