This gluten free pumpkin slab pie is made with an extra flaky pie crust and a rich and creamy, lightly spiced pumpkin filling.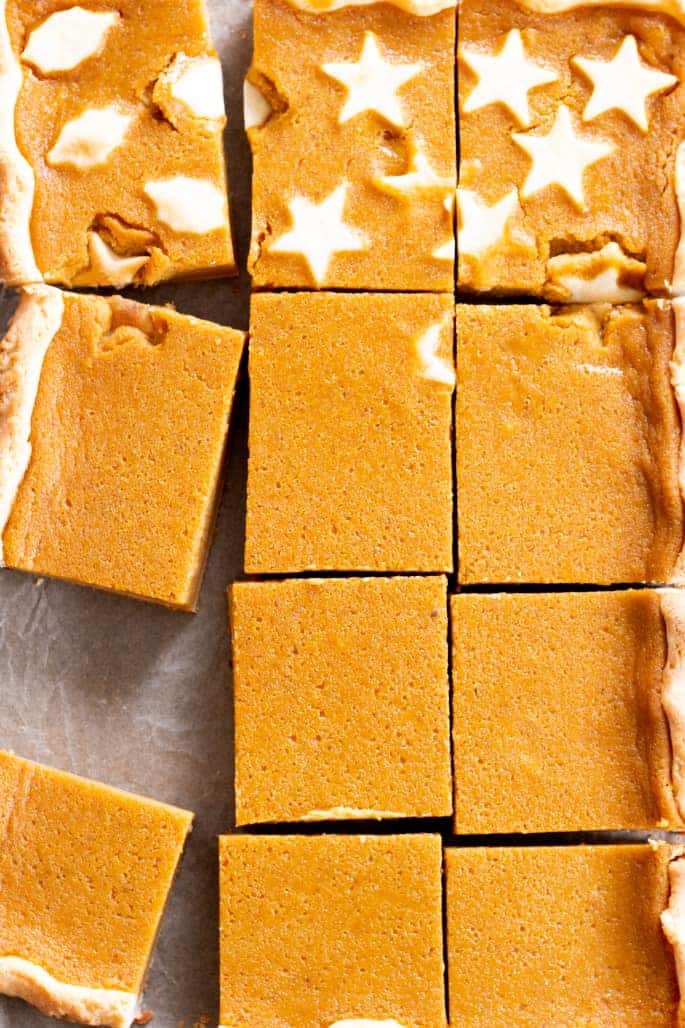 Making a slab pie means you can feed a crowd, or just make sure you have leftovers. Cleanly sliced pieces of this beautiful slab pie can be chilled, wrapped tightly, and saved for a few days in the refrigerator (or the freezer for longer storage).
How to make the pie crust
The pie crust dough that we've used in this recipe for gluten free pumpkin slab pie is our extra flaky gluten free pie crust, which is made with a not-so-secret ingredient (sour cream) to make it extra flaky. It's also a tiny bit tangy, which gives it the most lovely depth of flavor to complement any filling, from savory quiche to sweet apple pie.
If you click over to the original recipe for our extra flaky gluten free pie crust (linked just above), you'll be able to see a visual of how to make the crust. The only difference here is that we're using cold, grated butter rather than chopped butter. In a crust this large, using grated butter helped us work quickly to create the crust without sacrificing texture at all.
Don't parbake the crust
Since this is a larger pie crust than our classic pumpkin pie, it must bake for longer. I've found that it's better not to parbake the crust before adding the filling.
Parbaking a bottom pie crust is done to ensure that the pie filling doesn't make the crust soggy during baking. In this recipe, I've found that the crust is never soggy when it isn't parbaked and parbaking the crust actually makes the crust much more likely to overbake in the center and potentially burn before the filling is set.
Brushing the bottom crust (bottom and sides) with egg white helps to seal the crust. That way, it doesn't get soggy and the edges hold their shape. Of course, keeping the crust cold at all times (especially right before it goes into the oven) is key.
No top crust needed
I tend to prefer pumpkin pie to be served without any top crust, allowing the beautiful filling to shine. However, it can be nice to decorate individual pieces or some of the filling with a few small shapes cut from pie crust.
Since the filling mixture is quite thin (the thickness of half and half, approximately), any additional pieces of pie crust placed on top of the raw filling may sink right into the filling during baking. Instead, I recommend either baking the shapes separately, on a baking sheet or placing them on top of the filling after it's baked halfway.
The pie is baked for 20 minutes at a higher temperature (375°F). Then, the oven temperature is lowered to 350°F as it finishes baking for about another 20 minutes. It's during this temperature change interval that unbaked pieces of pie crust shapes may be added to the top of the half-baked filling.
Tell me more about that pumpkin ? pie filling
This pumpkin pie filling is made of canned (single ingredient) pumpkin puree, plenty of eggs, sugars, butter, evaporated milk, plus cream, warm fall spices, and a bit of gluten free flour for stability. It's really a custard, similar to our lemon bars, but with milk, cream, and spices to make it richer and warmer.
The most common pumpkin pie filling is made with just evaporated milk, and no cream. You can actually use them interchangeably, but I've found that the pie filling bakes to perfection along with the crust when you use a combination of the two.
During the fall season, it is usually quite easy to find a ready-made pumpkin pie spice in the baking aisle of your favorite grocery store. But if you'd like to (or must) make your own pumpkin pie spice blend, scroll down to the Ingredients and substitutions section for how.
Ingredients and substitutions
Dairy-free: To replace the sour cream in the pie crust, you can try straining plain nondairy yogurt until it's the consistency of Greek-style yogurt. Alternatively, try using my classic gluten free pie crust recipe, multiplying the ingredients by 2, and just replacing the butter with Spectrum nonhydrogenated vegetable shortening (butter-flavored is best here).
That's the crust we used in our recipe for classic gluten free apple pie, and it works great. The extra flaky-style crust we use here is just next-level, but not essential.
The filling calls for dairy in the forms of butter, evaporated milk, and heavy whipping cream. You should be able to replace the butter with Earth Balance buttery sticks (but reduce the salt in the filling as Earth Balance is very salty).
For the evaporated milk, Carnation makes almond milk for cooking that might work. The heavy whipping cream should be able to be replaced successfully with coconut cream.
Egg-free: I'm afraid this recipe is just too egg-dependent for an egg replacement to be practical. That really would require a different recipe entirely.
Pumpkin pie spice: To make your own pumpkin pie spice, combine 1 teaspoon ground cinnamon + 1/2 teaspoon ground ginger + 1/4 teaspoon ground allspice, 1/4 teaspoon ground cloves + 1/8 teaspoon ground nutmeg.
Pumpkin puree: Be sure to use single-ingredient pure canned pumpkin puree, not multi-ingredient pumpkin pie filling. If you'd prefer, you can use homemade sweet potato puree in place of pumpkin puree. Just follow the instructions in our recipe for classic pumpkin pie.
Gluten Free Pumpkin Slab Pie
Yield:
10- x 15- x 2-inch pie
Ingredients
For the pie crust
3 cups (420 g) all purpose gluten free flour (I highly recommend my Better Than Cup4Cup blend), plus more for sprinkling
1 1/2 teaspoons xanthan gum (omit if your blend  already contains it)
1/2 teaspoon baking powder
3/4 teaspoon kosher salt
12 tablespoons (168 g) unsalted butter, grated and chilled
1 cup (240 g) sour cream, chilled
Ice water by the teaspoonful, as necessary
Egg white, for brushing
For the filling
22 ounces canned pumpkin puree
6 eggs (300 g, weighed out of shell), at room temperature
1 1/2 cups (12 fluid ounces) evaporated milk, at room temperature
1 cup (8 fluid ounces) heavy whipping cream, at room temperature
6 tablespoons (84 g) unsalted butter, melted and cooled briefly
1 1/2 cups (328 g) packed light brown sugar
1/2 cup (100 g) granulated sugar
3/4 teaspoon kosher salt
1 tablespoon pumpkin pie spice
1/4 cup (36 g) all purpose gluten free flour (any of my preferred blends will do, with or without xanthan gum)
Instructions
Make the pie crust dough. In a large bowl, place the flour, xanthan gum, baking powder, and salt, and whisk to combine well. Add the grated, chilled butter, and toss to coat it in the dry ingredients. Add the sour cream, and mix to moisten the dry ingredients with the sour cream. The dough should be shaggy and somewhat crumbly. Knead the dough together with clean hands until it begins to come together. Add ice water by the teaspoon only if necessary for the dough to hold together. Press the dough into a rough disk, wrap it tightly in plastic wrap, and place it in the refrigerator to chill for 30 minutes.

Once the dough has chilled, turn it out onto a lightly floured surface. Sprinkle the dough lightly with more flour, and roll it out with a rolling pin into a rectangle that is about 1 inch thick, moving the dough frequently and sprinkling it lightly with flour if it begins to stick. Fold the dough over on itself like you would a business letter. Sprinkle the dough again lightly with flour, and roll out it out once again into a rectangle about 1 inch thick. Once or twice more, sprinkle the dough lightly with flour, roll it out, and fold it over on itself like you would a business letter, then wrap it tightly and place it back in the refrigerator to chill for about 2 hours. When the pie dough has nearly chilled completely, preheat your oven to 375° F and locate a 10-inch x 15-inch x 2-inch jelly roll pan. If your pan isn't nonstick, coat it lightly in cooking oil spray and set it aside.

Prepare the filling. In a large bowl, place the pumpkin puree, eggs, milk, cream, and melted butter, and whisk vigorously to beat the eggs and combine the mixture very well. It should be very smooth. Add the brown sugar, granulated sugar, salt, pumpkin pie spice, and flour, whisking until just combined after each addition. The mixture should be about the consistency of half and half.

On a very lightly floured surface, place the chilled pie dough, slice off about 1/4 of the dough and set it aside. Roll out the remaining dough into an 18-inch x 12-inch rectangle. It should be about 1/4-inch thick. Trim any especially jagged edges. Fold the crust in half, and lift it carefully onto the prepared jelly roll pan in the proper orientation and into the edges of the pan. Fold any slightly overhung edges under themselves to secure them, and crimp the edges if you like. Brush the bottom of the crust lightly with the egg white, and place it in the refrigerator to stay cold. Preheat your oven to 375° F.

Working with the remaining, small piece of pie crust dough, roll it out about 1/4-inch thick, and cut out small shapes to place on top of the pie crust. You can either bake those shapes alone in a separate pan at 375°F for about 8 minutes or until lightly brown and set, or place them on the pie filling about halfway through baking.

Remove the pan with the bottom crust from the refrigerator and fill the crust about 2/3 of the way with the filling mixture. Pull out the oven rack, carefully place the pan on it, and quickly pour the remaining filling into the crust. Carefully return the oven rack to the oven, close the door, and bake for 20 minutes. If you're adding any shapes to the top of the filling, open the oven and, working quickly, place the shapes on top of the filling. Reduce the heat of the oven to 350°F and bake until the edges are puffed and set, and the center jiggles only slightly and in a controlled, rather than a loose, way when the pie is shaken from side to side (about another 20 minutes). Remove the pie from the oven and gently press any separately baked pie crust shapes on top, or reserve them for serving on each piece. Place the pan on a cooling rack to cool for at least 45 minutes or until cool to the touch. Cover the pan tightly with plastic wrap and place it in the refrigerator to chill until firm (about 1 1/2 hours). Slice into squares and serve.