10 gluten free muffins, for everything from blueberry and banana to chocolate and chocolate chip—even Paleo or vegan. We've taken the classic breakfast muffin and made it into a truly healthy gluten free breakfast!
I've been on something of a gluten free muffin kick. But instead of just making miniature cakes and calling them breakfast, I've been on a mission to create actually healthy muffins. You know—with a lot less sugar, and lately even without a speck of white flour at all.
It's not that I have a problem with white gluten free flour. But I'm pretty clear on its (lack of) health benefits. Not everything has to be healthy, though. I believe in everything in moderation, and enjoying what you eat fully. But if you can make a muffin that actually tastes like a muffin, and still make it healthy? Well, sign. me. up.
So let's dive right in.
Healthy Gluten Free Banana Breakfast Muffins. The batter for this recipe is made in the blender or food processor, which means you can whip it up in minutes.
Made without any butter or oil, no refined sugars, and whole grain oats as the base, these banana muffins make for an easy, hearty breakfast that you can actually feel good about. Plus, they freeze amazingly well. Make a double batch!
Flourless Chocolate Peanut Butter Muffins. When I say "flourless," I really mean it. That means not even any alternative flours, like almond flour or oat flour. These crazy muffins are made with just a few essential ingredients to create structure (smooth nut butter + eggs), and a couple for moisture, sweetness and more flavor (mashed banana + honey + cocoa powder).
That's all you need to create ridiculously moist, tender and light (!) grain-free muffins. Yes, light. They're not even heavy. Amazing!
One bowl gluten free vegan carrot apple walnut muffins. Minimalist Baker has done it again, with healthy vegan gluten free carrot apple muffins made in one single bowl.
I can't stop staring at the nubby tops of these gorgeous muffins. I think I might have to un-veganize them and try them with real eggs in place of flax eggs, and then maybe try them with (my favorite) "chia eggs." Somebody stop me!
Flourless Paleo Mix-in Muffins. Like their flourless chocolate peanut butter cousins above, these are truly flourless muffins. But they have a neutral flavor profile, made with cashew butter (store-bought or dead simple homemade) and applesauce in place of peanut butter and bananas.
A neutral flavor profile means you can make them into blueberry muffins, chocolate chip muffins, or even just straight-up plain. I simply can't get enough of these beauties.
Healthy Paleo Chocolate Banana Muffins. Erin at Texanerian Baking made chocolate banana muffins with almond flour and a touch of coconut flour as a base. That's my favorite combination for Paleo baking, since the almond flour provides mouth feel and taste, and even just a few tablespoons of coconut flour provides structure to these beautiful muffins.
And since there isn't a ton of coconut flour, you don't need a million eggs to balance the recipe properly. If that's all blah blah blah to you, just look at them and tell me you're not running to the kitchen…
Coconut flour Paleo blueberry muffins. When I first developed this recipe for Paleo blueberry muffins made with coconut flour, they were bright blue. They were entirely delicious, but just so … blue.
Baking with coconut flour typically requires a ton of eggs, and as a result, the finished product tends to taste too much like, well, an omelet. Since blueberries have quite a lot of pectin as well as moisture, cooking blueberries and blending them right into the batter allowed us to get away with fewer eggs.
But it turns out, using applesauce in place of those cooked blueberries works too! So make them blue or make them brown, these lightly sweet Paleo blueberry muffins are undeniably healthy and delicious.
Lighter Gluten Free Chocolate Muffins. Even though these chocolate muffins have the dreaded white flour, they're made with much less sugar and fat than a typical muffin. Since sugar acts as a tenderizer in baking, you can't generally leave out the sugar in a recipe without sacrificing texture.
So I tinkered with the other ingredients to get everything working together just right, and these chocolate muffins are the moist and tender result.
Wholesome healthy gluten free zucchini muffins. With a mix of all purpose gluten free flour and oat flour, and a whopping 3 1/2 cups of grated zucchini and squash, these zucchini muffins are more than just a great way to use up summer's squash bounty. They're a tender and flavorful way to eat your veggies for breakfast—and like it!
Skinny gluten free blueberry corn muffins. Another blend of whole grain cornmeal and all purpose flour, these muffins are also very low in fat and sugar without compromising on texture. Try them with orange zest and fresh cranberries in place of blueberries, and you've got an entirely different muffin!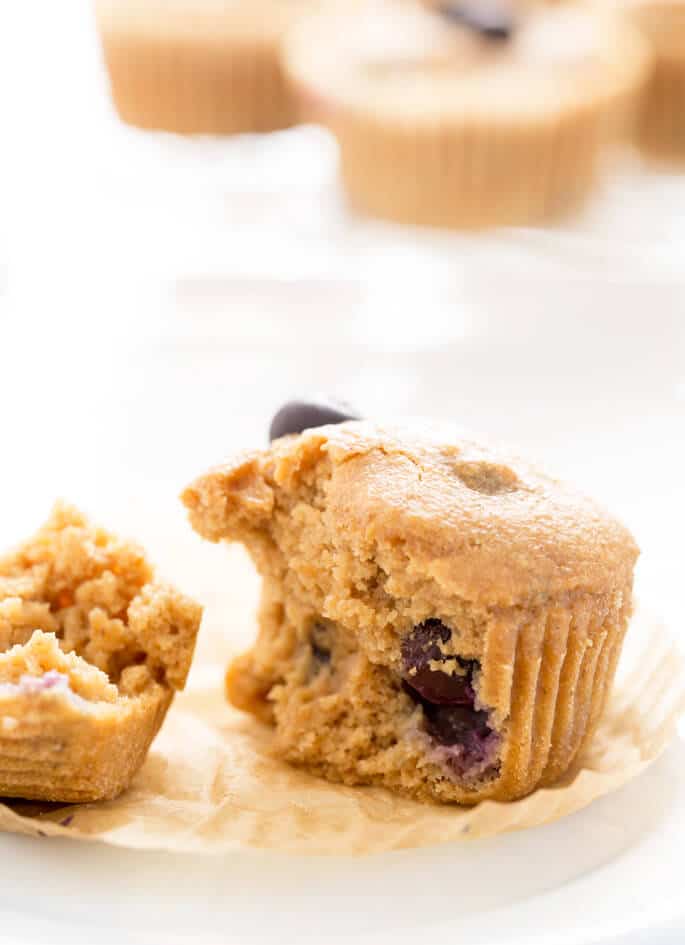 Healthy whole grain blueberry muffins. Healthy blueberry muffins, made with applesauce, yogurt, oats and big, beautiful fresh blueberries and no added fat or refined sugars. All of the taste and texture, none of the guilt! Just like our healthy banana muffins, but with applesauce in place of bananas. They couldn't be more tender if they tried!
All photos from other websites used with permission. 
Love,
Nicole