Since they don't make gluten free Goldfish crackers, or even those puffs anymore, we have to make our own Goldfish crackers. Luckily, they're easy—and satisfy that craving.
What makes this recipe for gluten free Goldfish crackers special?
Let's just get this part out of the way: for just a moment in time, Pepperidge Farm, the maker of real-life Goldfish crackers, made something called "gluten free Goldfish puffs." They weren't really so much crackers as like cheese-flavored cereal, and now they're gone.
So if you miss Goldfish crackers, like you likely do from the "before gluten free times," then there's only one solution. You have to make your own.
But the truth is, even when the company tried to serve the gluten free community, it wasn't the same at all. It was more like Pirate's Booty than Goldfish crackers.
How they're different from the packaged snack
Unlike many of my copycat recipes, even like our gluten free wheat thins-style crackers, this recipe isn't designed to taste exactly like the original. That's because mass-produced, shelf-stable cheese snacks don't taste like fresh cheese. These crackers do.
I could have made these crackers with dehydrated, powdered cheese. You can buy all sorts of things like that online now.
Instead, this recipe calls for lots of shredded, sharp Cheddar cheese. Because it tastes amazing, makes a rich, crisp incredibly savory cracker—and it doesn't call for specialized ingredients you'll only use the once.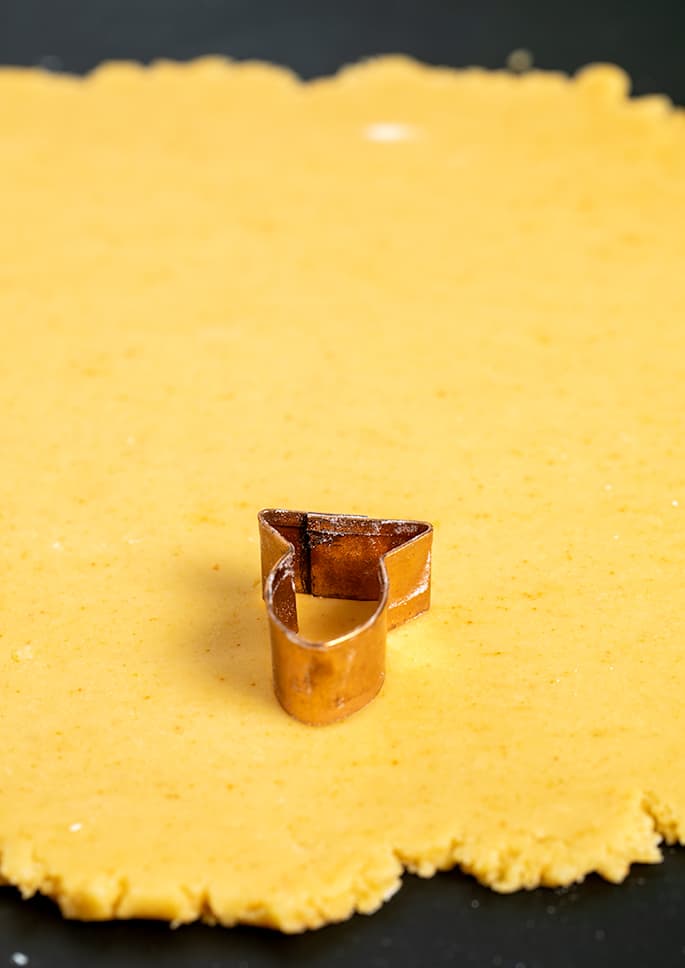 About that Goldfish-shaped cutter…
Clearly, you don't need a tiny little fish-shaped cookie cutter to make this recipe. I originally published this recipe in my cookbook called Gluten Free Classic Snacks—and I hunted down that perfect cutter for the photos.
At least at the time, I couldn't find a tiny fish-shaped cutter in any of the usual places, by the usual cookie cutter makers. Instead, I had to order one online from a company called Copper Gifts. It wasn't cheap, or easy to find!
I've searched again, now a handful of years later, and there are currently more than a couple options. There's someone right now on Etsy selling a couple mini cutters, both copper-colored (why copper?), for too-much-money.
I'm not including any links, because that sort of link tends to end up at a dead end quite quickly. But you'll find them by searching "tiny Goldfish cutter."
If you want to cut out fish shapes but don't find a cutter, you can reshape another small, similarly sized cutter. Just bend it into a shape that mimics what you see here!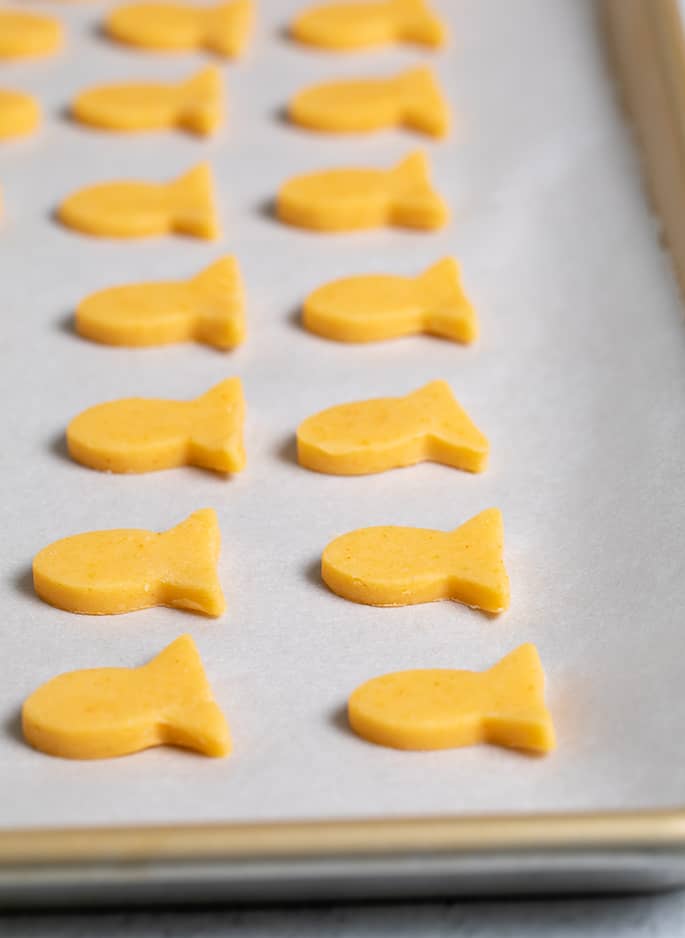 Tips for handling the dough
This dough is super easy to handle, but it must be kept cold. The ingredients begin cold, since these are gluten free pastry-like, but they'll warm up a bit in the food processor.
Since the recipe doesn't have large chunks of butter, but rather grated and processed butter, it doesn't need to be as cold as, say, laminated gluten free biscuits. But it's best to work as quickly as possible with the dough, and use your hands as little as possible.
If you want super puffy crackers, just roll the dough a bit thicker than the ¼-inch thickness as directed in the recipe. You'll get fewer crackers, is all.
Ingredients and substitutions
Dairy
I'm not going to sugar-coat it. There's a lot of dairy in these crackers, and I'm not particularly optimistic that you can replace it.
There's more cheese than flour in these crackers. Plus, there's butter, too.
These crackers are more like cheesy pastries than more traditional gluten free crackers. If you'd like to try replacing both the shredded cheddar cheese and the butter, I do have some suggestions for where to begin.
For the butter, I'd recommend vegan butter (not Earth Balance buttery sticks, under any circumstances). My favorite brands are Melt and Miyoko's Kitchen.
For the cheese, I'd try Violife brand cheddar alternative. Even Daiya brand might work, but be sure to use a block of cheese that you shred yourself—not pre-shredded cheese.
Pre-shredded cheeses, dairy or dairy-free, have additional ingredients to prevent clumping and caking. You don't want extra ingredients in these crackers.
Gluten Free Goldfish
Yield:
About 6 dozen crackers
Ingredients
1 cup (140 g) all purpose gluten free flour (I used Better Batter; click through for flour info), plus more for sprinkling
½ teaspoon xanthan gum (omit if your blend already contains it)
½ teaspoon kosher salt
1/8 teaspoon baking soda
½ teaspoon smoked Spanish paprika
4 tablespoons (56 g) cold unsalted butter, shredded or finely chopped
8 ounces sharp yellow Cheddar cheese, shredded and kept cold
2 to 4 tablespoons (1 to 2 fluid ounces) cold water
Instructions
Preheat your oven to 350°F. Line rimmed baking sheets with unbleached parchment paper and set them aside.

Place all the ingredients except the water, in the order listed, in the bowl of a food processor fitted with the steel blade. Add 2 tablespoons of the water and pulse, adding more water by the half-teaspoonful with the processor running, just until it comes together in a cohesive dough.

Turn the dough out onto a very lightly floured surface and roll out into an even layer about 1/4 inch thick, sprinkling very lightly with flour as necessary. The dough should roll out easily and will become smoother as you roll it.

Cut out small goldfish shapes about 1½-inches in length and place about 1 inch apart from one another on the prepared baking sheets. Gather and re-roll the scraps to cut out more crackers until you've used up the dough.

Place the baking sheets, one at a time, in the center of the preheated oven and bake for 10 to 12 minutes, or until the crackers are very light golden brown all over. They will crisp as they cool.

The crackers can be stored in a sealed glass container at room temperature and should retain their texture for at least 5 days. For longer storage, seal them tightly in a freezer-safe wrap or bag, and freeze for up to 2 months. Defrost at room temperature.

Adapted from the book Gluten-Free Classic Snacks: 100 Recipes for the Brand Name Treats You Love, by Nicole Hunn. Excerpted by arrangement with Da Capo Lifelong, a member of the Perseus Books Group.  Copyright © 2015.