Crunchy Paleo chocolate cookies filled with Paleo 7-minute frosting to satisfy your sweet tooth, and still stay on your Paleo diet!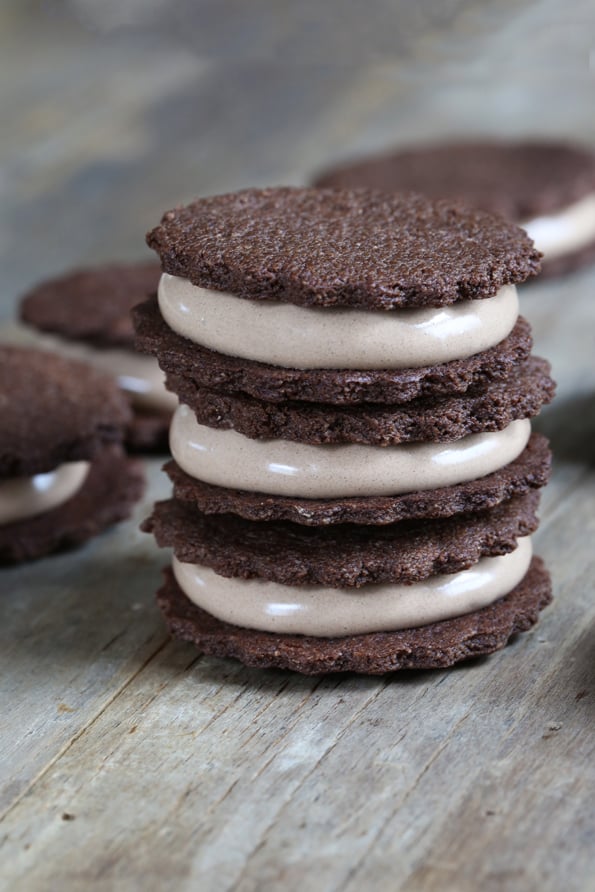 Free of refined sugar, nice and chocolatey but not too sweet, these chocolate Paleo cookies are the answer if you've been missing a crunchy chocolate sandwich cookie with a smooooooth filling. Paleo Oreo Style Cookies? Oh yeah. Keep your New Year's resolution and have your cookies, too.
My Paleo filling calls for granulated coconut sugar and some gelatin. If you'd like to try a version with maple syrup, this Seven Minute Maple Frosting (Paleo) from Healthy Seasonal Recipes looks worth a try.
The cookie is like a Paleo chocolate shortbread cookie. Most Paleo baked goods are made with blanched almond flour, which is a very moist flour so it makes soft baked goods.
Soft can be good! But sometimes? You want to bite into something crunchy, and for that, we need some starch.
As excited as I am about the cookies, I might even be more excited about the filling. It's the ever-popular 7-minute frosting (like we made for the gluten free champagne cake, well, before we turned it into swiss meringue buttercream, at least), but made … Paleo.
The filling is made with a tiny bit of gelatin so that it is very stable at room temperature. A buttercream-style frosting would work as a filling, with finely ground coconut sugar and vegan shortening, but it would have been realllllly sweet.
I wanted to try something different, even though I was pretty nervous that it wouldn't work. The result? Lightly sweet, chocolate frosting that is as smooth and lovely as it is delicious.
The dough is made in a food processor, and it starts out quite soft and, well, a bit oily. Just chill it a bit and it becomes very, very easy to work with.
You could easily stop there and just make some crunchy Paleo chocolate cut-out cookies. Great for every occasion!
Or …. you could fill them with this amazing frosting.
I think you already know which way I lean. And you can bet Imma gonna make this frosting again and again, and play with other variations.
It's so light and fluffy, and naturally pretty low in sugar – especially compared to buttercream.