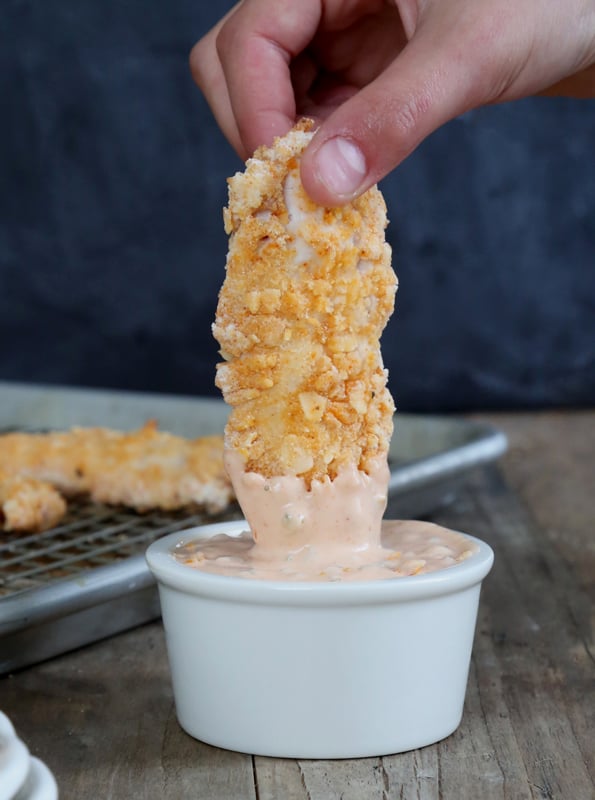 Were you wondering what to make for dinner tonight? I bet you're looking for something that will make your hungry family happy but still make you smile, knowing that you gave them something good to eat that didn't take forever. Yeah, me too. Welcome to the gluten free crispy buttermilk coconut chicken fingers that my family had for dinner last night.
I have to admit that I usually just make chicken fingers or nuggets like this, and it's delicious. But this time I decided to take your advice and go the extra crispy chicken finger route and, well, you're really smart. And pretty.
I was kind of scared to use my favorite wire racks for baking chicken, since I was convinced that they would be hopelessly covered in cooking oil and batter forever and ever. But it worked a treat—and cleaned up super easy. So what I'm saying is … I did, and I'll do it again and again!
Don't forget the dipping sauce. It mostly just an easy thousand island dressing, but made even better with plain yogurt. And remember—even though this goes in the oven, it's a cooking recipe, not a baking recipe. It's not an exact science, and if you stick with the flour blend base and keep the method as-is, you can pretty much customize it to your liking. Swap out the toasted crushed coconut for, say, flax meal (nutritious!). Or toasted crushed almonds. Like your chicken fingers super salty? Add more! You get the idea. This one's yours for the substituting. Enjoy it, 'cause that doesn't happen too often around here!