[pinit] The gluten free breakfast bars I usually make are soft, like these chewy gluten free granola bars. But it's easier to make them super healthy and still fabulous when they're crunchy.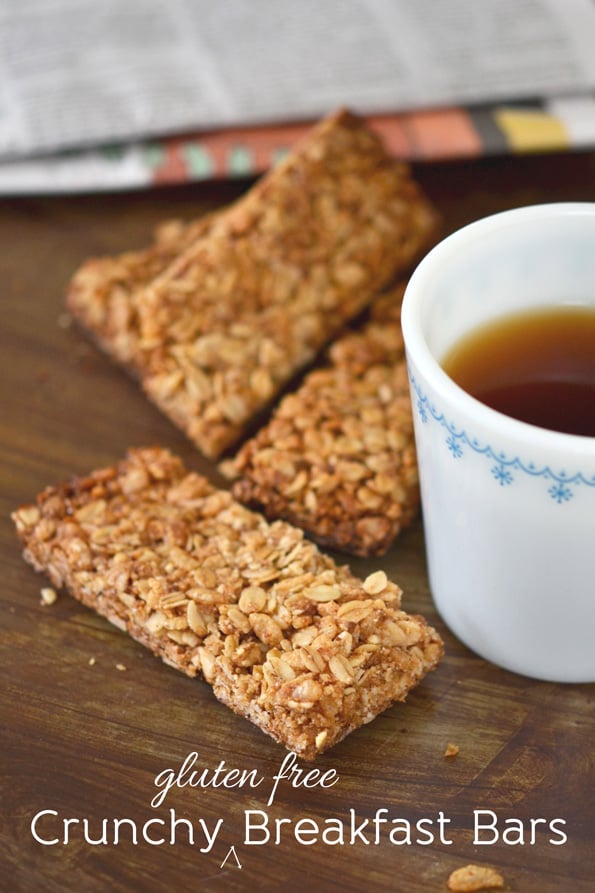 So that's what I did. These crunchy gluten free breakfast bars began with the ingredient list for Nature Valley Oats 'n' Honey crunchy granola bars. And other than puffed rice cereal (which by the way not that you were looking to do this but may I counsel you strongly against trying to make your own homemade puffed rice cereal it is NOT worth it), I found something really interesting and fabulous in that there ingredient list…
Nut flours. Nut flours! Now I know everybody is baking with almond flour lately (me too sometimes like in these healthy gluten free chocolate chip cookies), but I think their list was more like hazelnut, almond and somethin' else that I don't remember. Protein! Good fats! Use up random raw granola ingredients!
I tried this recipe twice, with a different mix of ground raw nuts each time. Loved 'em both, loved the almond-pecan-cashew combo best. Rather than using blanched almond flour, like I would use for baking something like cookies or a cake, I just ground some whole raw almonds in my food processor. (And anyway you know it's serious if I'm willing to break out the food processor the cleaning of which is going to put me in an early grave.)
The trick to making these granola bars flat, even and crunchy is to place the mixture in an even layer in a unbleached parchment-lined quarter sheet baking sheet (a quarter sheet pan is 9″x13″), lay another sheet of unbleached parchment paper on top, and then another quarter sheet pan on top of that. Then press down to apply steady, even pressure on the granola. You'll be amazed at how professional it looks. And stuff. So let's get this morning started off right! You bring the granola bars, I'll grab the coffee and the newspaper.