Crunchy gluten free granola bars are even easier to make than the chewy kind, and they're super healthy!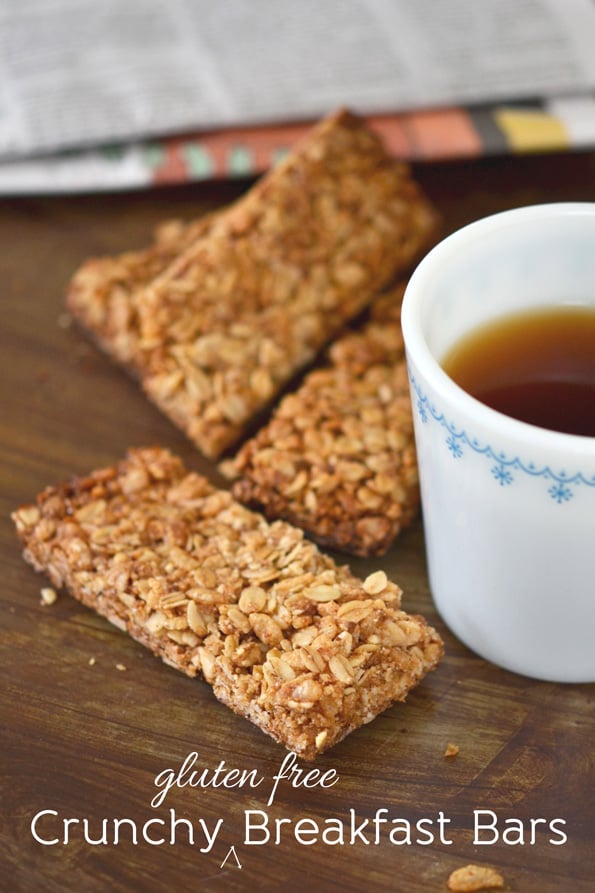 The type of bars I usually make are like these chewy gluten free granola bars. They're made soft mostly with plenty of sugar. My whole family absolutely loves them.
These crunchy granola bars began with the ingredient list for Nature Valley Oats 'n' Honey crunchy granola bars. And other than puffed rice cereal, I found something really interesting and fabulous in that ingredient list…
Nut flours! Now I know everybody is baking with almond flour these days in all sorts of Paleo baking, but I think their list was more like hazelnut, almond and something else that I don't remember. Protein! Good fats! Use up random raw granola ingredients!
Protein! Good fats! Use up random raw granola ingredients! It's absolute genius.
I tried this recipe twice, with a different mix of ground raw nuts each time. I loved them both, but I loved the almond-pecan-cashew combo best.
Rather than using blanched almond flour, like I would use for baking something like cookies or a cake, I just ground some whole raw almonds in my food processor. (And anyway you know it's serious if I'm willing to break out the food processor, the cleaning of which is going to put me in an early grave.)
There's a trick to making these granola bars flat, even and crunchy. Simply place the mixture in an even layer in a parchment-lined 9-inch by 13-inch baking sheet, lay another sheet of parchment paper on top, and then another quarter sheet pan on top of that.
Then press down to apply steady, even pressure on the granola. You'll be amazed at how professional it looks. So let's get this morning started off right! You bring the granola bars, I'll grab the coffee and the newspaper.
Crunchy Gluten Free Granola Bars
Yield:
15 gluten free breakfast bars
Ingredients
1/3 cup (37 g) ground raw almonds
1/3 cup (37 g) ground raw pecans
1/3 cup (37 g) ground raw cashews
1 teaspoon (6 g) kosher salt
1/2 cup (80 g) granulated coconut palm sugar
2 cups (200 g) certified gluten free old fashioned rolled oats
2 cups (60 g) gluten free puffed rice cereal
4 tablespoons (84 g) honey
5 tablespoons (70 g) virgin coconut oil, melted
Instructions
Preheat your oven to 325°F. Line a quarter sheet pan with unbleached parchment paper and set it aside.

In a large bowl, place the ground almond, ground pecans, ground cashews, salt and sugar, and whisk to combine well. Add the oats and puffed rice cereal, and then the honey and oil, and mix to combine well.

Scrape the mixture onto the prepared baking sheet and spread into an even layer. Cover the baking sheet with another sheet of unbleached parchment paper, and place another quarter sheet pan on top of the top sheet of parchment paper. Apply as much even pressure as possible on the top sheet pan to compress the mixture as much as possible.

Remove the top quarter sheet pan and the top piece of parchment paper, and place the baking sheet in the center of the preheated oven. Bake for about 25 minutes, or until the bars are evenly golden brown.

Remove the baking sheet from the oven and allow the bars cool for 5 minutes before sliding them out on top of the parchment paper and slice into 3 rows of 5 rectangles. Allow to cool completely before separating the bars. They will crisp as they cool, and will hold together well once cool.