This tested recipe for traditional gluten free pound cake is moist and tender, dense and buttery, just like you remember. It always gets rave reviews!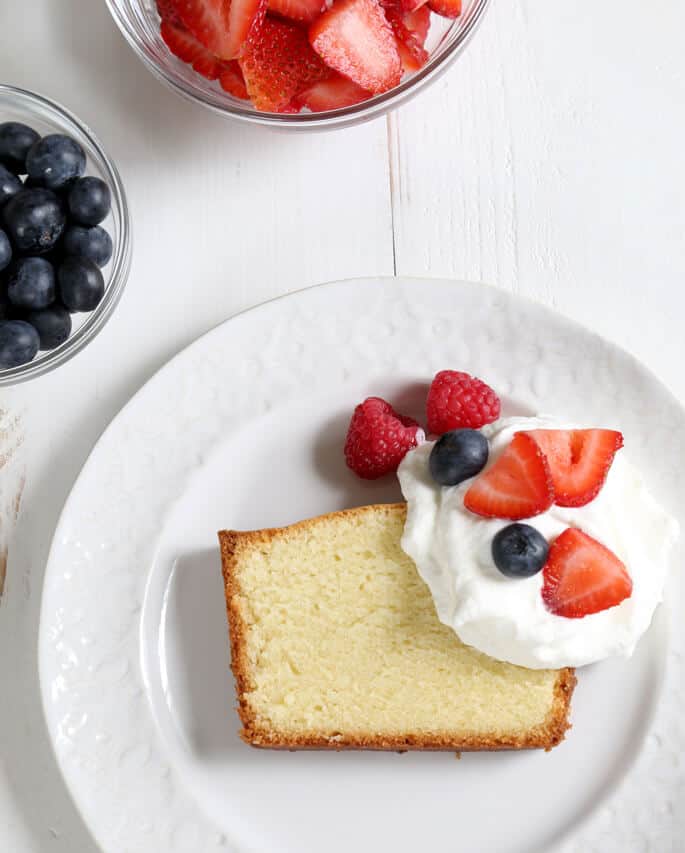 Why is it called a pound cake?
A traditional pound cake is so named because it's made with a pound of flour, a pound of butter, a pound of sugar and a pound of eggs. Even so, most of the pound cake recipes I have shared with you have called for both butter and cream cheese.
But there's certainly something to be said for tradition. And this is precisely the sort of pound cake that is perfect for layering into a lovely warm-weather trifle with all sorts of colorful berries.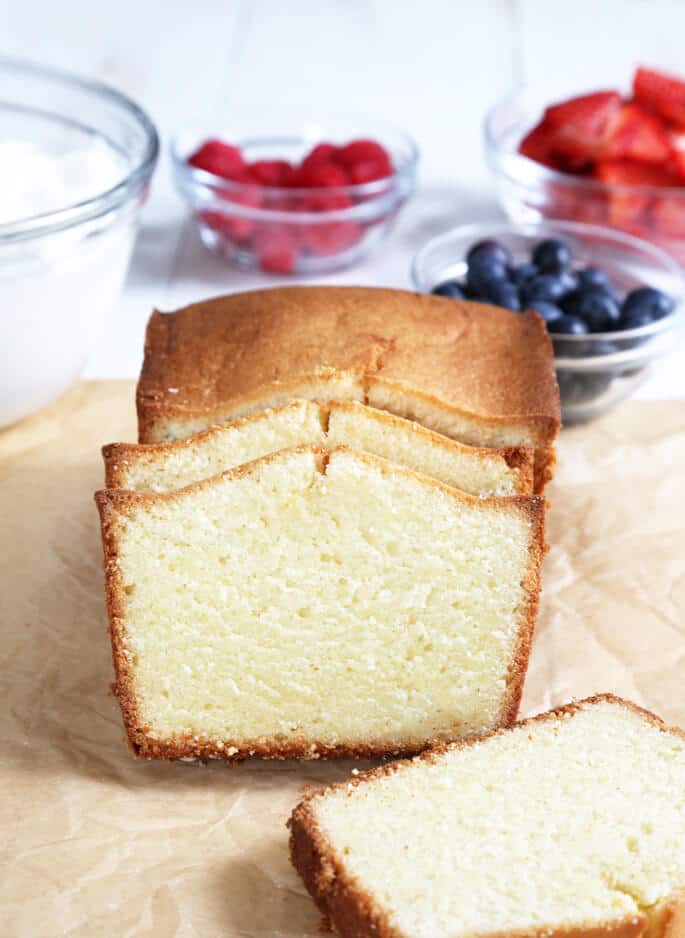 Gluten free pound cake means tweaking the original formula
I've said it before, and at the risk of making you cross with me I'll say it again: gluten free baking requires gluten free recipes. So the traditional formula for a pound cake just doesn't work perfectly for gluten free.
This recipe in particular (unlike most recipes for pound cake) only makes 1 loaf, so it's more like a half pound of this, a half pound of that as a starting point anyway.
Feel free to double, though, if you're looking for 2 loaves or you'd like to make the recipe in a bundt or tube pan (just watch the baking time).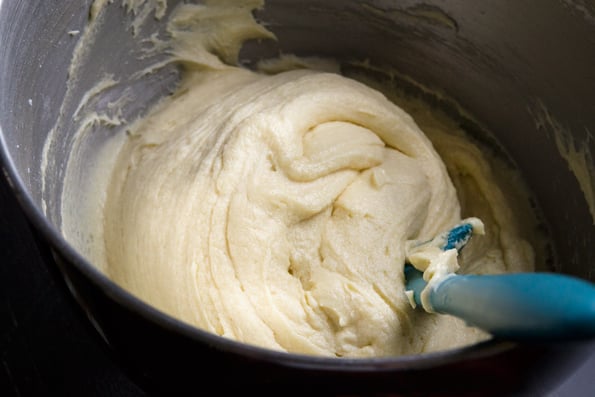 The batter is smooth and silky, and very thickly pourable. Once you add the eggs to the beaten butter and sugar mixture, it may look a bit curdled but it will smooth right back out when you add the flour mixture.
As always in baking, the temperature of the ingredients very important. In a recipe this simple, it's especially important. The butter and eggs must be at room temperature for everything to combine properly.
If you add cold eggs to room temperature butter, the butter will clump. To bring cold eggs to room temperature, place them in a warm water bath and allow them to sit for about 15 minutes.
Cold butter can be chopped and microwaved for 10 seconds, no longer. Be sure to stop before the butter melts. If you don't blend the ingredients properly, the butter will clump and then melt and leak out during baking.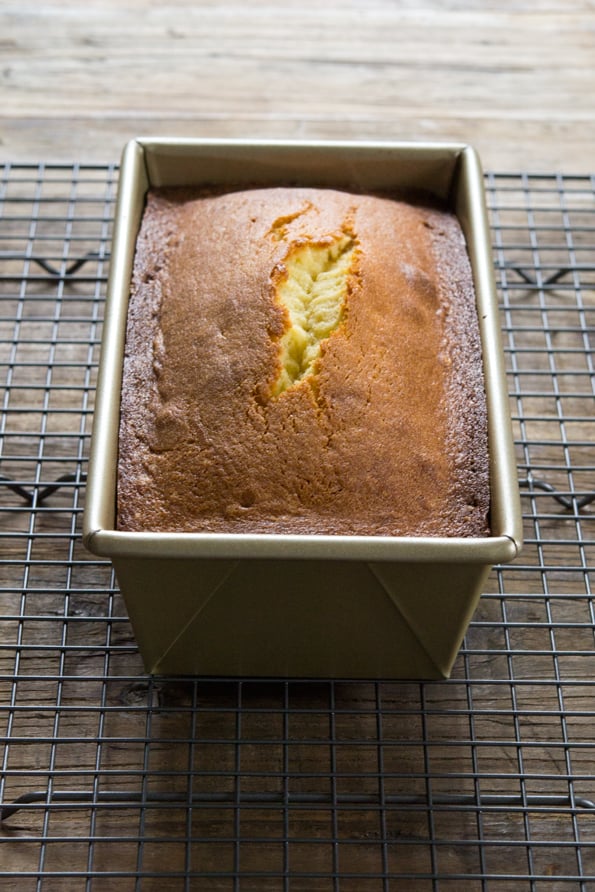 There's nothing else quite like the smooth baked interior and slightly crispy, perfectly browned crust of a traditional pound cake. The crumb of a pound cake is tighter and the cake itself denser than vanilla cake, but not at all dry.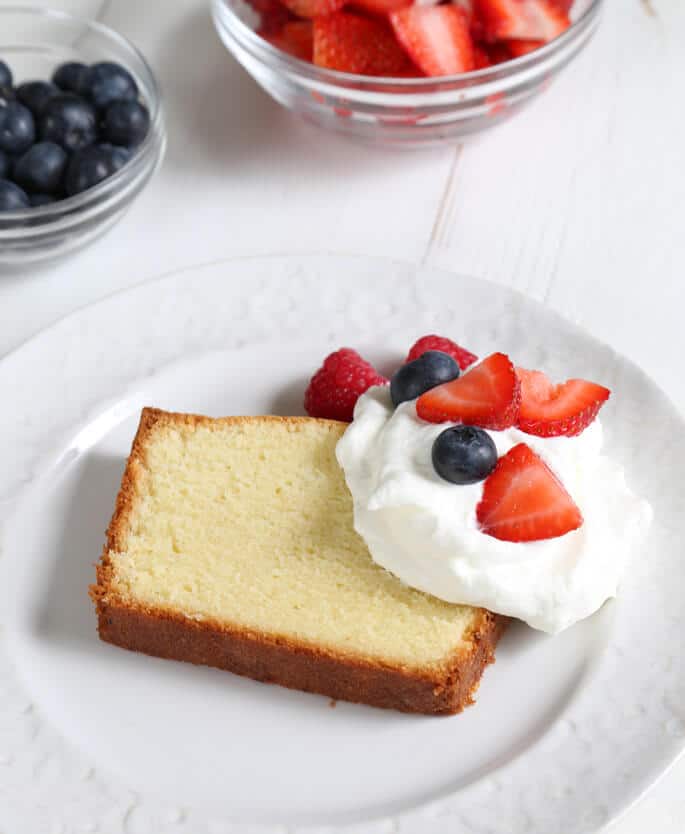 It's not too far off the 1:1:1:1 ratio of traditional "pound" cake, but the adjustments make it just as good made gluten free as it is made with gluten. We might have to get there a slightly different way, but we'll get there.
Classic Gluten Free Pound Cake
Ingredients
16 tablespoons (224 g) unsalted butter, at room temperature
1 cup (200 g) granulated sugar
9 ounces (about 4 extra-large or 5 large) eggs at room temperature, beaten
2 teaspoons pure vanilla extract (or 1 1/2 teaspoons vanilla extract + 1/2 teaspoon almond extract)
1 cup 9 tablespoons (220 g) all-purpose gluten free flour*
1/2 teaspoon xanthan gum (omit if your blend already contains it)
1 teaspoon kosher salt
*I really like this recipe even better when it's made with gluten free cake flour, which is a blend of 82% all purpose gluten free flour + 18% cornstarch. In this recipe, that would be 180 grams all purpose gluten free flour + 40 grams cornstarch.
Instructions
Preheat your oven to 325°F. Grease well a standard loaf pan (about 9-inches x 5-inches, or a bit smaller) and set it aside.

In the bowl of a stand mixer fitted with the paddle attachment or a large bowl with a handheld mixer, cream the butter on medium-high speed until it is light and fluffy. Add the sugar, and then the eggs (slowly, while the mixer is on low speed) and vanilla, beating after each addition until well-combined. Turn the mixer speed up to medium-high, and beat until smooth.

In a small bowl, place the flour blend, xanthan gum and salt, and whisk to combine well. Add the flour mixture, about ¼ cup at a time, to the mixer bowl with the wet ingredients, and mix until just combined. The batter will be thick but soft and smooth. Scrape the mixture into the prepared loaf pan, and smooth the top with a wet spatula. Carefully bang the bottom of the pan a few times on the counter to release any air bubbles.

Place the loaf pan in the center of the preheated oven and bake, rotating once during baking, until lightly golden brown all over and a toothpick inserted in the center comes out clean (about 50 minutes). Remove from the oven and place the cake, still in the pan, on a wire rack to cool for at least 30 minutes before removing from the pan and allowing to cool completely.

This recipe was originally published on the blog in 2013. The photos have been updated to showcase the true beauty of this gluten free pound cake, and the recipe has been modified just a bit.