If you're tired of paying too much for sliced gluten free bread that you can't separate or crumbles before your very eyes, here's my list of 9 of the best gluten free bread brands to try.
Why I'm reviewing packaged gluten free bread
If you're on my email list, I asked you what your favorite brands are, and you poured your gluten-avoiding hearts out! I've been through many loaves of bread. If it was a total dud (and I've tried some total duds as I'm sure we all have), I'm not reviewing it here.
My intention in publishing these reviews is not to stir up controversy, harm anyone's business or even support anyone's business to be honest. When I posted something on my Facebook page about how Udi's bread is hard to separate, someone angrily accused me of endangering their business.
Clearly, that isn't my purpose—but I also have no obligation to pretend that reality isn't what it is. My intention is simple. I want to help you, the consumer, spend your money wisely.
Packaged gluten free products are more expensive than conventional products, and always will be. The market for these products is smaller, and the ingredients are more expensive (in part because the market is smaller).
But we've come a long way since 2004 when my family first went gluten free. Back then, we ordered some bizarre gluten free packaged bread from Canada that not only couldn't be eaten untoasted but lost its toast within minutes. And the cost was insane. Well, we've come a long, long way since then.
Everyone knows that I love baking fresh homemade gluten free bread. My children adore it when they have it for their school lunches, and my husband loves it because it's cheaper.
Ideally, I'm June Freaking Cleaver and I make every morsel that goes into their precious little mouths. ?? And then I wake up. Actually, and then they wake up.
That isn't the stuff really of my dreams, but it is of theirs. But it's just not realistic.
Who is this list for?
This list of 9 packaged kinds of the best gluten free bread available is primarily for U.S. residents who are already inclined to buy some bread in a store or online. If you absolutely refuse to buy gluten free bread, or refuse to order anything online, then this list may not be very useful to you.
I order plenty of things online, from gluten free flour to dairy free hazelnut spread that even in my enormous NY metro area, I can't find in a store. And since some of the brands you recommended are simply not available in my area, I ordered some of these online.
If you live outside the U.S., as I know many of you do, I'm afraid that many of these brands won't be available to you. I promise this isn't turning into a product review blog or anything, and there are still over 900 free gluten free recipes here on the blog—with more to come next week and forever more.
So if you're interested in seeing what my experience has been with your favorite gluten free bread, or in learning about a few other brands and how they stack up, read on!
Where to buy gluten free bread
Whether you're shopping for the gluten free bread brands on my list or others, I first suggest that you head to your local supermarket. Many national and regional chains carry at least one brand, with the larger ones offering a few choices.
After the grocery store, where I think you'll find lower prices, you can try your local health food store. Store bought gluten free bread options aren't actually a health food, but these types of stores tend to cater to niche products, which gf bread still sort of is.
If you don't have luck finding non-gluten bread locally, head online. First go directly to the websites of gluten free bread companies. Some will let you order for shipping to your home, while others will provide a store locator.
Of course, Amazon and Walmart.com are also options. Just be sure to double-check shipping prices before checking out as they can sometimes be quite outrageous.
What gluten free bread options aren't included?
There will always be a special place in my heart for Udi's Gluten Free Bread since it was one of the very first. And their larger loaves of bread are still the king of a properly sized piece of bread that isn't more melba toast than sandwich bread.
But they changed their formula, and although my children love the taste, I'm going mad trying to separate the slices of some of the loaves. I think that the real difficulty occurs when the loaf has been frozen, defrosted and then frozen again before purchase.
There's some sort of fusing that goes on and you simply can't separate the slices whether you try it defrosted or frozen. So Udi's is just not on this list. You also won't find some of the more obscure brands that don't seem to be intended for mass market distribution.
Specialty types of bread like cinnamon raisin and shaped loaves, baguettes, and pizzas also aren't included. This is a post about sliced sandwich breads.
Gluten free white bread
I reviewed the plainest variety of each bread I could find. In most cases, that's the "white" bread variety. Sometimes, the whole grain variety was the one I could get my hands on fastest.
I've included as much detail as possible about each brand, including price (be sure to pay attention to the relative sizes of the loaves as compared to price!), availability, ingredients and other allergens.
Please don't rely upon this information for matters of health, though. It's just for reference, and ingredients change. Always check your labels!
Every bread in this post holds its shape, can be separated when frozen or fresh, tastes relatively good and is worth a try. Some are more expensive than others, but in my personal experience (I'm not America's Test Kitchen with a staff of 100!), none of them crumble or fall apart in that sad, sad way we all know and hate.
A Trader Joe's gluten free bread worth buying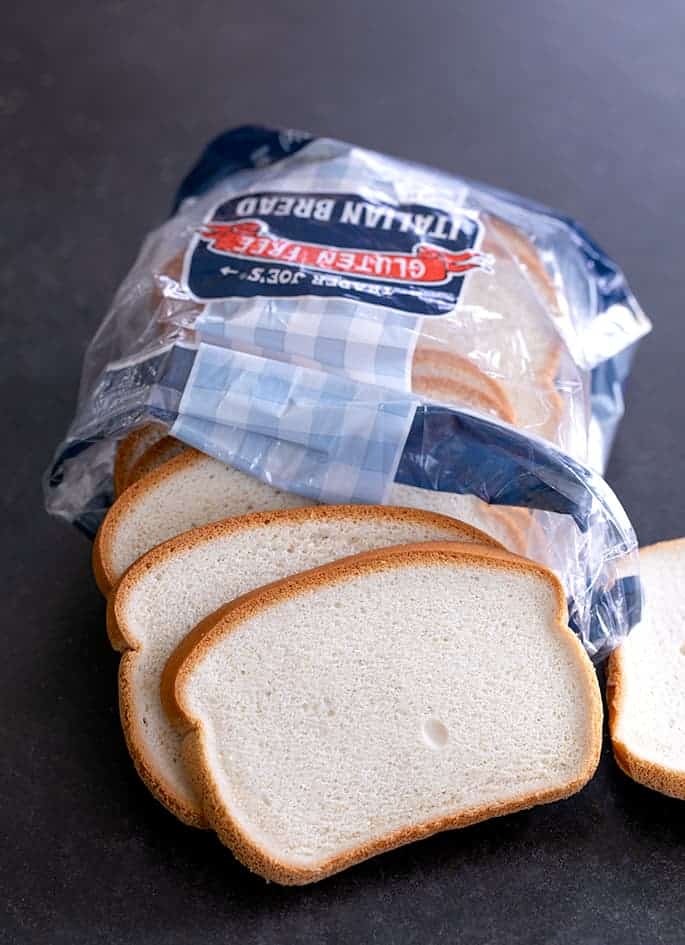 Please welcome Trader Joe's to our roundup of the best gluten free breads. Their gluten free Italian bread earned them a spot!
When all TJ's sold was their gluten free white sandwich bread, I didn't include it in this best-of gluten free bread list. All 3 of my children agreed that it just was not very good.
The loaves were so tiny that it was actually quite expensive in the end. But they've since come out with a sliced gluten free Italian bread that is really good. So it's included as a bonus entry.
I count 12 generous slices in a loaf, each of which is the size and shape of what I remember sandwich bread to be. The slices have a tender interior that's soft without being gummy at all.
It toasts well, too. And the end pieces are full-sized, which is why I counted them among the 12 slices.
Here are the other details:
Size of loaf: 15.2 ounces
Price you should expect to pay: (still confirming, but around $4.99)
Fresh or frozen: Fresh
Availability: Good, if you have a Trader Joe's near you.
Other common allergens: eggs
Ingredients: water, starch and flour blend (modified tapioca starch, brown rice flour, rice starch, modified cellulose, guar gum), yeast, cornstarch, cane sugar, canola oil, whole grain sorghum flour, dried egg whites, psyllium husk powder, salt, invert sugar syrup, cultured brown rice (to preserve), brown rice, vegetable glycerin, deactivated yeast
Three Bakers, Canyon Bakehouse, Franz Gluten Free and Glutino Gluten Free Breads
The first group of 4 loaves of bread is made up of my top picks of the 9. These brands all came highly recommended by readers, and I had only tried two of the four previously. Let's get into it…
Three Bakers
Three Bakers Gluten Free Bread. I really like this bread. The slices separate easily when the loaf is completely frozen or thawed. It's nice and soft, has a good (mild) flavor and toasts well.
The slices are small, though. They're average-sized for this group, but they're small. To make sandwiches for my kids' lunches using this bread, I have to use 3 slices for 1 1/2 sandwiches or I have children who are ravenous at the end of the day.
Here are the other details:
Size of loaf: 17 ounces
Price you should expect to pay: Just under $7/loaf
Fresh or frozen: Frozen
Availability: Good. My local grocery store (Stop & Shop), my local natural foods store, Gluten Free Mall online, Amazon.com
Other common allergens: eggs
Ingredients: water, whole grain brown rice flour, tapioca starch, cornstarch, eggs, corn dextrin, sugar, canola oil, potato flour, honey, baking powder, yeast, rice bran, xanthan gum, salt, vinegar, enzymes (calcium sulfate & enzymes)
Canyon Bakehouse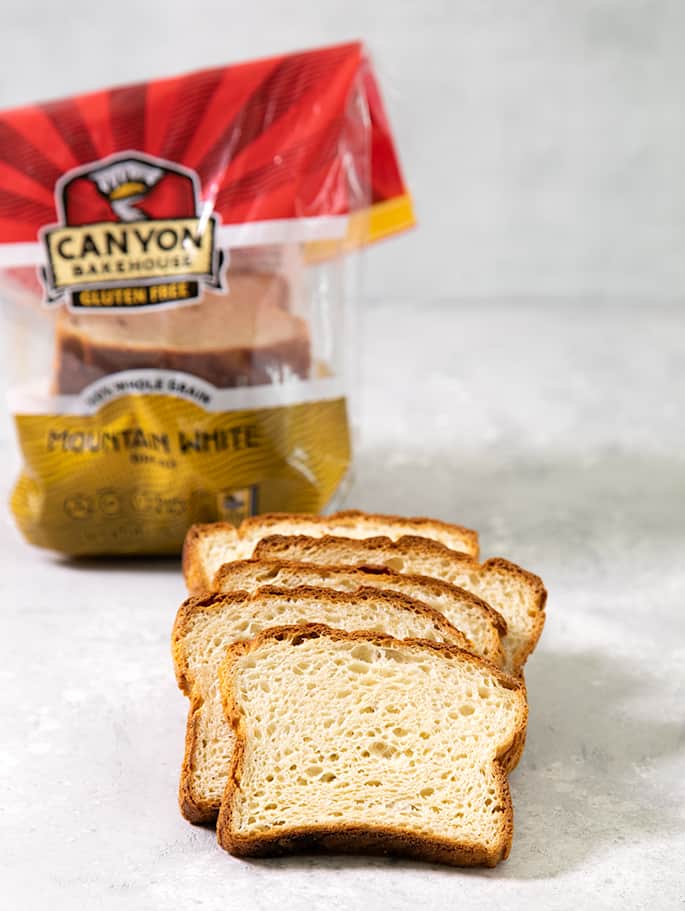 Like a lot of you, I really like Canyon Bakehouse breads. The bread is soft and the slices are a good shape and relatively good size. The price is pretty good, too, although more expensive than some.
It used to be that whenever I went into Target, I'd pick up a few loaves of bread. They at least used to sell them unfrozen (they're not fresh, of course), which was a nice change of pace. I haven't seen their breads in most of my local stores for a long, long time, though.
Their quality control seems to be relatively good, as I've never had a loaf with large holes through the center of the slices. But I know that some of you have had that unfortunate Udi's-like experience and it's super disappointing.
Here are the other details:
Size of loaf: 18 ounces
Price you should expect to pay: $5 from the company's website; $7 frozen at my local natural foods store; upwards of $9 elsewhere
Fresh or frozen: both
Availability: Poor (in my area). We used to find this bread unfrozen in our local Target, but it no longer seems to be available. I bought a $7 frozen loaf at my local natural foods store.
Other common allergens: eggs
Ingredients: water, brown rice flour, tapioca flour, whole grain sorghum flour, organic agave syrup, extra virgin olive oil, xanthan gum, organic cane sugar, eggs, egg whites, yeast, sea salt, cultured brown rice flour, organic cane sugar vinegar, enzymes
Glutino
I was surprised to learn that so many of you really like Glutino's packaged sandwich breads. When we first went gluten free, Glutino was one of the most readily available brands.
Since there wasn't much competition, we purchased many of their products. But they were expensive, and generally not great-tasting. I tried the Glutino sandwich bread on your recommendation, though, and I'm really glad I did.
The price isn't great and the availability in my area isn't either, so I won't likely be making a habit of buying it. But it tastes good, is soft and toasts well. The loaf is not only small, but the slices are really tiny. But overall I like it.
Here are the other details:
Size of loaf: 14.1 ounces
Price you should expect to pay: I paid $6.29 at my local natural foods store. The loaf is also quite small.
Fresh or frozen: frozen
Availability: Poor. My local natural foods store carried Glutino's multigrain sandwich bread, but not its white loaf. I could not find it anywhere else and even seems to be difficult to find in stock online.
Other common allergens: eggs
Ingredients: modified tapioca starch, corn starch, potato starch, water, canola oil and/or safflower oil and/or sunflower oil, egg whites, brown rice flour, sugar, tapioca starch, salt, yeast, xanthan gum, glucose-delta-lactone, sodium bicarbonate, modified cellulose, calcium sulfate, enzymes
Franz Gluten Free
Franz Gluten Free bread was completely unfamiliar to me until a number of readers wrote to me about it. The dedicated gluten free facilities are located in the Northwestern U.S. (they also make conventional bread in other locations), but you can purchase the bread online directly from Franz.
The Franz bread is pretty much my current favorite of the bunch. It's soft, toasts pretty well (but not great, honestly) and actually even just smells really good. I don't really like how short the slices are.
I wouldn't call the slices "small" because the bread is thickly sliced, so each piece isn't that small. That means that I don't have to use 3 slices to make enough lunch for each of my kids, but I can only get about 6 two-slice sandwiches from the whole loaf. So it's an expensive choice.
Here are the other details:
Size of loaf: 18 ounces
Price you should expect to pay: $7.58 online directly from the company
Fresh or frozen: Fresh (vacuum sealed inner bag)
Availability: Fair. I live in the Northeastern U.S., and they don't distribute in my area. The brand is primarily a Northwestern thing for now, but it's easy to buy online.
Other common allergens: eggs
Ingredients: water, brown rice flour, tapioca starch, tapioca syrup, whole grain sorghum flour, xanthan gum, contains 2% or less of each of the following: whole eggs, whole grain amaranth seed, extra virgin olive oil, salt, cultured rice flour, yeast, enzymes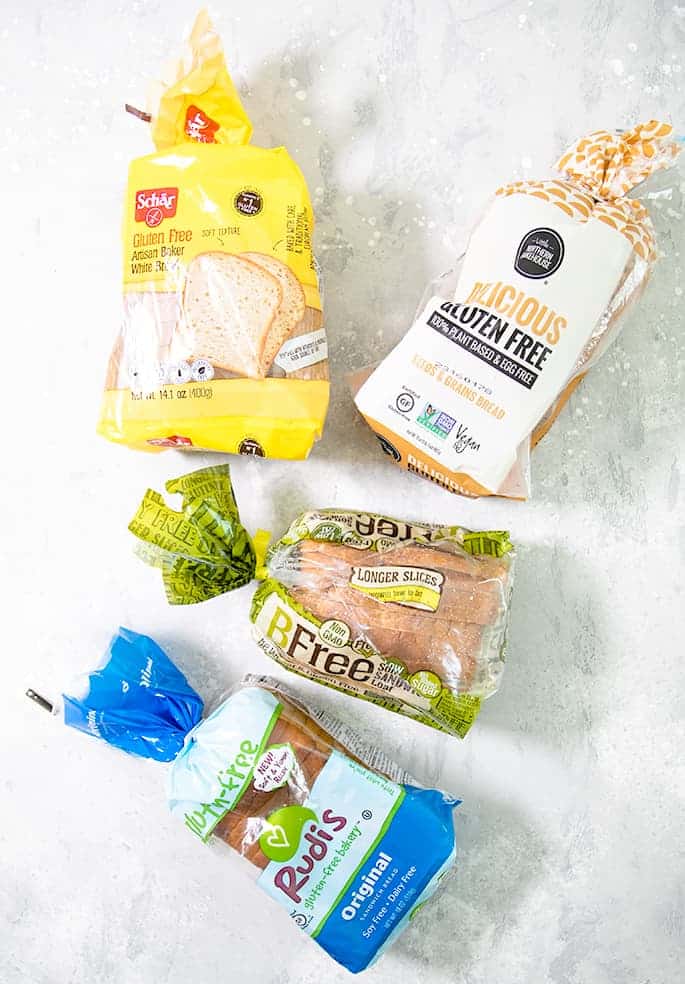 Schar, BFree, Rudi's and Little Northern Bakehouse Gluten Free Breads
This second group rounds out the list of 9. Two of them were familiar to me (Schar, and Rudi's) for many years, one I had heard of but hadn't seen and hadn't sought out (BFree) and the fourth was completely unknown (Little Northern Bakehouse).
Schar
Schar's products are super expensive—but they're really good. The slices of this white bread are really small (3 slices for one lunch for sure), and they contain soy which means that they're off-limits for my oldest.
But it's really a shame since they're so widely available and it's her favorite brand. The slices toast well, are soft and smell like good packaged bread.
They even contain sourdough as the third most plentiful ingredient. This post is about gluten free packaged breads, but I really do hope that Schar always stays in business.
They make so many amazing gluten free specialty products like gluten free breadsticks, graham crackers, and some nostalgic pasta shapes that no one else does (or likely ever will).
Here are the other details:
Size of loaf: 14.1 ounces
Price you should expect to pay: A bit more than $7/loaf (almost 50¢/ounce!)
Fresh or frozen: Fresh (vacuum sealed inner bag)
Availability: Very good. I see Schar products everywhere, online and in brick and mortar stores.
Other common allergens: soy
Ingredients: water, rice starch, sourdough (water, rice flour), cornstarch, agave syrup, sunflower oil,

soy protein, modified cellulose, psyllium seeds husks (vegetable fiber), guar gum, millet flour,

yeast, sugar, quinoa flour, salt, citrus fiber, honey, calcium citrate, niacin, iron, thiamine,

riboflavin
BFree
The BFree soft white sandwich loaf solves the small-slices problem that plagues many if not most of the gluten free breads in this list. But I count 10 slices in one loaf, which for my family of 3 children means that I'd have to use one loaf a day to make lunches.
That makes this bread twice as expensive as most of the others—with the exception of those slices that are so small that I have to use 3 slices per lunch. But, the bread is really good.
In addition to being soft and toasting well, it reminds me of the Arnold's rye bread slices of my youth. Hearty, chewy and just plain good.
Here are the other details:
Size of loaf: 14.1 ounces
Price you should expect to pay: About $6.50 on Glutenfreemall.com
Fresh or frozen: Frozen.
Availability: Poor—at least for me. The company is located in Ireland, and I'm not sure how much market penetration they have in the U.S. But hopefully, they're everywhere in the U.K.!
Other common allergens: none
Ingredients: water, potato flour, corn starch, tapioca starch, white rice flour, buckwheat flour, xanthan gum, cellulose, rice bran, yeast, pea protein, canola oil, salt, sourdough (fermented quinoa, rice and maize flour), psyllium husk, canola oil, agar agar, citric acid (a mold inhibitor), malic acid (a mold inhibitor), tartaric acid (a mold inhibitor), ascorbic acid, tartaric acid (a mold inhibitor), ascorbic acid.
Rudi's Gluten-Free
Since they've never carried Rudi's at our wholesale club (we belong to BJ's Wholesale), we don't buy it very often. But the slices are a fair, non-melba-toast size, the bread is consistently good, and the price can be relatively reasonable.
They often have their seeded varieties more available for some reason, and my youngest is a total pain about that. No seeds or no go. Or major dramatic overreaction, I should say.
Be sure you're buying the gluten free varieties, though, as they sell conventional packaged breads and the packaging is very similar.
Here are the other details:
Size of loaf: 18.5 ounces
Price you should expect to pay: $6.25 when you buy 8 from Walmart online; Over $7 elsewhere.
Fresh or frozen: Frozen
Availability: Good. My local grocery store (Stop & Shop), my local natural foods store, Whole Foods and many other places including many Walmart stores
Other common allergens: eggs
Ingredients: Water, potato extract, non-GMO and expeller pressed canola oil, rice starch, rice flour, evaporated cane syrup, inulin, bamboo fiber, honey, sea salt, molasses, egg whites, xanthan gum, yeast, distilled vinegar, natural enzymes.
Little Northern Bakehouse
The Little Northern Bakehouse seeds and grains loaf is all we could find in the store, and I didn't want to order online. The ingredients below are for that loaf.
They do have a "white wide slice loaf" that I'm really interested in trying and will likely order online, since my only complaint about this bread (other than the relative lack of availability and the high price) is the size of the bread. It's just small.
I actually really like the seeded bread as it's white bread (you can see from the photo) but made super hearty with tons of crunchy, toasty seeds. I think a big, thick turkey sandwich made on lightly toasted Little Northern Bakehouse bread sounds like a gluten free dream come true. I hope they increase their distribution (and decrease their price)!
Here are the other details:
Size of loaf: 17.1 ounces
Price you should expect to pay: About $8 a loaf, if you can find it
Fresh or frozen: Frozen
Availability: Poor. I've only found Little Northern Bakehouse for sale locally at The Fresh Market. I can't even find a place to order it online, as Amazon charges $18 for shipping!
Other common allergens: none
Ingredients: Water, gluten free flour blend (modified tapioca starch, potato starch, whole brown rice flour, whole sorghum flour, corn starch), seed and grain mix (sunflower seeds, whole millet, brown rice, flax seeds, chia seeds, pumpkin seeds), sunflower oil, dextrose, psyllium, cane sugar, yeast, pea fibre, modified cellulose, salt, rice bran, cultured cane sugar, vinegar, cellulose gum.
FAQs
Is there a gluten free bread?
So long as bread is made without barley, rye, wheat, and other gluten-containing grains, it's technically gluten free.
There were only a few gluten free bread brands just a few years ago, but now there are dozens. And their recipes are getting better every day, as demonstrated by the list above.
What bread is gluten free?
There are many options for buying gluten free sandwich bread at the store. In addition to national brands that you can now find throughout the country, like Udi's and Schar, there are also numerous small manufacturers that sell to only certain regions.
After polling you, my readers, and doing a bit of research and taste-testing myself, I think there are the best store bought gluten free bread options:
Trader Joe's sliced Italian
Three Bakers
Canyon Bakehouse
Franz Gluten Free
Glutino Gluten Free Breads
Schar
BFree
Rudi's
Little Northern Bakehouse
What are the benefits of eating gluten free bread?
Unless you suffer from celiac disease or a gluten intolerance, there are no particular benefits to eating gluten free breads.
Some people assume that if something's gluten free, it must be healthy, and that's not always the case. There are plenty of gluten free foods that are loaded with sugar, fat, and other not-so-healthy ingredients.
When an item is labeled gluten free, it simply means that it's not made with a particular protein that causes issues for those who can't tolerate it.
Can those with celiac disease eat store bought gluten free bread?
Yes, if you suffer from celiac disease, you can eat store bought gluten free breads.
However, I would caution you (and really anyone who is following a strict gluten free diet) to be extra diligent about reading labels (as I'm sure you already are!)
Remember, just because something isn't made with gluten-containing ingredients doesn't mean that it can't be contaminated somewhere during the manufacturing process.
Gluten can hide in the soil of farms and on the machinery at plants, plus countless places in between. For this reason, you should always look for certified gluten free breads.
Need more help figuring out what's safe? Check out my tips for determining when a product is really gluten free.
Does toasting bread reduce its gluten content?
No, toasting bread does not have any affect on its gluten content. If you're avoiding gluten, you can't get away with buying regular bread and dropping it into the toaster.
How much is a loaf of store bought gluten free bread?
On average, a loaf of packaged gluten free bread costs about $7. How much you'll pay depends on several factors, including brand, package size, and availability.
Why do gluten free bread brands charge so much?
There are several reasons why gluten free bread costs more than regular bread. For starters, the ingredients to make gluten free breads cost more. In particular, gluten free flour is pricier than wheat flour.
Other reasons why you pay more for many gluten free breads from the store include increased labor costs to prevent cross-contamination and low demand compared to wheat bread.
Can you freeze gluten free bread?
Yes, you can store gluten free bread in the freezer, whether you've made it yourself or bought it at the store.
The trick to freezing gluten free bread so that it remains edible after defrosting is to tightly wrap it so that it doesn't freezer burn. Also make sure that your bread is cool when you pop it into the freezer, otherwise condensation that later freezes will have you fighting to separate slices.
Is homemade gluten free bread cheaper than store bought?
Generally, it costs 35% to 50% less to follow a gluten free bread recipe and make your own bread than buy it from the store. You may experience a little sticker shock when compare the price of gluten free flour to traditional wheat flour, but that upfront cost will afford you cheaper bread in the long run.
What's the best gluten free bread to buy?
In many cases, you'll choose a gf bread based on price, availability, and taste — but in what order? Because everyone is different, the answer to this question really comes down to personal preference. I may consider one product to be the best brand of gluten free bread, but you may not agree, for a wide variety of reasons.
If you're on a budget, you may find that low-cost gluten free options don't taste great or are difficult to handle because they fall apart. If you spring for better bread, you may not be able to purchase it as often because it's so expensive.
What's the healthiest gluten free bread?
In most cases, gluten free bread isn't any healthier than traditional bread. So when deciding which might be healthier, think about any other health concerns you may have.
If you have multiple food allergies, for example, BFree is a good option. If you're looking for more protein, considered a seeded variety like Little Northern Bakehouse.
What's the best tasting gluten free bread?
Everyone has different tastes, but if you ask me, I think that Franz Gluten Free is the best tasting gluten free bread available right now. I like how it feels and even smells like "real" bread. I just wish it wasn't so expensive.
Is Walmart bread gluten free?
Walmart's private label Great Value sandwich bread isn't gluten free, but the store does have a gluten free variation of it. That's great news for the budget-conscious, but what's not so great is that it's hard to find and is just so-so in terms of taste and structure.
You can, however, purchase other gf bread brands at many Walmarts, including some of those that appear on my list of the best gluten free bread brands.
Does rye bread have gluten?
Compared to barley and wheat, rye contains less gluten, but it's still there. So if you make traditional rye bread using rye flour, it's not safe for those avoiding gluten.
If you want to enjoy gluten free rye bread, you'll need to choose a recipe that uses safe ingredients — like the one in my gf bread cookbook, Gluten-Free on a Shoestring Bakes Bread: Biscuits, Bagels, Buns, and More.
Does sourdough bread have gluten?
The fermentation that sourdough bread goes through breaks down carbs and gluten. So while sourdough does have less gluten than traditional bread, not all the gluten is destroyed.
The only way to enjoy gluten free sourdough bread is to buy a brand that's specifically labeled as such or follow a recipe that uses gf flour.